It will have to be the most famous site in New Zealand, even more after its association with the film Lord of the Rings, the land as known as Argonath, the Gate of Kings. If you end up on the popular Lord of the Rings tours in New Zealand, you'll definitely be visiting Milford Sound.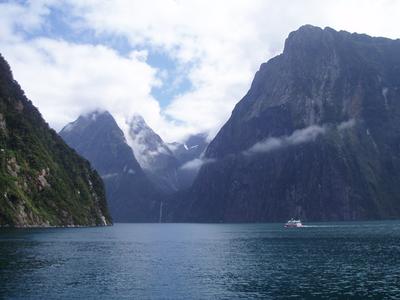 But don't. There is nothing preventing you from visiting the site and not having to wear funny costume hats to pretend you might just enter the realm of middle earth.
You can do a day trip to Milford Sound from Queenstown with a bus tour, or if you like to take things easy, hire a car, head out towards Te Anau, have a rest stop (stay a night if you wish) and then drive out to Milford Sound.
If you are a budget traveller, avoid spending a night in Milford as it is quite expensive.
A pleasant scenic drive
The drive from Queenstown to Milford Sound is absolutely gorgeous. If you can, try not to be the driver! Every turn and every curve brings you spectacular scenery and one thing to look out for, is the Homer Tunnel.
Named after William Homer, this is the tunnel that connects the world to Milford Sound. Originally a single lane tunnel built over 20 years during the world wars, it has now been widened to allow safer traffic flow; although, still not wide enough for two coaches at the same time so please take care.
Dug through granite surface by labour, it links Milford Sound with Te Anau and Queenstown. The 1.2Km long drive is almost in complete darkness and it is quite eerie!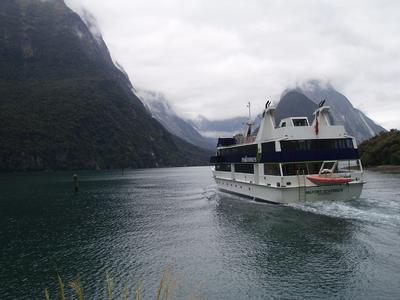 The cruise through Milford Sound
Once arriving at the Sounds, we took a river cruise with Real Journeys for half a day, which took us from the wharf to the entrance of Tasman Sea. The day was slightly overcast and windy, not the most desired weather for a weak gut so readily sea sick. Surprisingly, the journey was calm and gentle, and never once did my stomach churn with queasiness.
Within the first five minutes, we were introduced to the most photographed sight in Milford Sound – the Mitre Peak. Rising to a height of 1692m off the 'Sound' it is quite a sight, although I am still baffled why this peak stands out so much for photographers, when throughout Milford Sound there are plenty of such peaks for a good shot.
This is a wildlife playground
As I gazed at the peak and its surroundings, a sudden commotion started at the deck below, a group of five bottle nose dolphins playfully plunging along with the ripples caused by the cruise, even staging a couple of spectacular acrobatic leaps into the air to woo the visitors.
Camera started snapping and I too, competed for the best shot.
Further along the trip, a small Fiordland penguin waddled onto a rock, oblivious of a cruise full of on-lookers and started to clean its feathers. Then, just as you thought you've seen all the wildlife there is in Milford Sound, a colony of fur seals appeared on a large boulder, lazily rolled on their backs to soak in the little sunshine coming through the clouds. I gave my camera a bit more work out.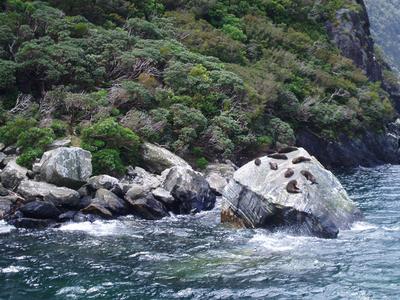 Milford Sound and the spiritual jade
Wildlife aside, our captain focused our attention on the shore of a protected beach, where an abandoned sail lies on a pool of glittering green rocks. Jade, they were.
Natural mineral jade, spiritual stone to the Maori tradition, right there on the beach sparkling in the sun. Then coming up to our right, a powerful waterfall splashed sprays of mist towards us, in between, a magical rainbow formed.
Besides the day cruise, you can also join an overnight cruise where you are able to hop into a kayak and enjoy the scenery at your own pace. For the adventurous, it is also possible to dive the waters of Milford Sound.
Contact the local dive centres for certification requirements.