I love a good story, especially one related to places I have been to. In Asia stories about dragons are practically every where, and it's not different in this northern part of Vietnam.
The legend to Halong Bay varies. Yes, there was a dragon involved, but just how does the dragon relate to this magnificent stretch of coast is debatable. Some say, the dragon was sent by heavens to protect Vietnam, and he spat pearls to destroy enemy ships and eventually these pearls grew into the 3000 odd islands currently scattered across the bay. Other say that it was just the dragon being careless when he was swimming in the sea one day, and accidentally crushed the land into the island pieces we see today.
However the story goes, it does not change the fact that Halong Bay is one unique landscape not to be missed. Declared a Unesco World Heritage sight, Halong Bay receives a steady number of visitors all year round.
I visited Halong Bay on a day tour from Hanoi. We were picked up from our hotel and driven to the port where beautifully crafted wooden boats waited to take us abroad. It was overcast with chances of rain, I stood on the deck afraid the trip may be cancelled.
Fortunately the boat started its sails and we were on our way.
I stood at the front of the deck, smelling the salty sea air as we sailed to the largest of the islands to explore a lime stone cave. Tacky neon lights decorate the caves into different story themes, which our guide told with pride.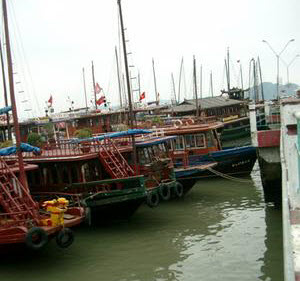 Back at the port, the boat traffic was no different to road traffic here in Vietnam. Each boat was pushed against each other and used as stepping stones from the shore to your designated boats. When they harbour they literally try to push other boats out of the way so they can "park" closer to the harbour. The sounds of squeaking wood and clashing water echoed in the misty air as tourists were herded back onto the boats for our next destination.
Halong Bay accommodates islands small and large, it was a sight words cannot describe, nor could my camera capture the essence of this place. It's beautiful. The whole place is like as if someone had been doing stone crafts, or that each of the uprising stone islands can be seen as a piece of chess scattered about a chess board. Lush vegetation grew on the islands making a nice environment for the eagles that flew over our heads, hunting for fish. Using your imagination you can really picture each island to be some form of creature – some looked like fish, some chicken, snakes, dragon and beak of an eagle surrounded us. I stood at the front of the deck absorbing it all in.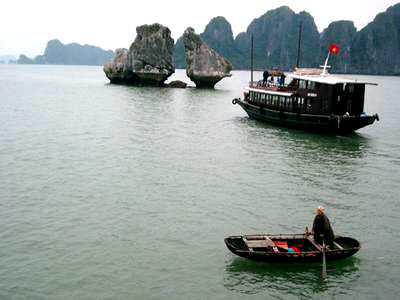 Water communities reside among these islands. They live their everyday lives here, in houses built on top of some form of floating boards. Each household had their own little veranda with chairs and tables, their pet dogs stood on the edge of the floats looking out for visitors, and an area of farm for sea stock. They have the weirdest looking seafood I have seen. Also at the community is a floating school for the children to attend, as well as a 'convenience store' to get your snacks and drinks. People travelled by small rowing boats, and "shops" were also boats which they rowed around and around until someone calls out to them to pull them over. Waving a boat over, I bought six fingers of bananas and ate them as we continued our sail.
The day quickly went by and we had to be on our way back. Those who chose the overnight stay option parked themselves next to a secluded beach and ventured out again in their Kayaks. I leave with a smile, and the hope to return again.