After having visited Kuala Lumpur many times, we were running out of things to do. I do love Kuala Lumpur, and make sure that I try to stop over on all our westward international trips. However there is only so much eating and shopping you can do after you've seen the sights, and one must do something!
I brainstormed. Malay cuisine is one of my favourite cuisines in the world, why don't I try to do something with that idea?
That was when I signed up with Lazat cooking school.
Like most cooking schools, we were first taken to the local markets for a stroll. Ana pointed out some interesting herbs and spices, taught us how to distinguish between a range of the different types of gingers (who knew there were more than one?), sampled a range of ground spice combinations and tasted some freshly made Roti Canai along the way.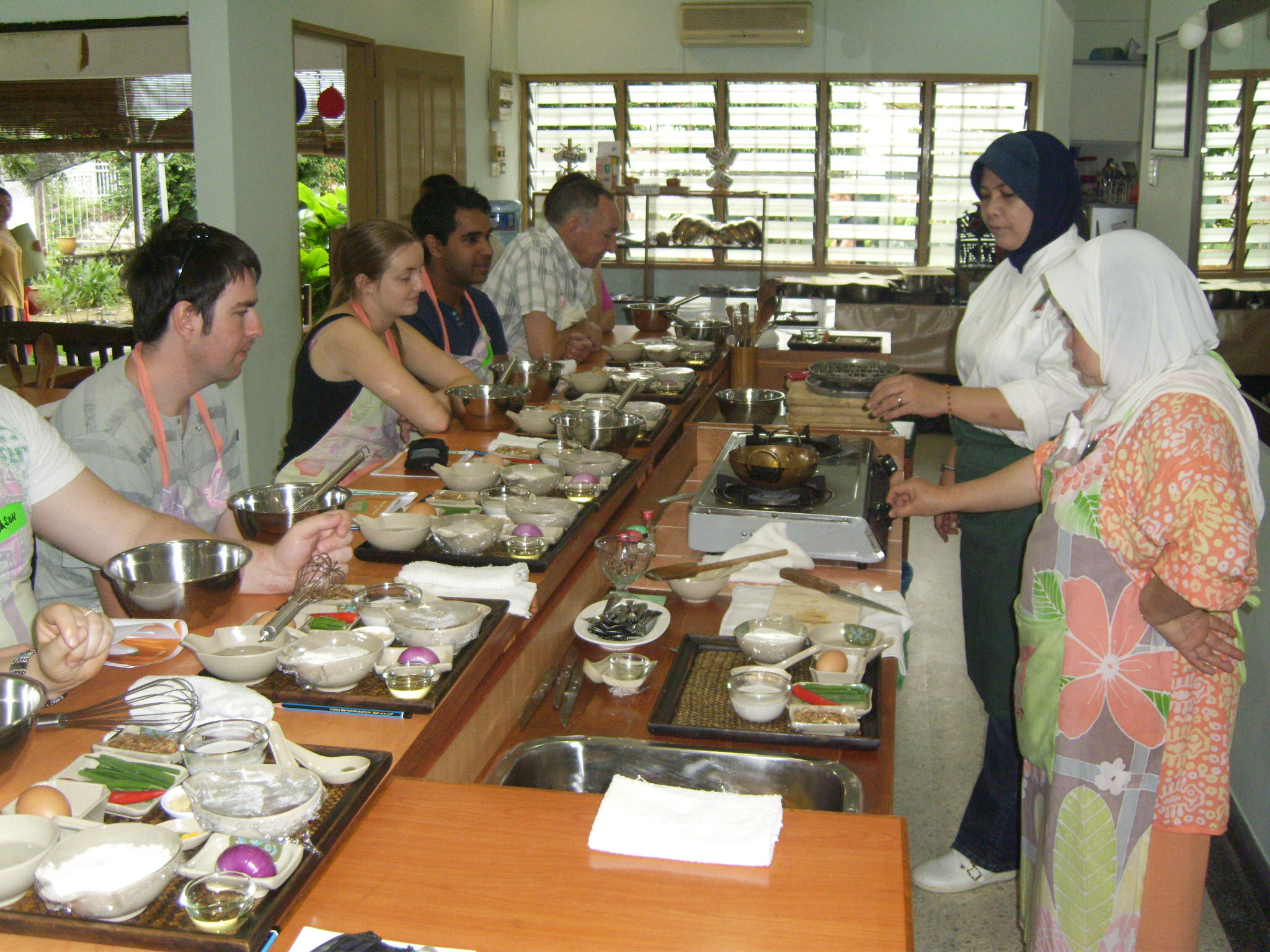 I am in no way domestic at home, and was relieved to find that all the ingredients had been washed, cut and laid out in order of cooking back at the school. We had a short demonstration of a few basic skills, including how to grind herbs the Malay way and how to use the one knife to do all sorts of cuttings (which makes me wonder why we have different knives for different things when they can just do with one).
Then it was to our work stations for a cook off.
Along with other dishes, we learned how to make Nasi Lemak with Prawn Sambal (coconut rice and spicy prawns), a traditional Malay dish that is one of our favourites in Malaysia. The process required a lot of crushing of the herbs and slow cooking on the stove top. Our fellow students each wanted to make it just like how it is when the teacher made it, so the competition was on!
Unfortunately, passion did not prevail; my Sambal turned out a little too watery and a fellow classmate's Sambal burned. Nevertheless, we at least tried!
We ate what we cooked for lunch, each of us with a satisfied grin on our face. Never again will we rely on the pre-packed sauces, when we can make Malaysian like the Malaysians!