Following my article What are you packing? on Worldette.com, I have been asked many times just what exactly are my method of packing.
Last night, I packed for my upcoming trip to Wellington, so I thought I'd share my method with you here.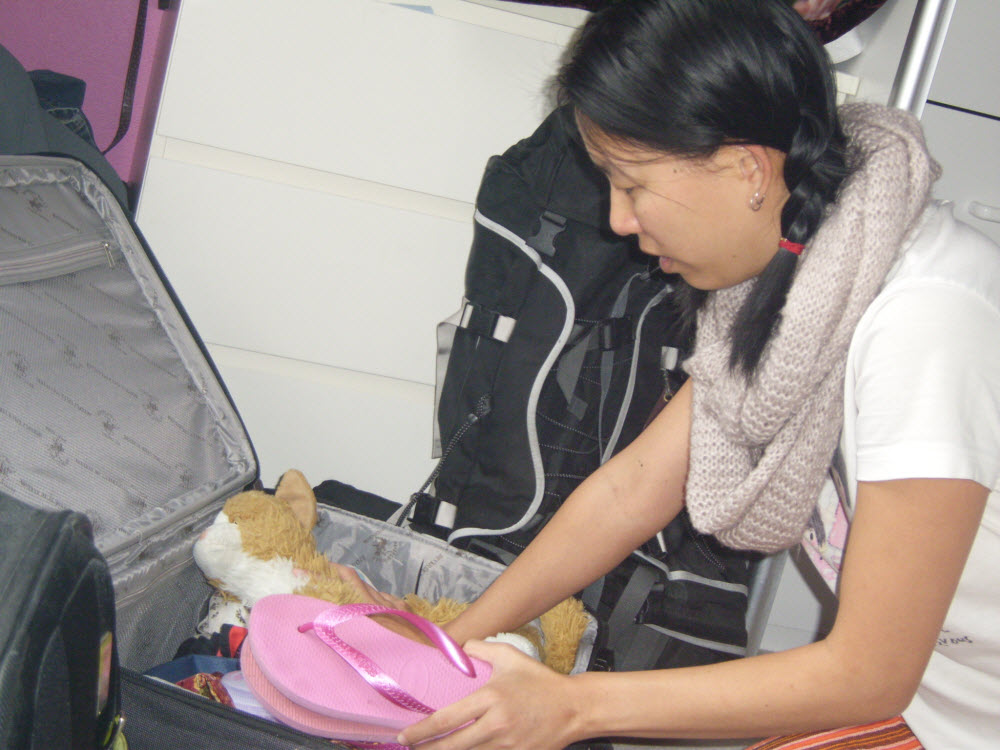 The Essentials 
Other than the clothes I will wear on the day I depart, here is a list of things I bring on all my trips, regardless of where, when and for what purpose.
Underwear
Outer clothes (For trips over 3 days, number by total trip day minus 3)
Toothbrush & toothpaste
A pair of thongs (flip-flops, if you will!)
Deodorant
Book
Notepad – an actual, write with pen notepad, not a smartphone application!
Camera
Hair ties
A reusable shopping bag
A few small plastic bags
Laptop, because all travel bloggers needs to blog!
You may be wondering how many hair ties I go through when I travel – well, normally just one, for my hair, however extra ones can be used for other purposes such as tying up the plastic bags, used to hold certain items together and all sorts of other little 'fixes' along the way.
As for the plastic bags, you can use it to separate things, put dirty things in them and even if you don't end up using it it doesn't take up much room and weight.
Actually for the ladies out there – or the men, if you want to give it a go – a pair of stockings can come in really handy. It's like having a bag and tie at the same time. They are stretchy so they can be use to tie things up, and they can 'hold' things and can work like a bag in your luggage. Of course, you can wear them too!
Selective Optionals
There are things I take for different purposes.
Firstly, I consider the weather.
For this trip, Wellington is going to be cold. I know. So I will need a good warm jacket – which I'll be wearing anyway as Sydney is also quite cold at the moment, long sleeved tops, a tight singlet (for that extra warmth) to wear under the tops, long pants, closed shoe/s.
Secondly I consider the location.
This time round I am going to a city, which will have all the same comforts of home so I don't really need to stock up on everything extra.
If I were to go to a rural location or in areas of the world where things get done a little bit differently, then I would consider bringing things like shampoo/conditioner, wet wipes, alcohol sanitiser, water purification tablet, raincoats etc.
Then I consider the purpose of my trip. This time round, I am there 'on business' which means I will need a set of nice clothes to interview people with, as an example.
Then it's the duration of my journey.
My rule is, anything up to 7 days trip I only go with carry on luggage – mostly a backpack but this time round, a small wheelie so that some of my electronic equipment can be stored better.
Oh and also – ditch the heels. If you must, a nice pair of flats can work just as well as going out shoes and they don't take up room in your luggage.
So that's pretty much it!
Backpack or suitcases?
I will always choose a backpack over a suitcase. But this is up to you.
The general rule is, never use suitcases, no matter what size, on rural trips or trips that may require a bit of walking. They are inconvenient, hard to lug around rough surfaces and often have less capacity than backpacks of the same size.
So… for this trip….
In total for this Wellington trip (5 days) I have packed – excluding what I wear on me:
enough days worth of underpants
four pairs of socks
scarf
beanie
book
laptop cables
camera charger
one extra pair of jeans
two skirts (for my interviews)
one tight singlet
three long sleeved tops
two t-shirts (to wear over the long sleeved tops if need be)
closed toes leather flat shoes
toiletries in a clear plastic bag for international travel (100mls of: moisturiser, toothpaste, shampoo – only because I have extra room this time round, paw paw ointment)
notepad
one reusable shopping bag
two plastic bags
All these fit into a 50cm x 35cm x 20cm cabin luggage sized wheelie.
Off to the airport I go!