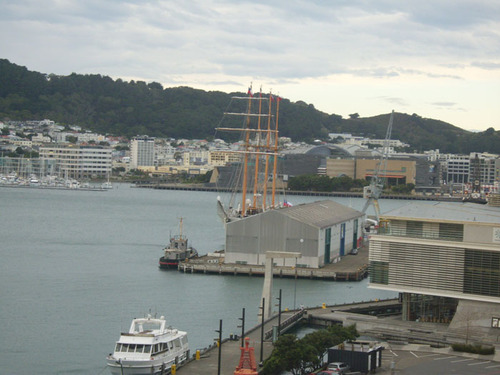 It is surprisingly comfortable. Before coming I had expected Wellington to be freezing, grey and lifeless, but the sun shun through the clouds and it was like some one's just pulled opened the curtain – Wellington immediately became colourful, lively and really not all that cold.
We arrived here last night at around 12:30am. (well, technically this morning…) and was picked up by Corporate Cabs. Our driver greeted us with a smile and a handshake, and despite the time, he enthusiastically zigzagged in and out of the streets, gesturing into the darkness, 'showing' us important landmarks and traced the landscape with his fingers. In the back seat, we nodded away, unable to see much but happy for this initial introduction to New Zealand's capital city until we were then safety deposited at the door of Rydges Hotel, my home for the next five nights.
Due to the time difference I couldn't sleep for hours until around 3am, but because I had an appointment to go on a movie tour at 2:30pm, we woke early this morning, had our breakfast and headed out to check out what we supposedly saw in the cab last night. The wind slapped us in the face like the evil step mother that it was, but we soon got over it and started enjoying ourselves.
Walking along the harbour foreshore, we checked out the currently docked Chilean naval sail ship that had arrived earlier in the week preparing for their departure. It's always exciting to watch the naval officers and their seamen *chuckle* running around pulling ropes, turning wheels and yelling commands at each other in Spanish.
I didn't know there were still sailing ships in any naval force around the world.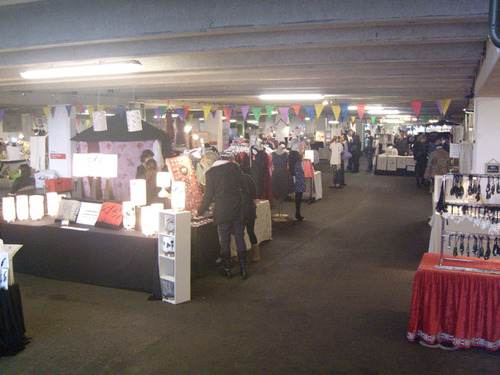 We followed the walkway and kept going, and found ourselves in an underground market selling locally made handicraft, then we headed into the streets, wandered aimlessly past restaurants, cafes and bars, walked the length of Cuba street, Courtney place and Willis streets before settling down for a cuppa to warm up.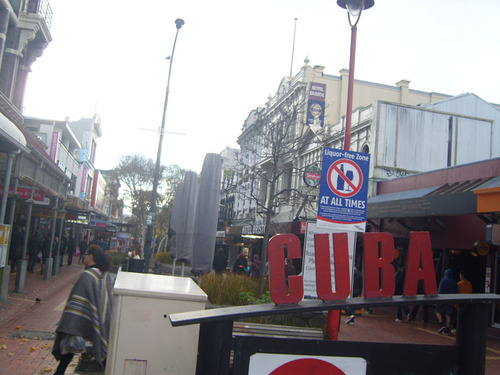 Everywhere we walked there were people enjoying themselves, even in the icy cold wind!
My first impressions? Compared to Canberra, our capital in Australia, Wellington is so much more fun. I can see how it can have more cafes, bars and restaurants per capita than New York and why Lonely Planet tagged it "The Coolest Little Capital".