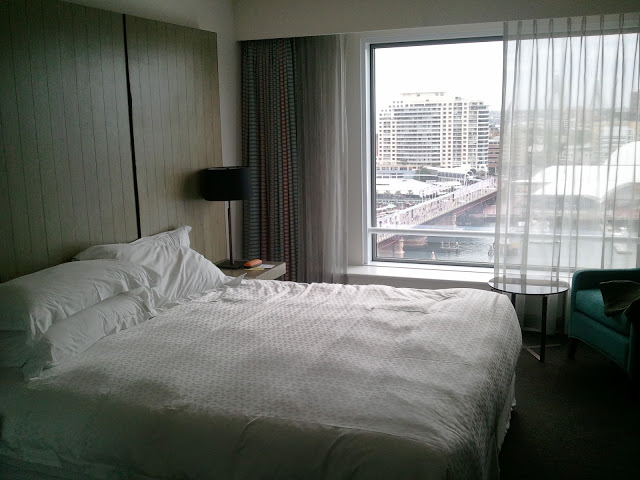 Checked in: 14 December 2012
Checked out: 15 December 2012
Room: 1522 Premium Harbour View room
Price paid: $275 with breakfast
When staying around the Darling Harbour of Sydney, it is worth looking into a harbour view room, and Four Points by Sheraton has one of the best locations for such views over looking Pyrmont Bay with its Premium Harbour View rooms.
Often seen as the 'cheaper' alternative among the Starwood Hotels brands, my stay at the Four Points was unfortunately bordering on average. There are aspects of the hotel that does meet expectations, then there are little surprises that disappoint. As you read this article, you'll see what I mean.
Service: Although I cannot fault the service I can't seem to find myself praising it either. As I entered the property I was greeted constantly by staff walking past with a smile, like trained robots ensuring all protocols are met. At the reception I was promptly greeted with everything that needed to be said,  (think, "Good morning Mrs McPherson; Yes Mrs McPherson; Of course Mrs McPherson and I hope you have a lovely stay Mrs McPherson) yet, the sayings lacked warmth and familiarity and felt once again, robotic.
Room: I had paid for an upgrade to the Premium Harbour View room, a recently renovated room by the property. The bed was comfortable, and all necessary amenities were available. I was happy with the size of the room, which is slightly larger than the City View room I had previously stayed in at the same property.
The bathroom however, was a little on the small side, the quality of the shampoo, conditioner and soaps were average for a hotel of this standard. Could do with softer toilet paper.
Health and Fitness: The hotel information folder suggested a jogging route from the hotel along the harbour front, for the reason that health and fitness facilities were non-existent at Four Points. This was one of the smaller disappointments I previously mentioned, as I was really looking forward to swimming in a pool.
Breakfast: The breakfast buffet was extensive and can rival any other larger properties in Sydney. The availability of the various hot and cold items were satisfying and the meal was one of the highlights of my stay.
Value: 9/10 – for its price inclusions. The rates usually include breakfast and parking which is great value for a property in Sydney.