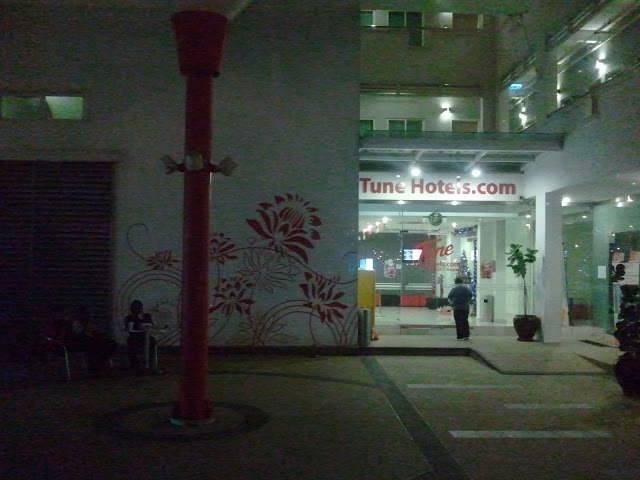 Checked in: 20 Dec 2012
Checked out: 21 Dec 2012
Room: 223
Price paid: approx. $50 with 12 hours of air-con, and one towel set and breakfast
Tune Hotels are low cost airline Air Asia's answer to low cost accommodation. Being a fan of the airline itself, I have been aware of their existence since their opening and have been curious of their claims that they offer "5 star beds at 1 star prices".
So, I checked in to find out if it lives up to its promises.
Room: I don't think I have seen a smaller hotel room (capsule hotels excluded, they are advertised to be small and fitted), the size of the room was just larger than a standard apartment bedroom in Hong Kong. It fits one double bed and a small bedside table, with a small bathroom attached to the side.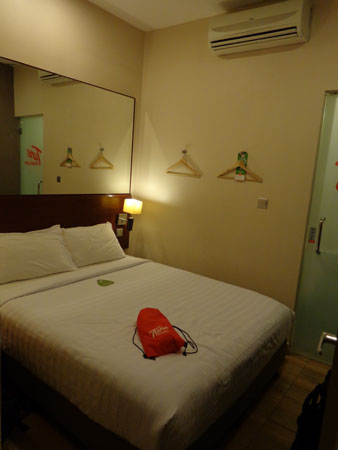 The room itself is, basic; which led me to the conclusion that the claim "5 star beds at 1 star prices" are made in the literal sense that it's about the bed itself, rather than the room, and having made that discovery I felt much more satisfied, as the sheets were silky enough and the bed was in fact quite comfortable.
However, the rooms were runned down. Everything in our room functioned appropriately but we do know the lady next door in room 224 had trouble closing her door properly.
Service: The service is friendlier than any other similarly standard hotels I have stayed with. Check in was efficient, and upon learning that we would be leaving the hotel at 5am to catch an early flight the next morning, the breakfast that I had pre-paid for was promptly refunded as the restaurant won't be open at that time.
In every other 'low cost' situation I would have expected to lose this money as "I should have known better", so I was impressed with this surprise gesture.
Amenities: Just like how Air Asia runs its airline where everything else on top of the seat price cost extra money, Tune operates pretty much the same way. Want air-con? That would be 15Rm extra per 12 hours; Want breakfast? that would be 6Rm per person. Thankfully hot water and electricity comes with the room and if you do get towels it does come with shampoo and a soap.
There are no other facilities at the hotel. You can say it's literally, just a bed to sleep on for the night.
A shuttle bus runs between LCCT and the hotel every 15-30 minutes and cost 1RM per person.
Value: Having said all that, the value is not really that good. For $50 you could easily get a guest house in the centre of Kuala Lumpur that include breakfast and a much bigger room. However, if you must stay at the airport, and want to save on costs, Tune is the only low cost choice – just keep in mind, it's only just a bed.
My rating: 3/10