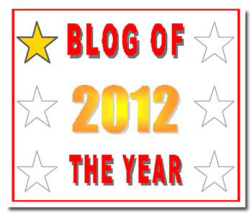 A huge thank you to Peggy Tee of Taking to the Open Road for nominating Footprints and Memories for the Blog of the Year 2012 Award.
Organised by The Thought Palette website, the award is a peer nominated system that allows bloggers to recognise each other's work.
I am excited and feel honoured to have fellow bloggers to recognise my work, especially Peggy whose travel blog is an inspiration to many.
In return, I would like to nominate Peggy's blog Taking to the Open Road for the award, for I have enjoyed reading many of her stories.
There is also Travel Oops, written by Stephanie Glaser whose posts are both amusing and sometimes nostalgic, and comes with advice on how to 'Avoid the Oops'.
If you are a blogger and would like to participate, the 'rules' for the award are simple:
Select the blog(s) you think deserve the 'Blog of the Year 2012' Award
Write a blog post and tell us about the blog(s) you have chosen – there's no minimum or maximum number of blogs required – and 'present' them with their award.
Please include a link back to this page 'Blog of the Year 2012' Award –http://thethoughtpalette.co.uk/our-awards/blog-of-the-year-2012-award/ and include these 'rules' in your post (please don't alter the rules or the badges!)
Let the blog(s) you have chosen know that you have given them this award and share the 'rules' with them.
You can now also join our Facebook page – click the link here 'Blog of the Year 2012' Award Facebook .pagehttps://www.facebook.com/groups/BlogoftheYear/ and then you can share your blog with an even wider audience
As a winner of the award – please add a link back to the blog that presented you with the award – and then proudly display the award on your blog and sidebar.