While travelling around Cambodia I noticed a particular "tourism" campaign that locals were feeling strongly about: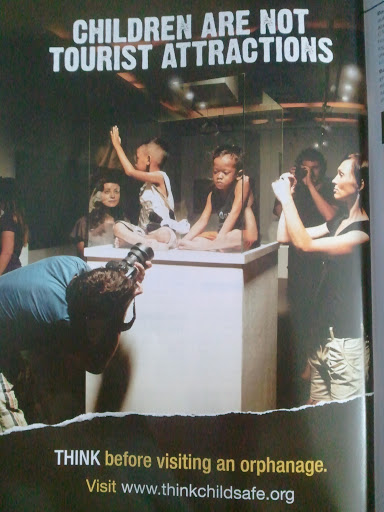 Many tourists who visit developing and third world countries somehow have this urge to want to visit an orphanage as part of their sightseeing activities.
They won't call it sightseeing, and you'll find these people coming home boasting about having held a child's hand and that they visited the orphanage because they cared.
This all started because more and more people are becoming interested in 'Voluntourism', and those who don't actually have the time (or simply don't want to) to spend a few months doing community work, think that visiting an orphanage can help.
Unfortunately, it's all part of the so called 'feel good tourism' and most don't realise that sometimes, their visit can actually be a burden, and sometimes harmful to the well-being of a child in an orphanage.
I wrote about the dilemma of 'Voluntourism' a while ago, listing the pros and cons of such activities for both tourists and locals. Having just came back from Cambodia and feeling quite strongly about this subject again, I was happy to read an article on orphanage visits by  Marissa Carruthers on Worldette.com.
Marissa is a freelance journalise based in Cambodia and her guest post urges people to think twice about visiting an orphanage, as "orphanage tourism has become a lucrative business" and some may not operate as ethically as you think.
Read: Voluntourism – Benefit or Harm? by Amy Huang
Read: Orphanage Tourism – Helping or Hurting? by Marissa Carruthers