I love reading, always have, and ever since I got the travel bug, travel books have started to overtake the fiction in numbers on my bookshelves.
I enjoy reading other people's tales and stories, their discoveries and adventures as well as the horrors of things going wrong that often accompany any good trip.
Out of all the travel related books I have been reading (including guidebooks), I found that my favourite authors are Paul Theroux and Michael Palin, although surprisingly, none of the Michael Palin books made it to my top five!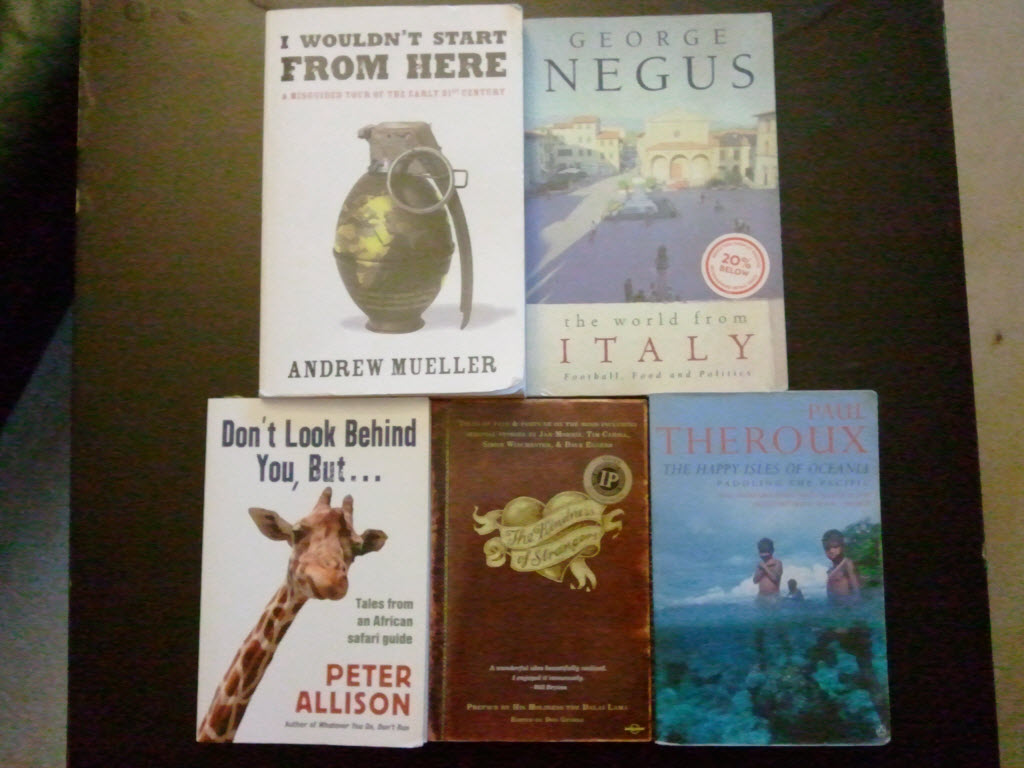 The Happy Isles of Oceania by Paul Theroux
This book tops the list. Paul Theroux is my favourite travel author and his adventures are not only exciting to read, he has great skills in bringing his words to life.
While it is a travelogue, Paul Theroux describes his experiences with people everywhere he went, and look into social issues in places like Australia, Papua New Guinea from an objective eye. I especially enjoyed his chapters on Australia as many of the social issues he described are still with us today, yet no one can see as clearly as he did, that it is all caused by discrimination and prejudice!
The World from Italy by George Negus
George Negus is an Australian journalist who isn't usually categorised as a travel writer. However, he used the opportunity of his sabbatical year in Italy to observe everything about the Italians, from politics through to pasta to the Mafia to football and to love. His journalistic eyes left no detail out of his encounters and the book is a great insight into life of an Italian.
I enjoy the writing here because not only is he describing his travels around Italy, he looks into various issues that the Italians are passionate about. Mostly, about the Mafia and football, and how much the two actually relate to each other.
I also recommend the book to anyone who is interested in Italian politics.
The Kindness of Strangers, compiled by Lonely Planet
The Dalai Lama provided a preface to this book, in it, he said "at any given moment there must be hundreds of millions of acts of kindness taking place around the world.. there will undoubtedly be many acts of violence.. perhaps this kind of good news is not remarked upon precisely because there is so much of it… encouraging each of us to take whatever opportunities arise to be kind… will contribute actively to creating a more peaceful, harmonious and friendly world".
I love a good happy ending, and all the stories in this book are happy endings. I've always believed that the world is not as bad as the media puts it to be, and all throughout my travels I have experienced only kindness from strangers who are willing to lend a helping hand.
Don't Look Behind You But… by Peter Allison
Another Australian author, this time, sharing his experience working in and managing safari camps in Africa, and his encounters with many of the great animals on this earth.
This is actually his second book. The first, being Whatever You Do, Don't Run, which caused a stir when he took the pay cheque from his publisher to the bank. I enjoyed this book as it goes back to the beginning, to when he was only training to be a safari guide and all the mishaps he experienced along the way. His knowledge and passion for the wildlife paints a vivid picture of the African plains, at the same time the stories of smart warthogs and getting arrested for guiding without license cause worry and laughter at the same time.
I wouldn't start from here by Andrew Mueller
Firstly, I wouldn't call this a travel book. Andrew Mueller is another journalist whose assignments took him to some of the most dangerous conflict zones in modern history. In the book he wrote about the conflicts as it happened, at the same time discussed political background and justification to many of the events leading up to the 21st Century.
What is inspiring about the contents of this book is that even when he was stuck in a war zone or visiting countries still trying to find their feet after a conflict, there were always positivity behind the words of those whom he interviewed. Hope was everywhere. In a way the book inspires me to think of these conflicts differently, and wish that one day I will be able to visit these countries and experience the hospitality and the kindness that he encountered when he was there.
—
I am now on the look out for more books to read. What books would you recommend?