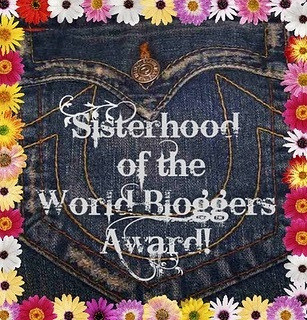 Stephanie over at Travel Oops has been so kind and nominated Footprints and Memories for another award. This time, for the Sisterhood of the World Bloggers Award, an award for talented blogging women!
Just as well, it was International Women's day yesterday and it's such an honour to receive this nomination on the day for the sisterhood.
Thank you Stephanie for having such faith and confidence in me :) I know these awards are ways to generate traffic, and I know it isn't the Walkleys, but it feels nice to have fans out there who support Footprints and Memories. So in return, I will follow the rules and nominate my set of women bloggers to keep the ball rolling, and pay it forwards.
The rules for accepting the award are as follows;
▪   Provide a link and thanks to the bloggers who nominated you.
▪   Answer 10 questions.
▪   Nominate 10 blogs that you find a joy to read.
▪   Provide links to the blogs and inform the recipients they have been nominated.
▪   Include the award logo within your post.
10 Questions: (based on previous awards last year we had to make up ten new questions, but the rules seem to have changed now so here's a repeat of what Stephanie answered on her blog)
1. Your favourite colour?  — changes all the time. At the moment, it's red. Tomorrow it might be yellow, and the next day blue. Who knows?!
2. Your favourite animal?  — I should say cats, for I have two; however I do have a larger pallet than the average cat lover. Put me in a zoo and I am like a kid in a candy shop. I love animals and with enough funding I probably *would* open a zoo myself.
3. Your favourite drink?  — 

4. Facebook or Twitter?  — Footprints and Memories don't have its own Facebook page yet, you can follow me on Twitter @amy_s_huang
5. Your favourite pattern?  – Pattern? Circles maybe? Like the colour question, depends on my mood!

6. Do you prefer getting or giving presents?  – Neither. I think presents are a bit of a waste of resources as most of the time they are not appreciated as much as say… money, or a free holiday ;-) 
7. Your favourite number?  – 4

8. Favourite day of the week?  – Monday. I get to count down to the weekend all over again!
9. Favourite flower? – The brightly coloured ones that smell nice. 
10. What is your passion? – Other than travelling, I am passionate about the world in general, and about learning other people's languages and cultures, as I believe the world is not as bad as the media has been reporting it to be, and most of our problems are down to mis-understanding.
My Sisterhood Nominations:
Ok, I know I am suppose to nominate ten. However after this exercise I realised that I don't actually read so many blogs by women! Shame on me. I need to start looking for them.
Here's my seven that I hope will count!