I am struggling to like Auckland, and it isn't just an Aussie vs the Kiwis thing. Having came from a harbour city to visit another harbour city, I just couldn't find anything special about it.
The 'Auckland, Whats On' guide I picked up at the airport urged me to get on the Auckland Hop on Hop off explorer bus, to visit the zoo, check out the aquarium, visit the tower and to do the bridge climb.
Wait, where have I heard all that before? Ah right, Sydney.
I couldn't decide whether I should stay and try to pretend I am loving it, or to book a day tour to get out of the city all together.
That is, until the bus took me to Parnell and I immediately started to consider moving here.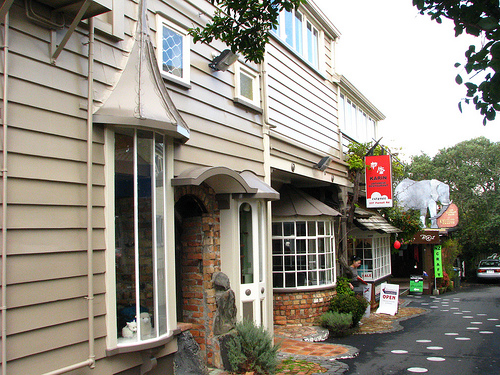 Parnell Village lies just 10 mins away from the CBD yet it feels like a completely different sphere. I turn my back to the harbour and found myself walking among its boutique storse and quirky cafes, wondering whether I've walked straight into a movie set. Victorian wooden houses stretch through the tree lined main street along with a pleasant community-like atmosphere. Even the street sign had charm and character in it.
The surprise didn't stop here. I sticky beaked into an interesting alley way beside a building, lined with young grape vines and climbing rose bush trimmed just enough to let one person through to see if there were any secrets behind these intricately carved doors, and found myself standing in the middle of a courtyard complete with a water fountain and flower garden.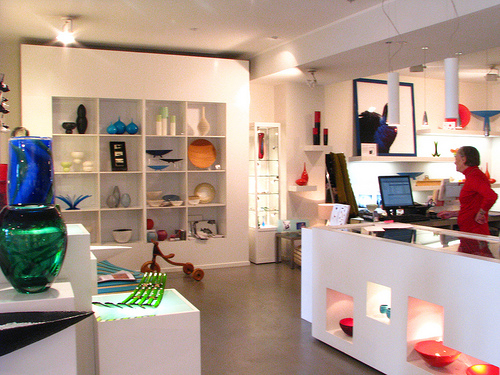 In Alice and Wonderland style, I had stepped into a parallel world where I temporarily forget I was in Auckland. A cafe had tables and chairs out in the sun and was serving Devonshire Tea, it was too much temptation to resist.
After a cup of very fine coffee and excellent scones, I walk out of Wonderland back on the road to do a bit of shopping. Independent boutiques with quirky styles and designs are exactly what I was looking for, and something that Sydney really lacked. I happily browsed through every store carefully monitoring the credit card spend before heading back into the city for dinner.
Back on the harbour I enjoy some good 'fush and chups' and beer and found myself smiling towards the sea, where the setting sun had cast orange glitters off the surface of the water.
Ok fine, I am enjoying myself but so what? It's not like I am betraying my own city.
Or am I?