Checked in: 03 May 2013
Checked out: 05 May 2013
Room: Superior Suite King Bed with Kitchenette
Price paid: $254 for 2 nights, room only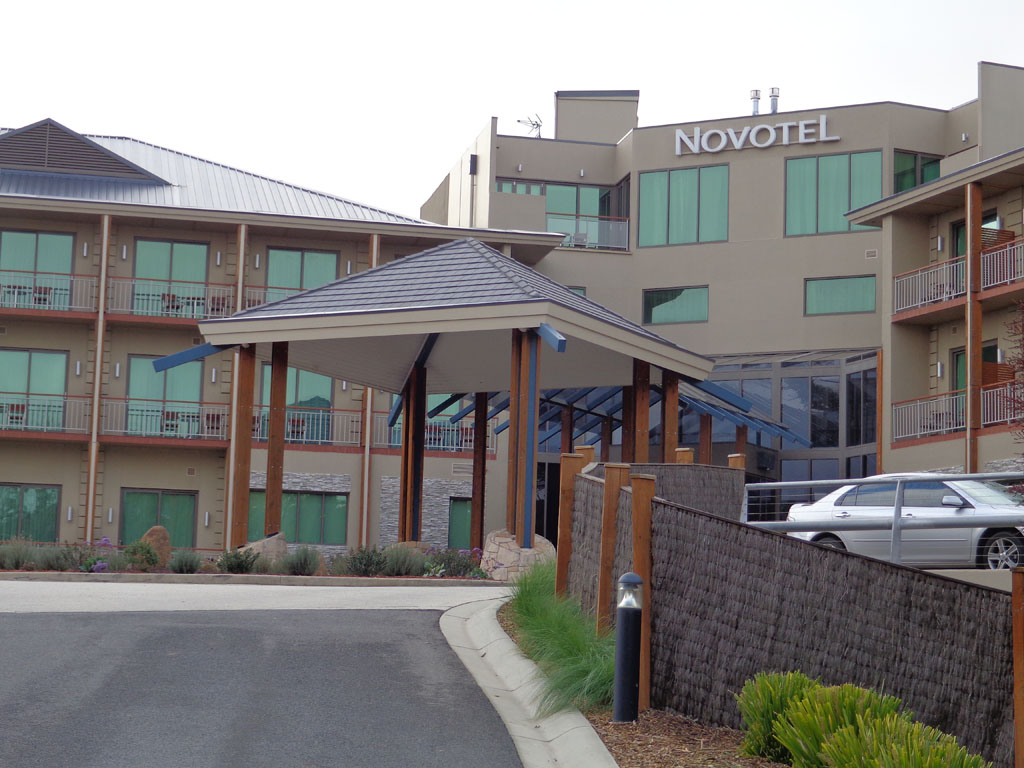 You know, there are hotels where you really want it to be good, and while your first impression may be fantastic, you check out just a little bit disappointed.
Novotel Forest Resort is one of the above. We had chosen the hotel for its location, wedged in Creswick, right in between Ballarat and Daylesford, two destinations that we had wanted to visit on our weekend away. While the quality of the accommodation and location had been fantastic, it's always the little things in a hotel's service that counts.
Service: Starting with my least satisfied component  of my stay, the service at Novotel Forest Resort had not been up to scratch for its standard. The hotel is being listed as a four to five star hotel in various booking sites and I had expected that to be the service standard it would strive for.
Unfortunately, it didn't. While I had not experienced any unpleasantness or rude treatment, the staff members weren't all that warm and friendly either. We checked in late after a night flight into Melbourne and another two hours drive, and our reception to the hotel was rather distant and all too common-ish. I might as well have checked in to a motel when the staff member advised us the direction to our room matter-of-factly without much of a smile, and the next morning at breakfast we were waved on to find a table for ourselves and then pretty much left ignored for the rest of our dining experience.
Room: I was actually quite impressed with the room. It was large, had partitions between the bedroom and the lounge room and a kitchenette with a sink, fridge and microwave. The bathroom had a deep spa bath (and readers, you know my soft spot for baths) and a modern rain shower. It was designed for comfort and for longer stays, and is one of the most satisfying rooms I've had for a while in Australia.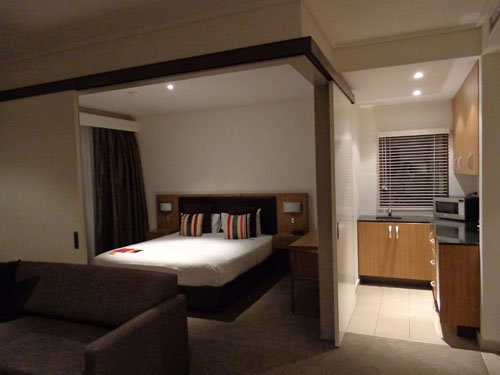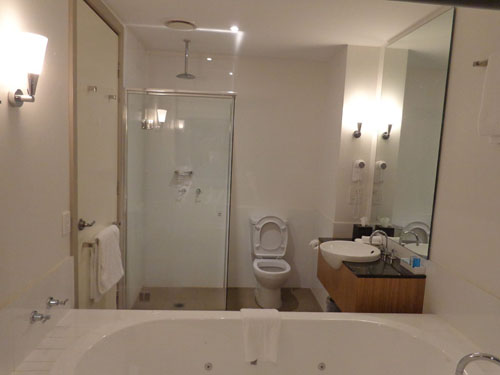 Health and Fitness: This is a golf resort with a Tony Cashmore designed 18-hole golf course that is currently the host of the Victorian GPA until 2015. Immediately out of the back of the resort, surrounded by housing developments that look like it'll become more of a holiday residential than just a resort hotel. The golf course is popular with Victorian golf lovers, as large groups of golfers turned up early on Saturday morning for a day on the course.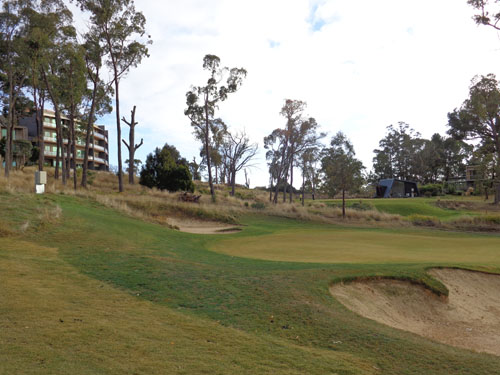 If golf is not your thing, the hotel also has a gym, bike hire and volleyball facilities, and a Day Spa on site to pamper the sore muscles.
Breakfast: If not included in the room rates, breakfast cost $27 per person. Not worth it. Have breakfast in town in Creswick, Ballarat or Daylesford instead. Breakfast started at 7am on the Sunday morning. Hoping to beat the crowds we arrived at 7:40am and found the bacon and eggs already cold, and the rest of the pastry items and fruit items haven't been completely brought out yet.
Which was a shame, because there was actually quite a good selection of items. As I said, it's always the little things that count.
Value: 5/10. Not great. There are plenty of quality accommodation in Daylesford for the romantics, and cheaper options in Ballarat and other surrounding regions with more character.