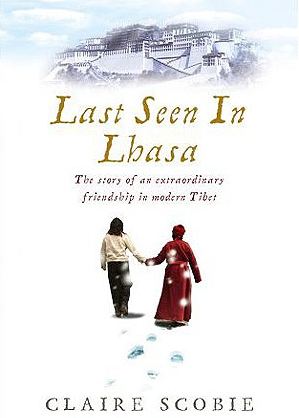 I went along to one of Claire's travel writing workshops during the 2006 Sydney Writers Festival, where Claire talked about her path to writing and about her book Last seen in Lhasa. I've never been to Tibet, and haven't read much in terms of travel journalism or literature about Tibet, so I decided to get a copy and read it.
The story is about her adventure to the Pemako area of Tibet to look for a rare red lily, where attempts after attempts the group encountered difficulties with the local authorities. She met Ani, a Tibetan nun practising as a yogini, wandering through the Himalayas in search of enlightment through physically and psychologically challenging treks and meditation sessions. Through Ani, Claire experienced the suppressing nature of the Chinese rule of Tibet, and what it means to be truly spiritual.
For most of the book, Claire takes on a very journalistic point of view in writing this book, as if she was reporting the news rather than re-telling a very personal story. Understandably, her original journey was of a journalistic nature. However her descriptions of the surroundings, the struggle of the Tibetan people, and her personal emotions during her repeated visits to the region will have you interested in wanting to know more.
Claire is fantastic at imageries. When I was reading the book, I felt I could feel the cold slushy ice under my feet, breathe the thin mountain air and hear the chanting of the monks. This is what I love about reading Last Seen in Lhasa, and Claire has achieved the goal of making me (and hopefully you too) wanting to visit the region and see it for myself.
But this is clearly not just a travel narrative. It's also a story that explores human relationships, the political situations, the courage and strength of any individual with a strong will, and that friendship, can come from any corner of the world.
Get this book on Amazon now! -> Last Seen in Lhasa: The story of an extraordinary friendship in modern Tibet