Checked in: 08 June 2013
Checked out: 11 June 2013
Room: 520, Queen Room
Price paid: $185.02 per night, room only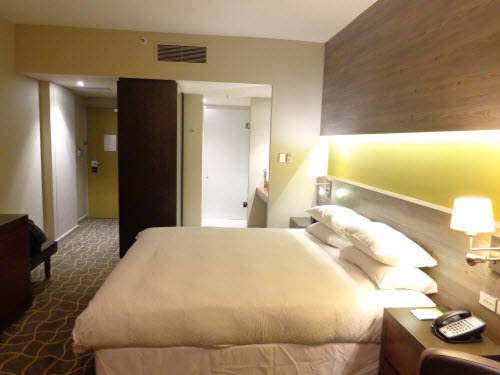 The 278 rooms Four Points by Sheraton has had a multi-million dollar upgrade and I was advised that the renovation was completed in December 2012 after taking over the property from Citigate. It was this particular point that lured me to book the property, as I'd like to see what the Starwood brand had done to a rather old building.
Service: Check in process was efficient and friendly. I was welcomed to the hotel and was provided with the essential information such as check out time, meal times and the facilities available. I had enquired about a message I was supposed to receive from the tourism board and after being told that no messages have been left for me, I was surprised that they remembered this query until check out, where the clerk enquired whether I eventually received the message I was after.
Room: On appearance, the room was fine. More than fine. It was stylish, comfortable and spacious. The bathroom was tiled with marble and those fancy glass panels that looked so impressive and chic, however the interior designer must have overlooked practicality in the set up as the door of the bathroom was a swing door with no seal around it, which caused me to worry about the smoke detector each time I took a hot shower. The stylish design also lacked the privacy required even between the most intimate couples, not to mention, each time the bathroom was visited during the night, the light would penetrate into the room, waking the other person.
The decor also felt cheaply built, with the wardrobe slide door rattling each time it was opened and closed, and the furnishings such as desks and drawers had that chipboard, IKEA DIY furniture feel.
High speed internet is available for a reasonable $5 an hour or $20 per day in the room.
Health and Fitness: There is a fitness centre well equipped with treadmills and weight bars. No swimming pool. No day spa.
Common areas: Free wireless access is available at the lobby but only for an hour, and I was slightly disappointed with the lifts, which were old and shaky, despite the announcement of a 'complete renovation'. I understand they are currently undergoing replacement and will be upgraded soon.
Value: 7/10 – it is hard to find a similar quality property in Perth for the same price range, and for this, the Four Points by Sheraton is certainly alluring. As to keeping up with the Starwood brands, it still has a long way to go, including the fitting of newer models of lifts, as well as having a pool. However it is perfect for those catching a show at the Arena, and require a comfortable, high(er)-end accommodation at a reasonable price.