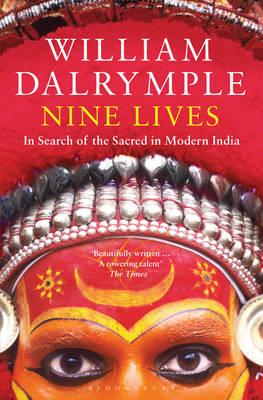 A book by William Dalrymple
Some say, William Dalrymple is the best writer on India, outside India. I don't really know any better, but he certainly had me enchanted about India by the end of the book.
I didn't really know what to expect when I picked up this book at the local book store. I liked its cover and bought it. As it turned out, it is now one of my favourite books (among many!) on my shelf and those interested in other people's cultures, traditions and spiritual believes would love it too.
In Nine Lives, William Dalrymple introduced us to the many fading spiritual practices in India, a country where he has lived on and off over 25 years. He interviewed an exiled Buddhist monk atoning for his past crimes by printing prayer flags; a Jain nun who watched her friend die through a self disciplined 'death' ritual; human deities who performs the Theyyam, whose dances draw spiritual worship from villagers; and a bard whose ability to sing a 4000-line epic off by heart. Dalrymple explores the traditions and origins of these practices, and questions their existence during the modern day India, where major world religions have dominated the spirituality needs of everyday people.
In a way, this book divides the divine, spotlighting the many traditions that still exist on the edge of a world filled with politically enhanced spirituality; at the same time, the stories of the nine people also opened my eyes to the alternative visions and possibilities that could be in the spiritual realm.
I have found this book heart warming and heart breaking at the same time, as each of the 'lives' explained the fading popularity of their practice and in a world going through rapid social change, the difficulty of keeping theses colourful rituals alive. The way Dalrymple writes does not mock nor glorify, he simply presents the nine lives to us as they are, at the same time, draws attention to the impact of societal change.
Buy this book now on Amazon -> Nine Lives by William Dalrymple