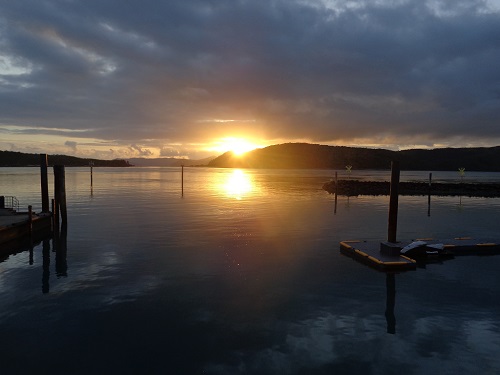 Checked in: 17 October 2013
Checked out: 22 October 2013
Room: 3324 Ocean Balcony
Price paid: Booked on a group deal – $999 for 5 nights with breakfast
I understand Daydream Island is in trouble. News back in April said that it will be up for sale but only for a fraction of the cost that the current owner has spent on its maintenance. It is hard to imagine such paradise in financial crisis but having stayed here I can see things are not looking well. However, I still enjoyed myself anyway.
So, now you know how I enjoyed my holiday on Daydream, it's time to tell you what I really thought of the resort. Here it is.
Service
We were greeted with shell leis and hearty welcomes. Almost every staff that served us from then on have been fantastic. Is it because of their work location? Is it because there is a big presence of international staff, young and happy travellers on their working holiday visa who are actually enjoying working on Daydream? Is it because of the loud shirts? (Staff shirts are white with big colourful fish on them. According of one of the younger staff, this is so their supervisors can see them from afar and call them to do work!)
Either way, besides the odd few that may have been a little on the grumpy side, staff here on Daydream Island Resort presented themselves well, were happy and loved children. One in particular, Simon, who arrives in the morning at 8am to conduct the twice weekly yoga session, stays on during the day to man the beach hut and facilitates bingo at 4:30pm at the resort lobby. For someone working this long hours he was always chirpy and happy to help out!
Happy staff gives happy service, and I am very satisfied with the resort on this front.
Here's a direct quote from the husband: "These guys are by far the most friendly staff members in any of the hotels/resorts we have stayed in in Australia!"
Room
Here's the thing. I don't like the international hotels rating because it only requires the accommodation to meet certain criteria without assessing the quality of these criteria to award them a star or two. Daydream Island Resort is certifies to be a four star resort, because it has all the necessary fittings required to meet the 4 star criteria, yet, the decor, the working of the room air conditioning and parts of the hotel are really run-down and outdated that I often wonder what Asian tourists must think when the 4 star accommodation in Australia feels more like a 3 star in Asia.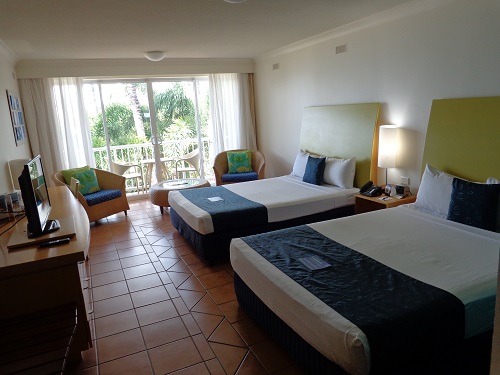 Our room was comfortable enough and quite a decent size. The mattress is old so not very comfortable, and our air conditioning didn't work half of the time. Bathroom amenities were basic and low quality, the soap itself have to be pried for its foam and the shampoo, well, hotel shampoos are never good anyway. Never the less, it is a practical room. Don't forget that Daydream is a family friendly resort, and there are plenty of space in the room for a cot, a second bed for the younger children to share and there is nothing in the room that would be hard to clean if dirtied.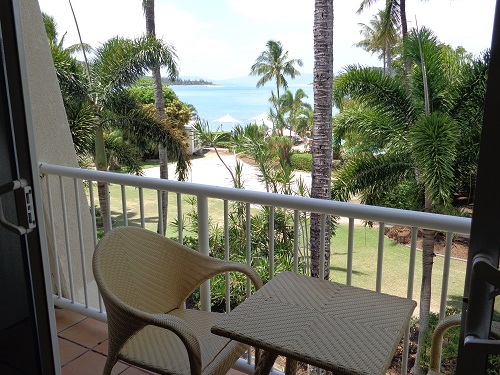 The balcony is on the small side, but still pleasant enough for a cup of tea and the daily paper read. I enjoyed our view very much but look out for the cheeky cockatoos! We were warned at check in never to leave our doors open, as the cockatoos know exactly where the mini-bar is, and will pinch your chips and nuts if you are not watching, and guess who'll end up paying the bill!
Health & Fitness
Daydream Island Resort is owned by Vaughan Bullivant, an entrepreneur who used to own the health food company Nature's Own. He has since quit the business but the resort continues his legacy of ensuring the guests plenty of health and fitness activities to engage in. I enjoyed a session of morning yoga, then out paddling the kayak and snorkelling at Lovers Cove.
There are three large pools, a gym and plenty of water sports to choose from, as well as great mocktails as an alternative to cocktails!
In terms of health, the day spa onsite provides natural therapy services along with the various different therapies. Unfortunately I didn't have the time this time round to visit.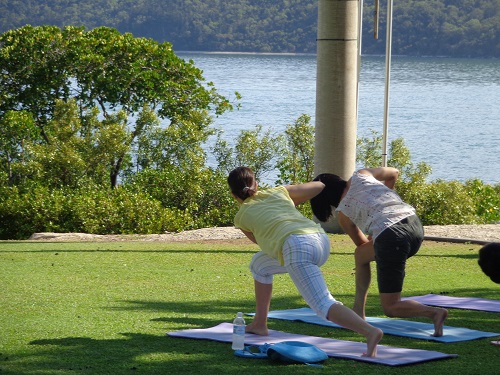 The Family Factor
We don't have children, so we borrowed the cute 11 months old from a friend holidaying with us and played pretend parents for an hour. Through this experience, I was especially impressed with the resort's efforts to make this easy and fun for families.
The entire place is decked out in bright colours for the children, with the lobby especially cheerful. The living reef lagoon, the pools, the massive play area, a great kids club and nanny services. The resort has really put thought into what a family with young kids need and put them into practice! For families with older kids, there are mini golf, water sports, lawn games and board games for the down time. I could see the kids around us were having a great time.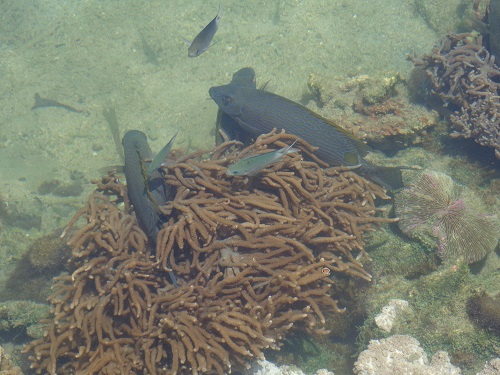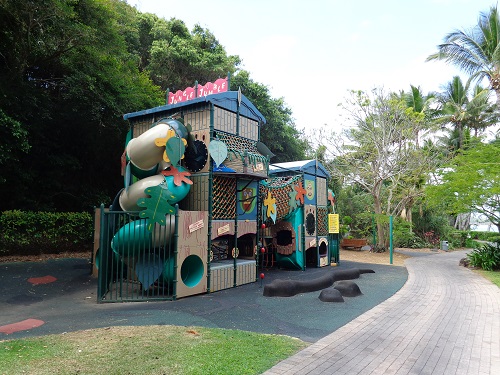 The Environment
Daydream Island is located in the Whitsundays, one of the most beautiful regions along the Great Barrier Reef. It is a great base for the reef and its calm waters means safe swimming during non-stinger seasons.
Beaches are not the traditional sand beaches we are used to in Australia but the resort has areas where decks are built for the comfort of the guests. In the middle of the island is a patch of rainforest, which make a great 10 mins hike between the north and south of the island. Approximately 40 species of birds live on Daydream, and walking through the track you can hear their chirps and sometimes get a glimpse of them. I very much liked this part of Daydream, for hardly anyone comes here so it is a quiet part of the island for me to enjoy.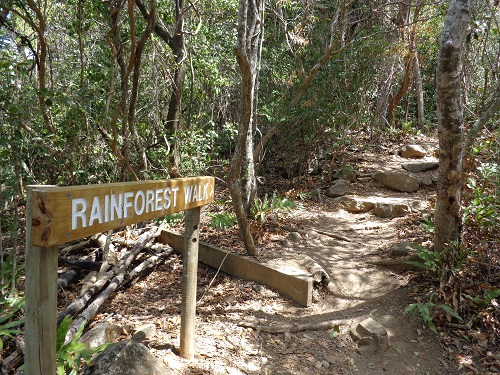 Lover's Cove is home to a school of tropical fish that are used to human presence, and come right up to you, especially if you have fish feed in hand! It was an amazing experience snorkelling among the fish with fish feed, it's like being in underwater paradise.
Activities. Activities. Activities!
I never thought I'd enjoy bingo, it's something retired people do in retirement homes, however I gave it a shot on Daydream and it got rather heated and competitive! During the afternoon many activities are arranged such as bingo and trivia for the entertainment of guests. After all, we can't spend the entire day by the pool all day!
Activities are scheduled everyday on a weekly basis, and best of all, you don't have to schedule them in your days, just have to turn up and have fun.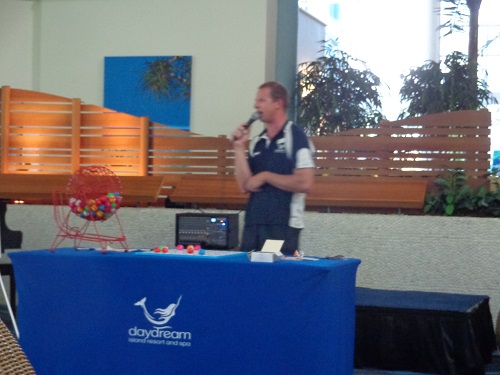 Value 7 / 10 – it is hard to put a value on the stay as I've come on a special deal. Our check out bill was $1300 for 2 people, which included several cocktails, mocktails, hire of a tinny and all our meals over six days and five nights. Kids under 6 stay and eat free here so even with a small child we wouldn't have been too much out of pocket as we would have been spending this much money anywhere else we stayed in Australia.
However for the resort as it is being advertised, I think it really needs to step up on the room amenities front. New air conditionings, better beds and better shampoo and soap could make a big difference. Also, perhaps have more staff on too. I noticed that some staff are doing multiple roles and long hours, and therefore things can sometimes get a little confusing. The lack of staff might also be the reason why only 2 out of 3 restaurants are open per day, it would have been good to have more choice in dining.