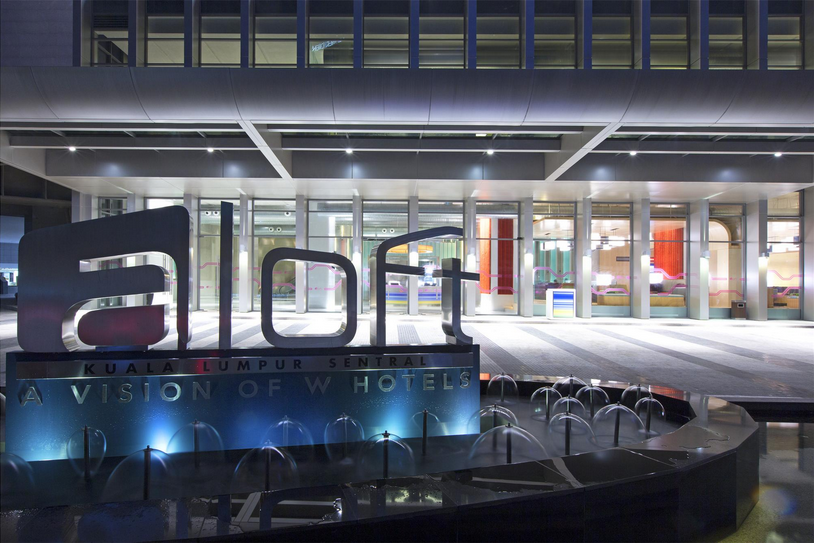 Checked in: 08 November 2013 *at 5am
Checked out: 10 November 2013
Room: 2516
Price paid: Booked with my Starwood Preferred Guest points
When we were in Kuala Lumpur last year at this exact spot, Aloft hotel was just being built. Not that we knew this was going to be the Aloft hotel – for us it was just a construction site! The hotel opened in April this year and it is already a hit with travellers from all over.
Everything about this hotel is chirpy, in a very 'neon-light' way. I find this type of modern concept can be quite risky for the hotel business, as the hotel is a little over priced for the average youth traveller who would like this type of decor, but too kitsch for the business and older travellers who might not enjoy it as much.
Although I think Aloft has done well in terms of balancing out the neons and the pastel colours and I for one, certainly love the quirkiness of it all.
Service
I arrived at the hotel at 5am in the morning and the cheerfulness of the hotel decor immediately hit me. I am getting the idea that the Aloft brand wants to portray this hip and cool image, and everything from the wall hangings to furniture to the staff uniforms were in pastel fluro colours and very swish and modern designs. A friendly receptionist checked me in, and despite the hour of the day his welcoming approach made me feel less cranky.
Throughout my stay, the staff of the hotel displayed a consistent friendly and welcoming attitude. It's Miss this and Miss that, and the friendly smiles of every staff, no matter how busy, had really made my days.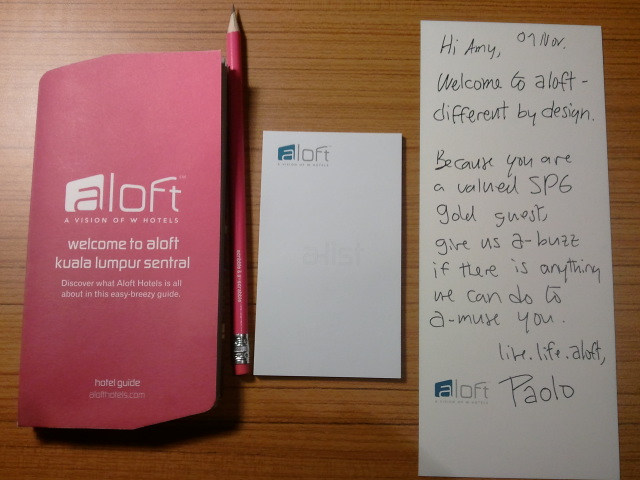 Being a Starwood Preferred Guest, I've always like the personalisation touch to our bookings. On my desk when I walked in was a note from some dude called Paolo inviting me to get in touch should I need anything. On closer inspection, it is not a hand written note but printed en mass with my name on it, and while it doesn't promise free drinks or discounts, it still is a small gesture that makes a difference.
Room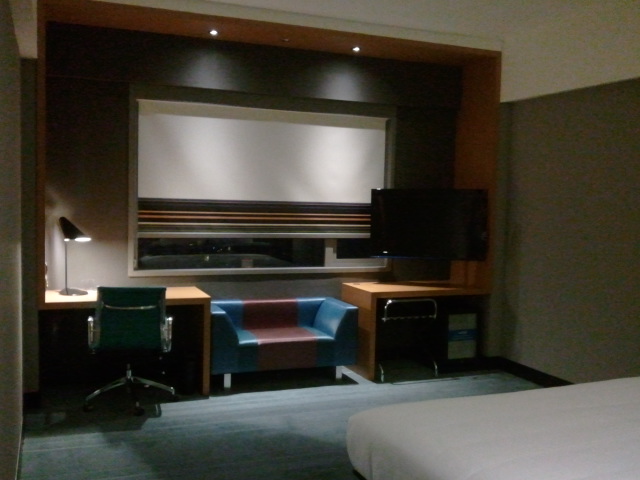 I'll have to be honest, I have no idea what type of room I have been allocated. It is on the 25th floor and is extremely spacious. There is a queen bed, a desk, a couch and flat screen TV and there's still plenty of room to perhaps fit a double bed side ways. The bathroom is efficiently designed, with side to side shower and toilet block and plenty of walking space in between. The decor is simple and uncomplicated, and my window looks out to Central Station, the two towering hotels of Le Meridien and Hilton, and I can just make out the silhouette of the Petronas Twin Tower and the Telecom Tower in the distance.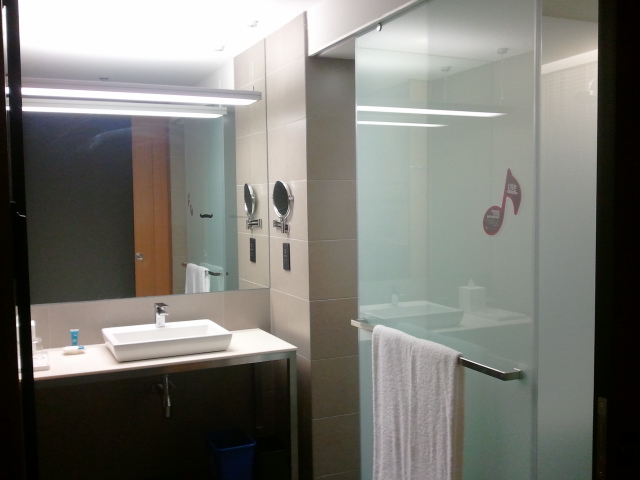 Here's a new mini-bar concept. Fill your own mini-bar. The fridge in the room is empty and I found what's called 'Re: Fuel' station at the lobby, sort of like a mini supermarket full of mini-bar style snacks and drinks for stocking up the empty fridge. There are hotels that does Vending Machine style mini-bars but I like this concept better I think, it feels less 'cheap'!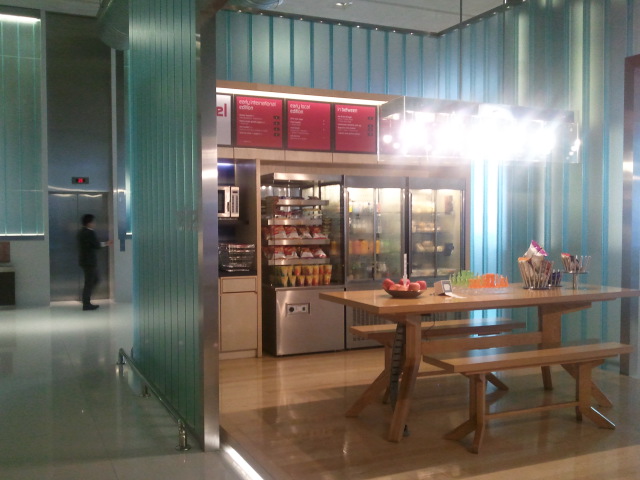 Health & Fitness
The roof top pool has been designed to look over the city, with an infinity edge and lots of sunning space. There is a small gym as well.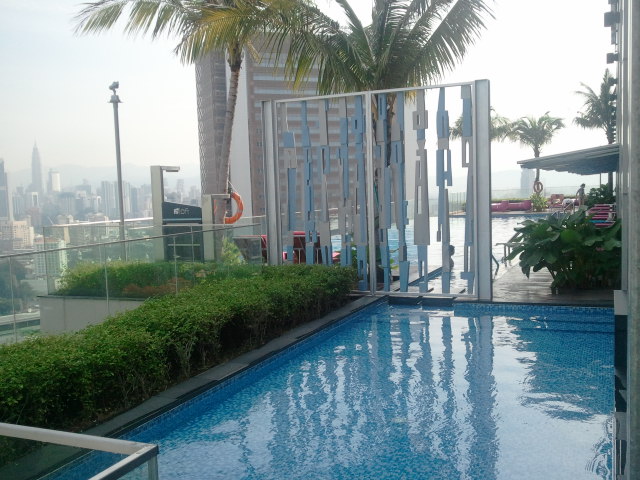 Facilities
Free internet in your own room. Small things make a big difference. I don't know why hotels in Australia haven't caught on that this is in fact, an extremely attractive feature.
My room didn't include breakfast, but I thought I'd try it out anyway. Breakfast was 48RM per person, and I thought the selection was fine. Not the best, but sufficient. I like the design of the restaurant however, once again, it's that chirpy and quirky feeling, and for mornings it's perfect.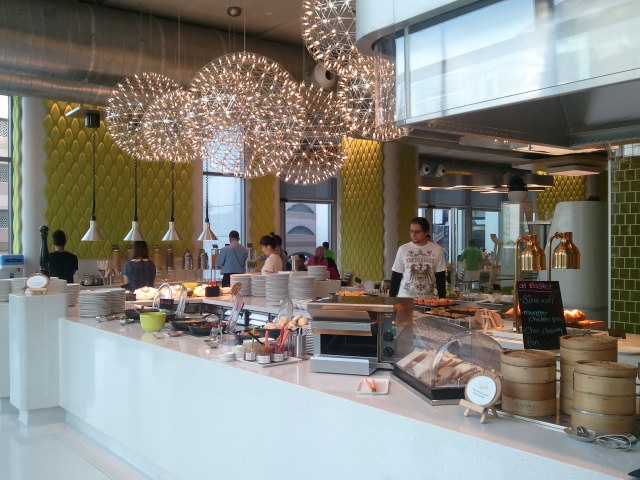 Location and Surrounds
Aloft is located just beside KL Sentral (Central Train Station) which is the transport hub for all public transport in the city. It may not be the most prettiest location, in comparison to hotels closer to the Twin Towers, but I like the transport options as I do like to venture out to outer suburbs when I can.
Value
8/10 – without my points I could have booked this hotel for around AU$130 per night. For a hotel of its quality it's pretty good value. I've deducted 1 points for leaving an empty box of facial tissue in the room at the time of check in (it's a petty point, I know, but it means house keeping were not doing their job properly). There is also a roof top bar, and the party was pumping for a while when I tried to go to sleep. This normally wouldn't bother me but on level 25 I could hear it quite well and unfortunately I couldn't get to sleep very well, hence a second point was deducted. Otherwise, fantastic value.