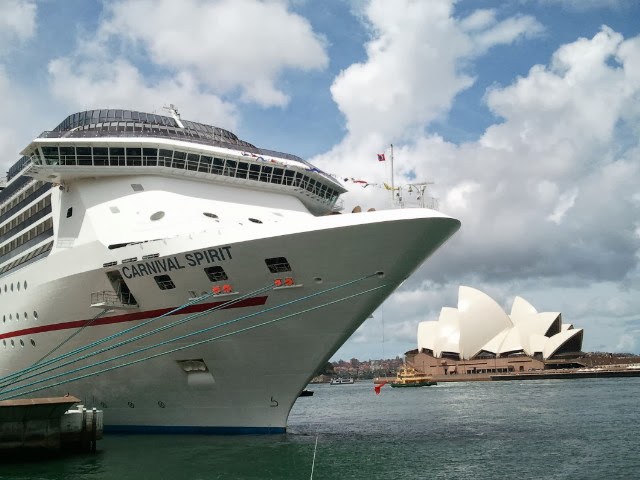 Cruise date: 16 November 2013, 8 nights South Pacific cruise
Cruise itinerary: Sydney – At Sea Days (2) – Isle of Pines – Mystery Island – Noumea – At Sea Days (2) – Sydney
Stateroom: 6297, (Starboard) Balcony Room
Price paid: $1,247 per person twin share, with $250 per cabin on-board credit
Carnival Spirit entered Australian cruise market last year in October. Since then there has been much hype about this new liner that claims its cruises has the 'fun' factor. When my parents suggested a family holiday on a cruise, I didn't hesitate to suggest that we try the Spirit out.
First Impression
They called it the 'Fun Ship', and it docked majestically (and colourful) at the Overseas Passengers Terminal on the day of our departure. As we stepped onto the cruise the ship showed an immediate glamour that was all over the Atrium area, with gold and bronze painted decor and the pretty neon lights marking various lines and corners. There was a somewhat vintage feel to the furnishing and despite looking a little tired (its birth year is 2001), the interior was very pretty.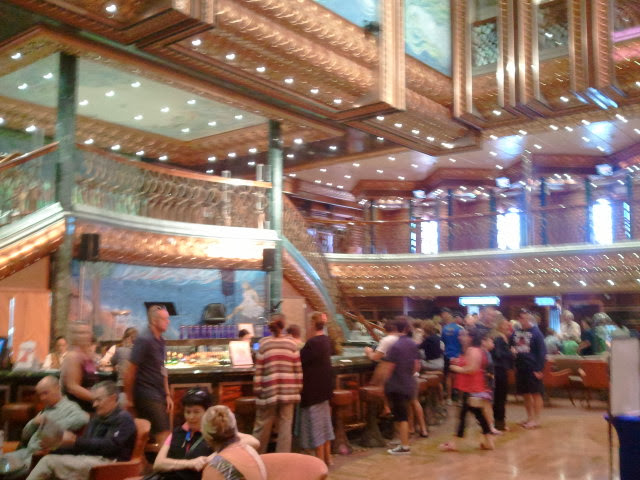 Our Stateroom
I never expected the room be in anywhere similar to a regular hotel room. I have stayed on board ships before so knew any furnishings in the room would be basic and light weight. However, I was pleasantly surprised that the room was quite spacious. There were room for a double bed, a couch (that can be folded out as a third bed), a bench, a round table, cupboard and bathroom.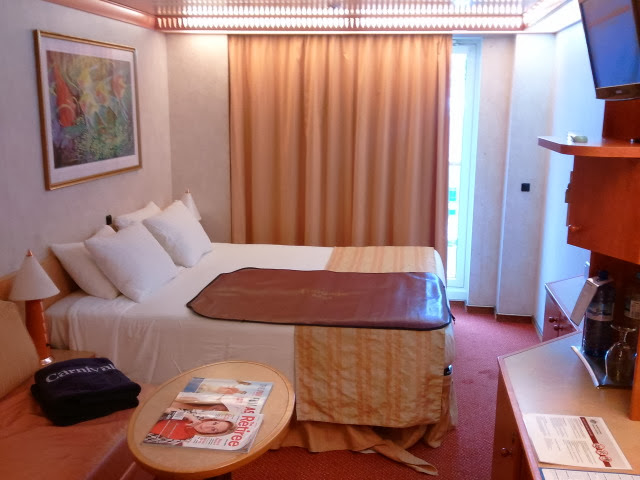 And there was still enough room for 1 person to spread out and do yoga.
The bathroom had a corner shower with good water pressure, and full width wall mirror at the sink area. Never once did I feel cramped and I slept comfortably to the ships gentle rocking motion every night.
The TV had channels that repeated a couple of movies and had the BBC news service through Satellite (I am guessing). The balcony was great when the cabin air got too stale. We also enjoyed being able to watch the shores glide past as we approached each port from the comfort of our own space.
Towel animals came in each night with the turn down service, that was pretty cool too.

Cruise facilities
Anything you can find in a community, you'll find it on the cruise. Indoor facilities included a few bars, each with a different theme (but serve the same drinks), a cafe that sold properly made coffee, a large production theatre and a small performance space that was also used as a movie theatre, a Day Spa with attached beauty salon, a well equipped gym with a group class studio, a library with internet cafe, teens zone with video games, duty free shop and Carnival merchandise shop, a sweets and flower store, photo studio, a medical centre and a casino.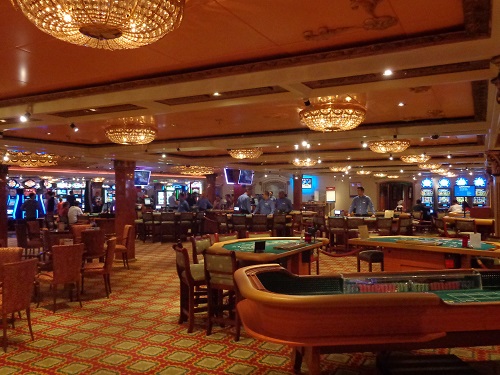 Outdoor facilities included three pools with small jacuzzi, two water slides (one of which scared the crap out of me), small jogging track, mini golf, basketball shooting court that can also be used as a mini soccer court.
There was also an adults only area with comfortable lounge chairs for those passengers who wanted to get away from children for a while.
Hand sanitisers are provided throughout dining areas, and there's drinking water fountains in the main outdoor pool areas.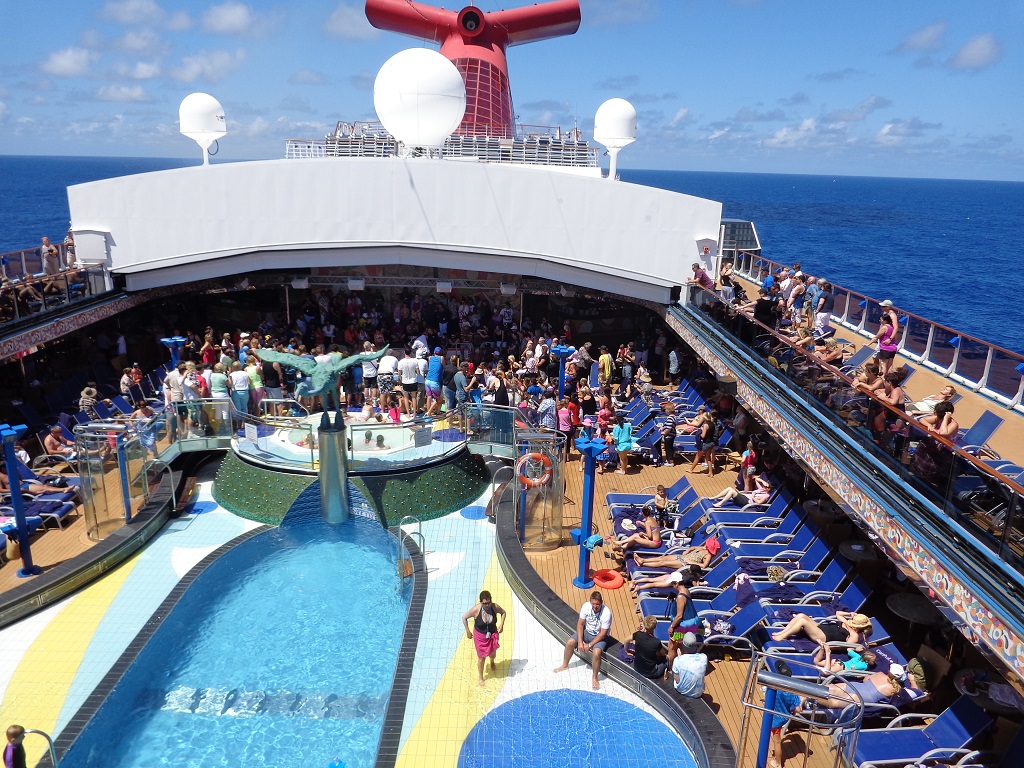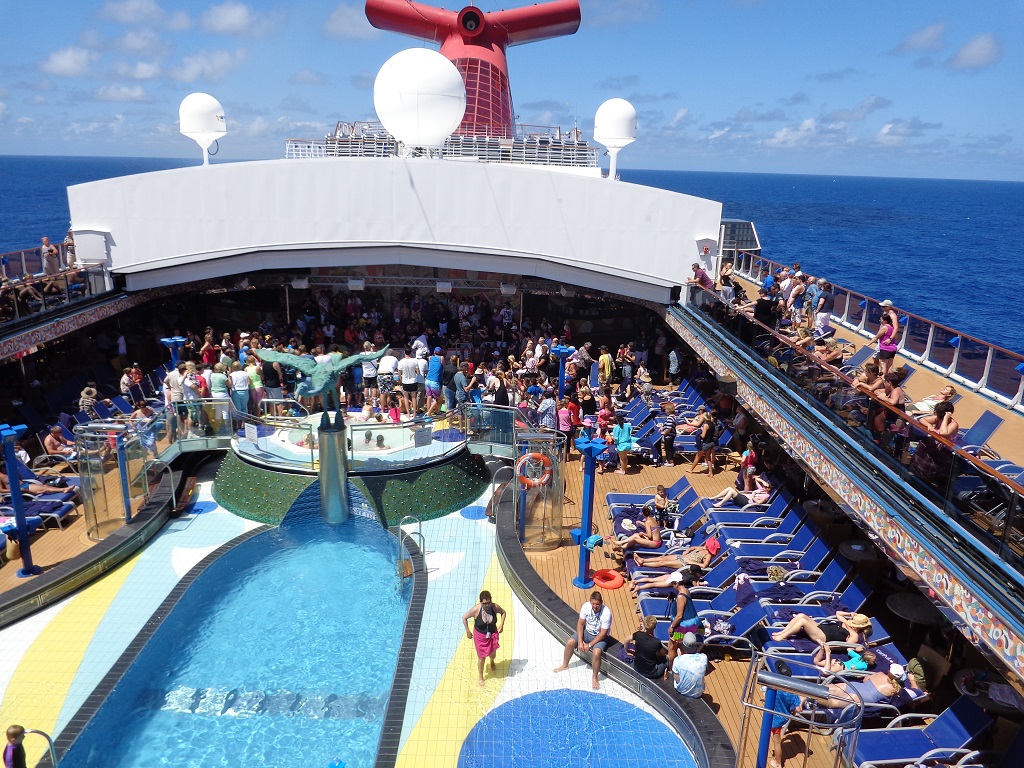 Satellite Wi-Fi connection cruise-long plans were available, at the time of writing, for $49 for one designated device or $119 for multi device access, which also included access to the internet at the Internet Cafe in the library (one login at a time). Be warned, satellite internet is significantly slower than the standard broadband connections. It often took me a few minutes to post something or send an email. This is, of course, not at all the cruise ship's fault, it's just a fact of life.
On-board dining
Food glorious food! If there was one thing I was truly impressed about, it's the dining on-board. Our days started with breakfast, with a choice of buffet style or dining room style and selections from the usual bacon and eggs, to fruits, salads, cold cuts, egg omelettes and egg pizzas and way too much pastries and cakes. Lunch is buffet style and the hot food section varies everyday and dinner, dinner is what impressed me the most.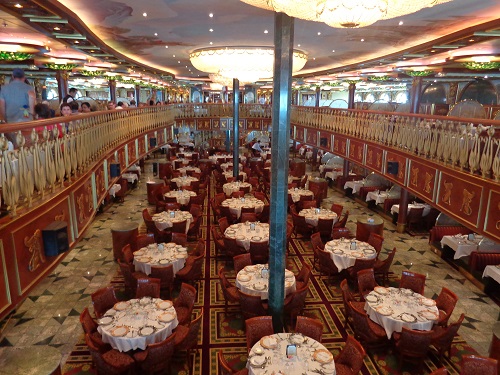 Dinner is mostly served in the formal dining room called The Empire Room. It is a three course sit down affair, and is four-five star quality. I mean, just look at the pictures!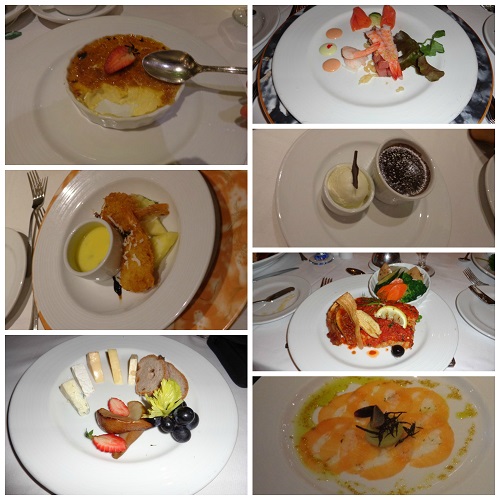 For those looking for a more intimate dining experience, there was a specialty steak restaurant on-board at a charge of $35 per person for a three course meal. It was nice, however I would have been equally happy with the standard dinner dining at The Empire.
Tea and coffee were provided free from the buffet deck, however, any 'better' coffee need to be purchased. Mum and Dad (repeat cruisers) mentioned that cruises will generally have drinks packages that include unlimited non-alcoholic and standard beer and wine for the duration of the cruise, but Carnival Spirit only had a drinks package for soft drinks and juices. Thankfully, the price of drinks were really not that expensive, and was comparable to the price charged at a standard restaurant in Sydney so it wasn't too hard on the credit card.
We mostly stayed with the freely available tea and coffee, with iced tea, juice and lemon squash available at the buffet decks.
On-board entertainment
There were four at sea days in total during our voyage and these were the days I was most worried about. What was I going to do, being stuck on a cruise ship with 2500, at sea for 4 whole days?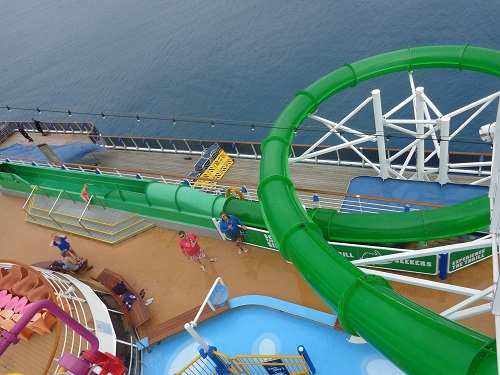 On the hindsight, I needn't have worried. Every day we were delivered an activities schedule, and it was jam packed with stuff. It isn't just bingos and hoola hoops… there were stand up comedy shows, theatre shows, magic shows, shopping events, live music at the various bars, healthy living seminars, chicken Olympics, trivia and art auctions. There's of course, shopping and raffle draws to attend too.
The quality of the theatre productions were not as high as say what the Opera House puts on, and don't expect something like a Cirque du Soleil style show, however, considering the space allowance they were commendably good.
The Hotel Director Donato Becce said that cruising is a way to experience things that you wouldn't otherwise do – he was right. How many times in my life time would I attend an art auction or go to a health seminar? (Well, you might, but I certainly don't). You may very well be reading this and think that these are not 'your thing', because that's what I thought too, but I liked to keep an open mind. I truly enjoyed many of the activities that I thought wasn't 'my thing'.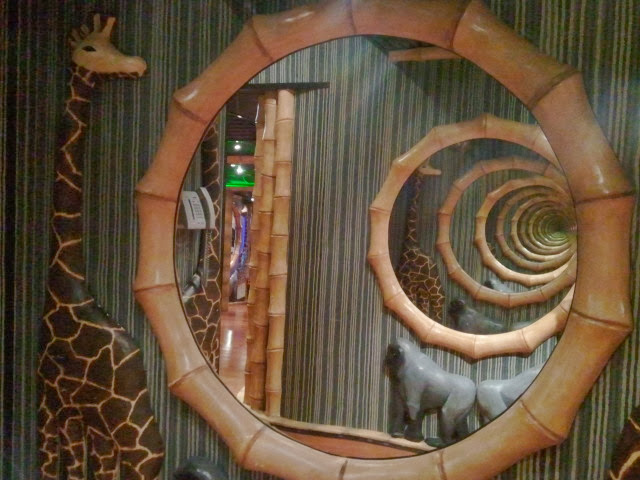 One thing that was rather unfortunate was the presence of a casino and rows upon rows of pokie machines. Many lonely souls spent hours pressing buttons at these losing thousands while we were at sea, and I think those already with a gambling problem may find themselves plunging deeper into a world of despair when on-board cruise liners.
Customer Service
This is a hard one. There were 900+ crew each with a different function, so it is difficult to give a general assessment of the service quality. I can only comment on the services I personally received while on the ship, just so you know, depending on who you speak to, opinions may differ!
As far as I could see, crew on the Carnival Spirit (and I suspect with most cruise lines) could be divided into their functional areas. For passenger facing staff, these were: Food and Beverage, Casino and Cashier service, Entertainment and Activities, Housekeeping and General cleaning and Medical and Security.
Food and Beverage: In general, most food and beverage staff were friendly and courteous, and I was particularly happy with our wait staff at The Empire Dining room. We had a waitress by the name of Worawan, whom got to know each of our names by the second day and was fantastic towards my mother's needs. Bar staff were generally very good, but like every other bar they do get busy and hence had little personal interaction with the passengers. At the buffet deck, the cleaning staff were prompt and speedy, and noticeably happy. The Food and Beverage staff would often go the extra mile to make a passenger happy.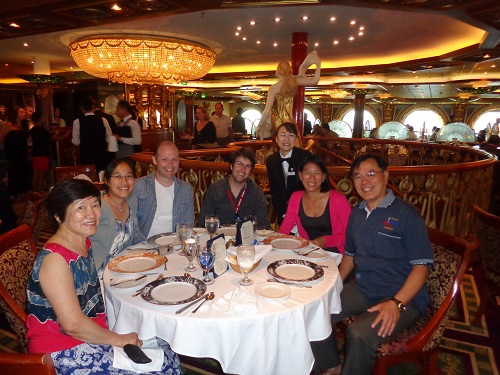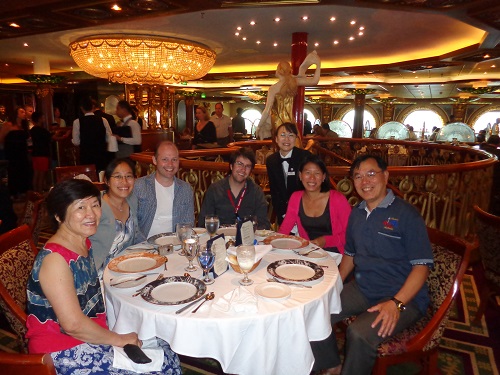 Casino and Cashier: Professional casino staff, but nothing else I could comment on.
Entertainment and Activities: for a job function that are to bring happiness and fun I found this section of the staff with the lowest quality of customer service. Was it just because I was travelling with a disabled passenger? (See below on The Disable Factor) Overall, the Entertainment and Activities staff lacked patience and lacked empathy, and only really engaged with passengers who were actively involved with the games and activities whom didn't require assistance. I am sure passengers who went along to parties and the physically active games (like the Chicken Olympics) had a lot of fun and wouldn't have felt any difference in the service they received, but from observation, their friendliness were superficial and they did not go that extra mile like the Food and Beverage staff.
Housekeeping and General: Housekeeping staff were always out and about, and there was always a smile and a hello whenever you walked past one. Our room was kept well managed and cleaned throughout the cruise, and the Cabin Stewart was always on call when we needed. When it comes to general cleaning around the cruise ship, the staff kept all common areas tidy and ensured that any spillage of food and drinks were wiped immediately. Public bathrooms were always clean. I was very happy with the Housekeeping and General cleaning staff.
The FAMILY factor
They don't call the Carnival Spirit the 'Fun Ship' for no reason! This ship is built for families. Besides the water slides and the pool areas, there was a 'club' for children from ages 2 to 17 (banded with different activities suited to their age). The buffet deck where families usually dine in was decorated in bright happy colours that appealed to children, and daily activities were designed to incorporate elements interesting for children.
The ship offered baby sitting program at night so parents can enjoy an adult only comedy or show, and the ship also organised free arcade game hours where no parents are allowed.
That's what I call a family friendly cruise!
The DISABLE factor
My mother has limited mobility in her legs, and walks with one of those wheelie frames we so often see elderly use. Cruising is one of the best way for her to travel as there is no uncomfortable altitude to deal with and it is in an environment that is comfortable and big enough for her to roam safely. I had met the Guest Services Manager one day to ask her about the catering for disabled persons. She assured me at the time of our interview that the ship is well equipped for disabled persons and my mother should feel very comfortable.
Unfortunately, the truth is, I felt that the Carnival Spirit lacked the care and tolerance towards disabled persons. My parent's room, 6281 had an automatic entrance that broke during the first day of our cruise. It was never fixed.
I also went around the ship in search of disabled toilets. While my mother still could try to hold on to walls and stable herself enough to enter a standard toilet, the entrance doors were heavy (even for me) and squeezed in small swing areas, it was extremely difficult for her to try to open the doors while trying to stand. My search found two disabled toilets at the front of the ship on separate levels that had automatic entrances, which I found would have been extremely inconvenient for disabled persons. Due to her muscle condition my mother walks extremely slowly. If she were out and about and needed to go (say she was having dinner in the dining room which was located at the back of the ship), she would have to walk all the way to the front, which would take her a good 20 mins before she could go, then walk all the way back to where she was before. I've seen the frustration in her eyes, and in the end, she took the pain and used us as support to go to the standard toilets.
My mother is lucky. She is able to still walk without her walking frame while holding onto railing or with our support. During our cruise, we also saw other disabled passengers, many in worse conditions than my mother, who couldn't possibly even enter a standard toilet. I did also notice that they weren't out and about all that much at all. I don't know whether the lack of convenience was the factor, but I certainly wouldn't recommend this particular ship for those with severely limited movement.
Facilities aside, I have found that some of the crew on board weren't very tolerant of disabled persons, and many of the activities didn't have an area for disabled persons to participate in. A good example is when we attended the towel folding workshop. This is a low strain activity that my mother thought would be perfect for her, and so positioned herself right by the demonstration desk so she could see. A young staff member walks up to her and asked her to go somewhere else where she wouldn't "block others from seeing the table". When I heard this, I asked where she could go so she could still see but not block others, the staff simply said "I don't know. Anywhere she likes, just not here." I found this lack of empathy towards a disabled person consistent among the many activities staff, who had no patience in assisting disabled persons to find a suitable area where they could participate in the many activities on board.
The ROMANCE factor
I had to throw this one in, as I was travelling with my husband at the same time and we wanted to see how 'romantic' the Carnival Spirit can be when it has been advertised as the 'fun ship' and family friendly.
Let's just start off with – I wouldn't come on the Carnival Spirit if we were only looking for romance. Go on the Queen Mary or something fancy, but not the Carnival Spirit. We had a couple of nights where we were able to enjoy a quiet dinner at the ship's signature restaurant Nouveau and found a moment of serenity on a lounge in 'Serenity', an adult only chill out area, and that was about it. Even in Serenity there were too many people to be romantic and so we often retreat back into our room for some peace and quiet.
Having said that, we had so much fun on the water slides and going about attending activities and shows we didn't have time for romance!
Value and quality rating: 7/10
It would have been nice to have some sort of drinks package for adults that included standard beer and wine option. I didn't like some of the staff's attitude toward my disabled mother and there were definitely areas for improvement. Otherwise, all things considered, I think this cruise is better than average in value and quality. It is always wise to analyse why you are going on a cruise, and select a suitable one for your needs. If you are after something extremely luxurious and romantic, then the Carnival Spirit may not be for you. For a family with young kids however, this ship has all the fun they'll ever want!
However, I am not a cruise expert, and cruising is outside my preferred travel style. After all, this was my first ever cruise! So you are welcome to agree/disagree in the comments below. If you have cruised on the Carnival Spirit and other cruise lines, would love to know how they compared.