Hello Philippines!
What a chaotic introduction we've had. Having had a night's stop over in Kuala Lumpur and about an hour and a half flight delay, we finally found ourselves on Filipino soil. The air is sticky and perfumed by a mixture of exhaust, grilled meat, boiled corns and sweat, layered with sounds bouncing off all corners.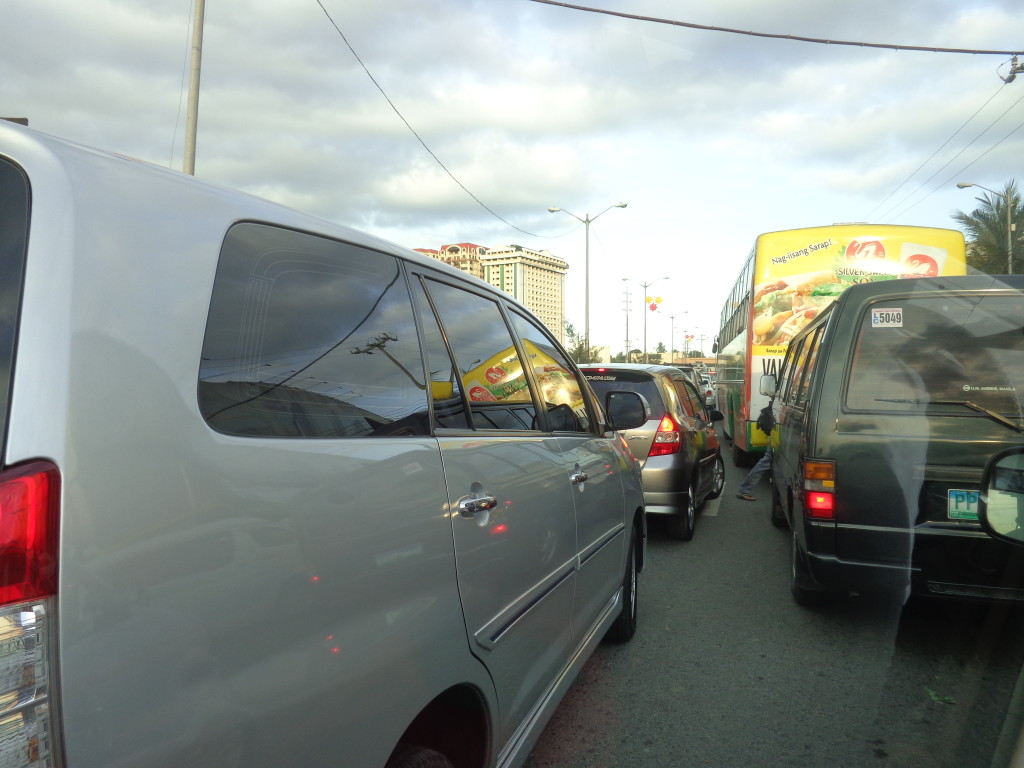 Asia certainly has a way of waking up all your senses.
We spent our first day here mostly on our bottoms. Straight out of the airport into a taxi to take us to the main bus hub in Manila, just in time to squeeze onto the departing bus to Tagaytay, both journeys through the legendary traffic jam the Philippines had to offer. There were cars and trucks and buses and Jeepneys and tricycles all fighting to get through, at the same time swerving to dodge pedestrians and stray dogs. I thought I've seen traffic in all other places, but Manila takes the cake so far.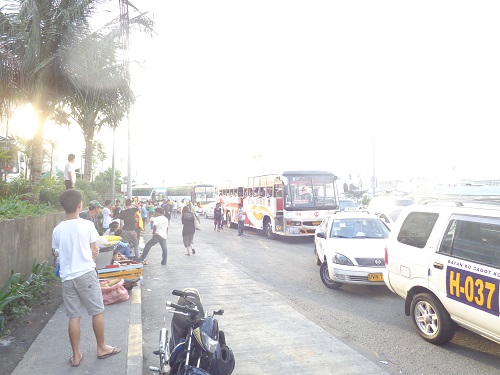 Two hours of a relatively smooth bus ride, one packet of fried pork fat later, we arrived in the township of Tagaytay, a beautiful holiday region around the Taal Volcano. The next challenge was to get to the hotel, which we specifically booked to be out of town.
Darkness had fallen and we were still disoriented from the long commute, so walking was out of the question. Like all long distance bus stops in Asia (and perhaps, also everywhere else in the world) there were taxis drivers on stand by, and one approached us. "Hello Ma'am and Sir, would you like to go somewhere?"
I showed him the piece of paper with the hotel's address on it, and he beckoned us to follow. Lugging our backpacks along, we found ourselves in front of a tricycle.
We are not going to fit. I said with concern in my voice.
"Of course you are Ma'am! Come, you sit here, and Sir sit there. I put this backpack here…"
We did fit, rather uncomfortably on my part as I was wedged into this tin box of a thing with my delicate backside massaged by the rattling seat. Will held onto his fear life behind the rider and we sped through traffic, down the lake side highway and up a dirty road. The further we ventured out of town the less it felt like there would be people, let alone a hotel in its midst. From my tin box I was on the same sight level as an adult stray dog and they eye me wearily as we continued to rattle along.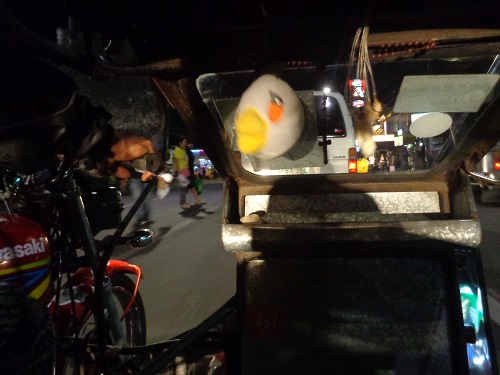 Finally, we arrived at the gate of the hotel. Thanking our ride, we walked up the manicured drive way to the mansion that looked too dark to be inhabited. No one was around and we began to wonder if we had accidentally trespassed into some rich Filipino's properties.
Or perhaps, it was haunted.
I knocked on the doors and the windows while Will circled the house looking for signs of life, and relieve came in the form of a flicker of a body. The door swung open.
"Hi! We didn't think you were turning up! So we were about to close!"
Close? Don't you have other guests you need to take care of?
"No Ma'am. You are the only ones."
Well that's a first. We are the only reservation they have for our two nights, and we have the whole mansion to ourselves!
After settling us down, we sit down for a nice Filipino meal of grilled pork Liempo (belly) and Pinakbet with Letchon Kawali (stir fried long beans with pumpkin, eggplants and crispy pork pieces) in Downton Abbey like fashion: the Lord and the Ladies ate while their servants stood along the walls waiting for orders.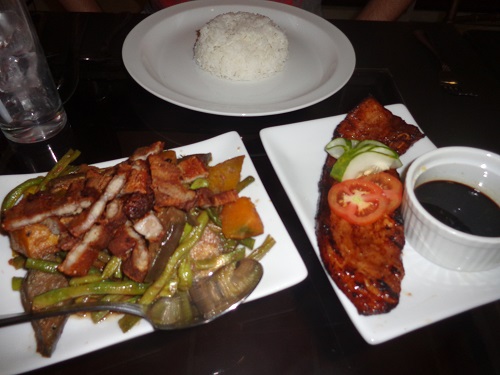 It's been an adventurous start to our trip. This is going to be awesome.