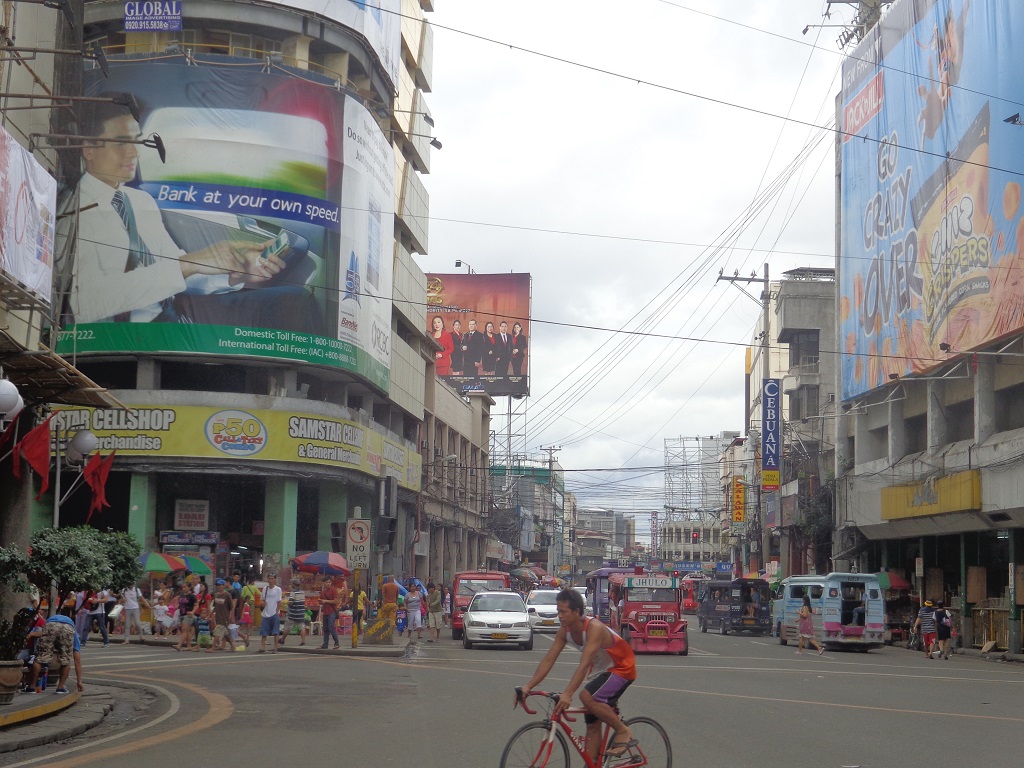 Cebu had been an adventure. Many visit only to stay on the small side island of Mactan to enjoy the sandy beaches and its five star resorts, but we chose to stay in the city centre, as I heard, it is a city only to be experienced full on.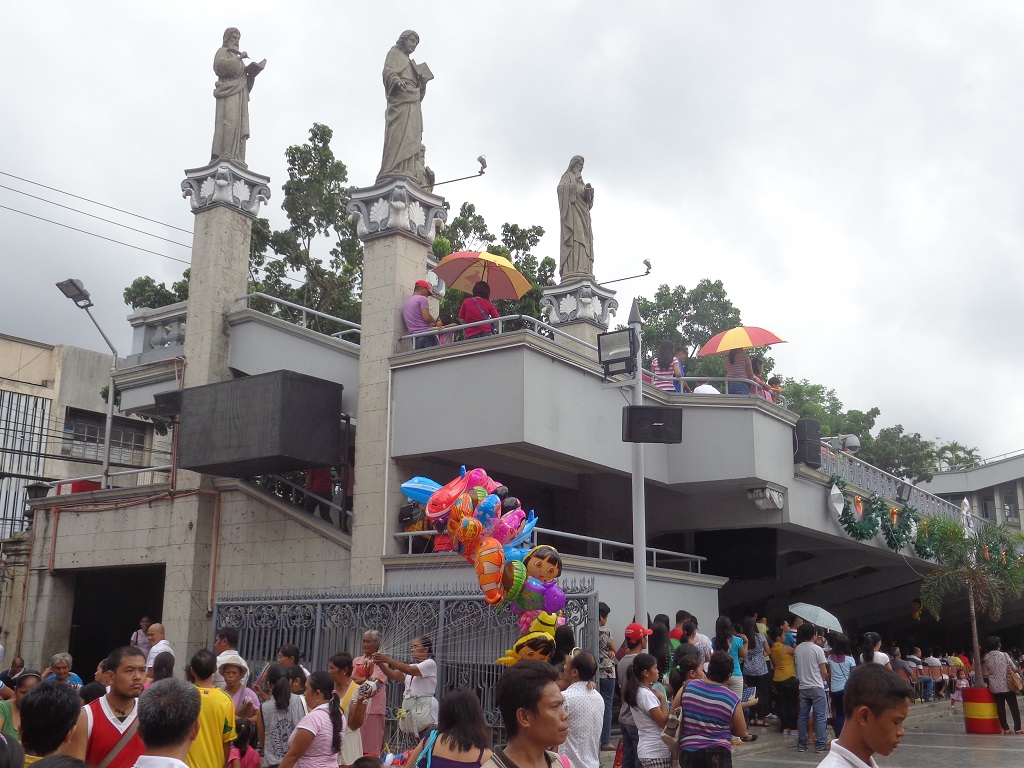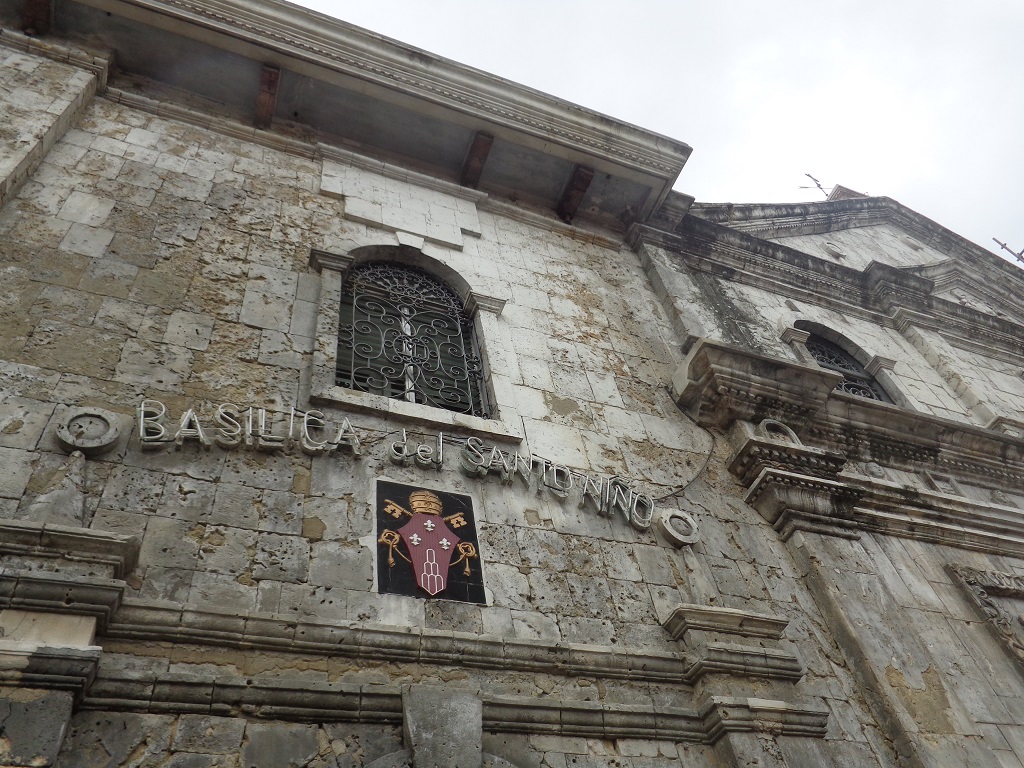 It was Christmas day when we arrived, and heading downtown we joined the hordes of people in the Basilica Del Sto Nino for Christmas mass. Both Will and I are areligious, and we only ever go to a religious ceremony attached to weddings and funerals, but in this heavily Christian country, going to mass was another experience. It was like being in Rome without the pope and people lined up passionately  and faithfully at the entrance to attend the outdoor mass.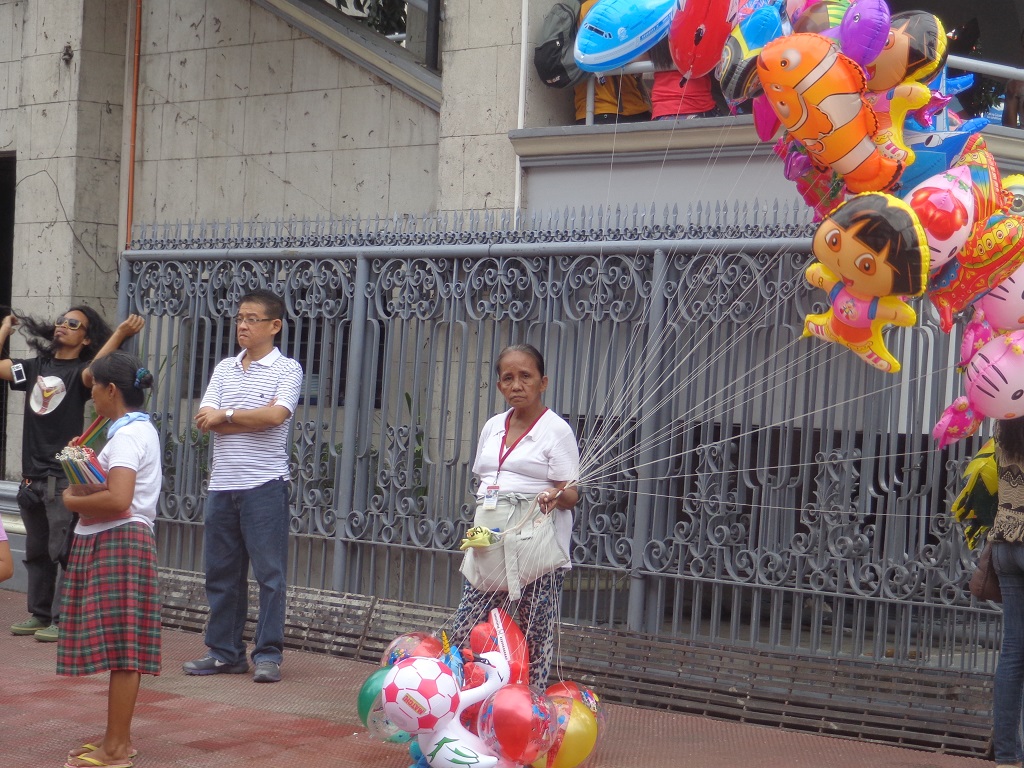 The Basilica was damaged in the October earthquake, and part of the bell tower had collapsed. This did not stop people from piling on to the open air mass area where the crowd stood and sang hymns. We weaved among the crowds and admired this fantastic example of the colonial era building. Cebu is one of the oldest cities in the Philippines, and it is also the first European settlement in the Philippines which made visiting the Basilica more significant in learning about the history of Cebu.
While everyone was at mass, we took the opportunity to explore Cebu on its most famous public transport – the Jeepneys. These quirky form of transport are left over American war jeeps from World War II. The yanks didn't want to spend the money to take them home so left quite a few thousand of them in the Philippines to rot. The locals took them in and made use of them by decorating them with elaborate exterior and created a form of public transport unique to the Philippines.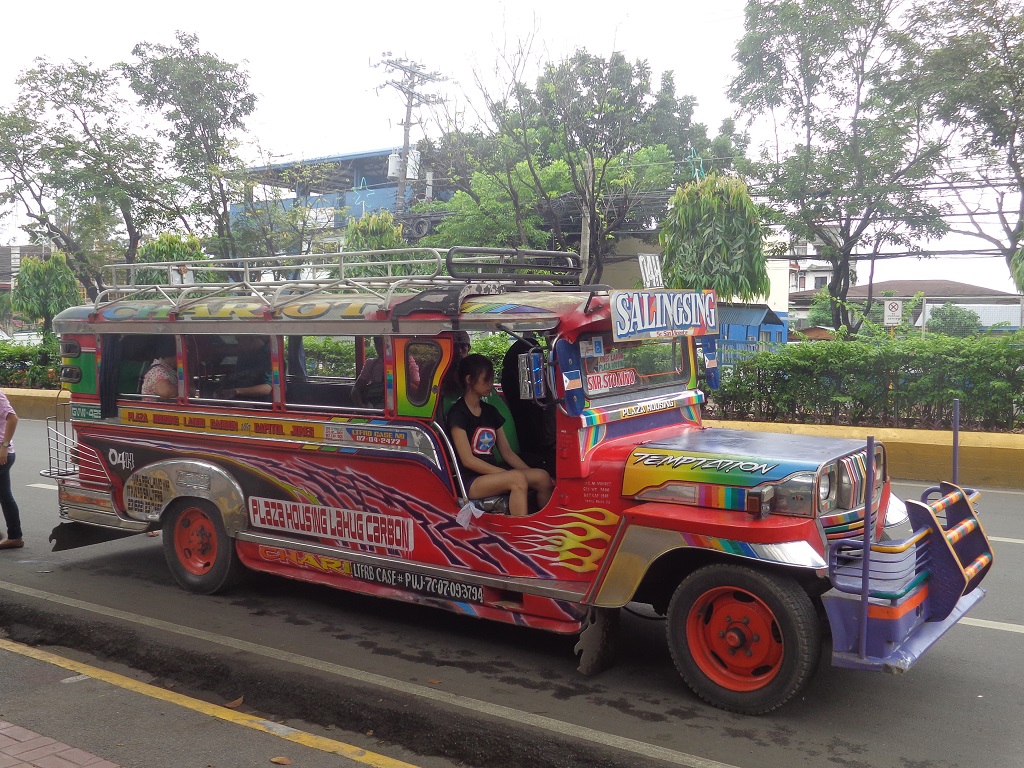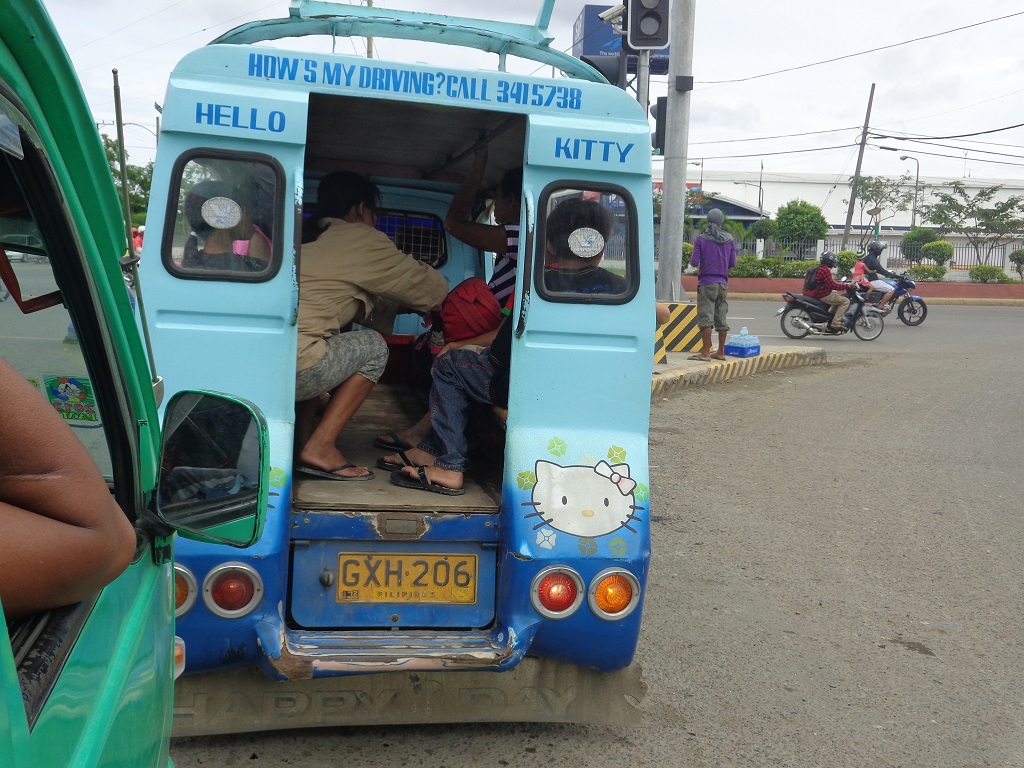 There are Jeepneys everywhere in the Philippines but in Cebu they were the kings of the roads. They came in different sizes, colours, designs and names. It has become so popular that even other style of cars (vans for example) were converted into Jeepney style to attract passengers. We navigated around the city by asking Jeepney drivers which direction it went, and then hopped on and off, squished up among the other passengers, chicken and goats.
One of the passengers took a look at us with pity as we bowed our heads low with our legs bent in awkward angles to fit in, and asked: "Why don't you take the taxi? It is more comfortable for tourists." I replied "But it wouldn't have been fun!"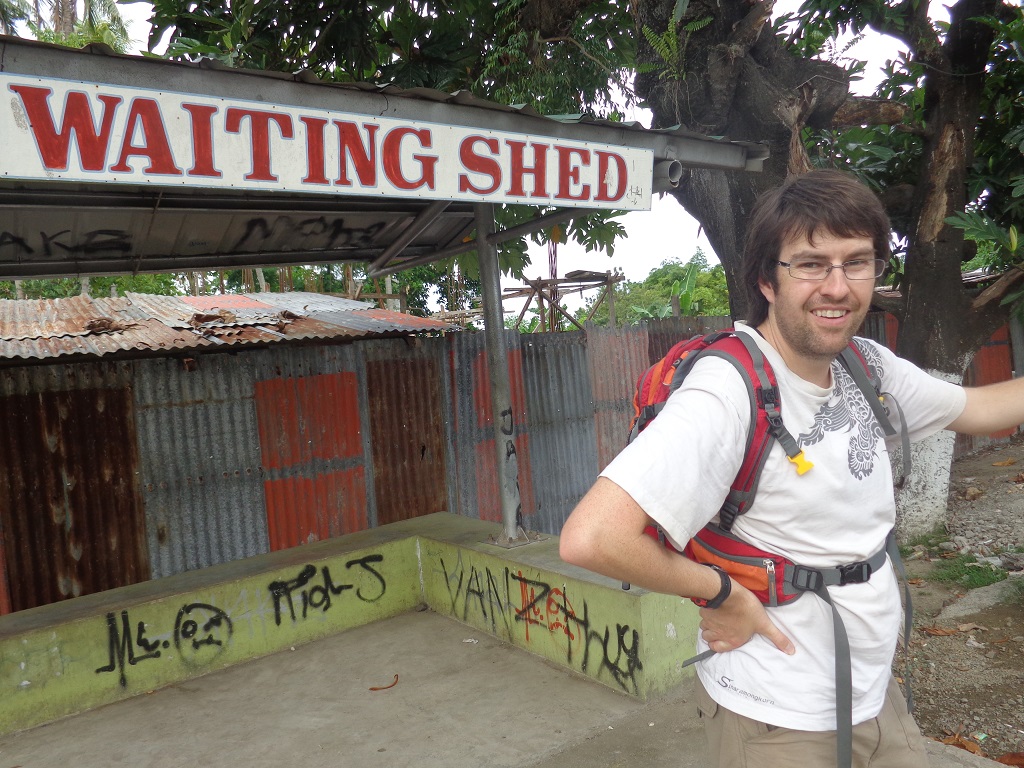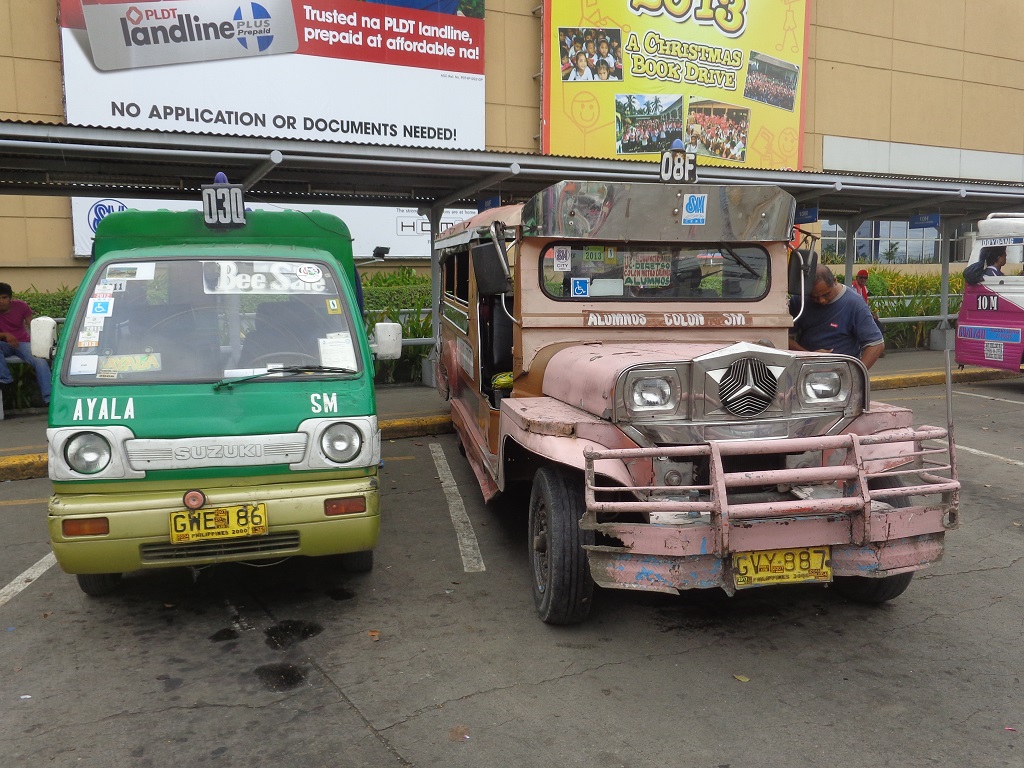 Indeed it wouldn't. In one day we took around 8 Jeepneys going in all sorts of directions, and with each trip, as sticky and as uncomfortable as they were, we had fun. We got to speak to the mamas who have had 12 children, the teenagers who think they've got Australia all sorted out – "Ah you come from Australia! I know that place. Auckland look like a nice place! You have the Kiwi bird, no?" – and let me tell you, playing corners on Jeepneys were certainly taking the game up the notch!
The traffic here is also not to be trifled with. In fact, traffic is legendary here in the Philippines, and outside Manila, Cebu would have to be second in terms of intensity. There are almost no road rules, and many large cross roads had no traffic lights, which meant, whoever honked the loudest and can push through the fastest wins! "That's why it's more fun in the Philippines!" One of the drivers joked.
(In case you haven't heard, "It's more fun in the Philippines" is the tag line for the national tourism campaign)
Hoping to at least get some beach time in Cebu, we took a couple of Jeepneys to eventually end up on Mactan, where most of the larger resorts are located. To our disappointment, all the available 'beaches' – which are really just small patches of sand, as most of Cebu are surrounded by mangroves and swamps – are used by the resorts as their private beach, and we had no access to any of them. Oh wells, back on the Jeepneys we go, at least it's fun.