It wasn't immediately apparent what we should be trying in the Philippines. Filipino cuisine is not like that of the Japanese, Chinese, Italian and India, where there would be a restaurant dedicated for them on every street corner. No one hardly ever hear of trying Filipino cuisine unless you know someone who knows where to go!
So, on our trip we were determined to find out, just what sort of food make the Filipinos drool.
Lechon Kawali
This is pretty much a spit roast, except it's not always on a spit. Lechon is a Spanish word that refers to a suckling pig that is roasted. You can get this anywhere in the Philippines and I can see why people get excited by it. I have been told by every Filipino that Cebu does it best, so you know where to go when you visit!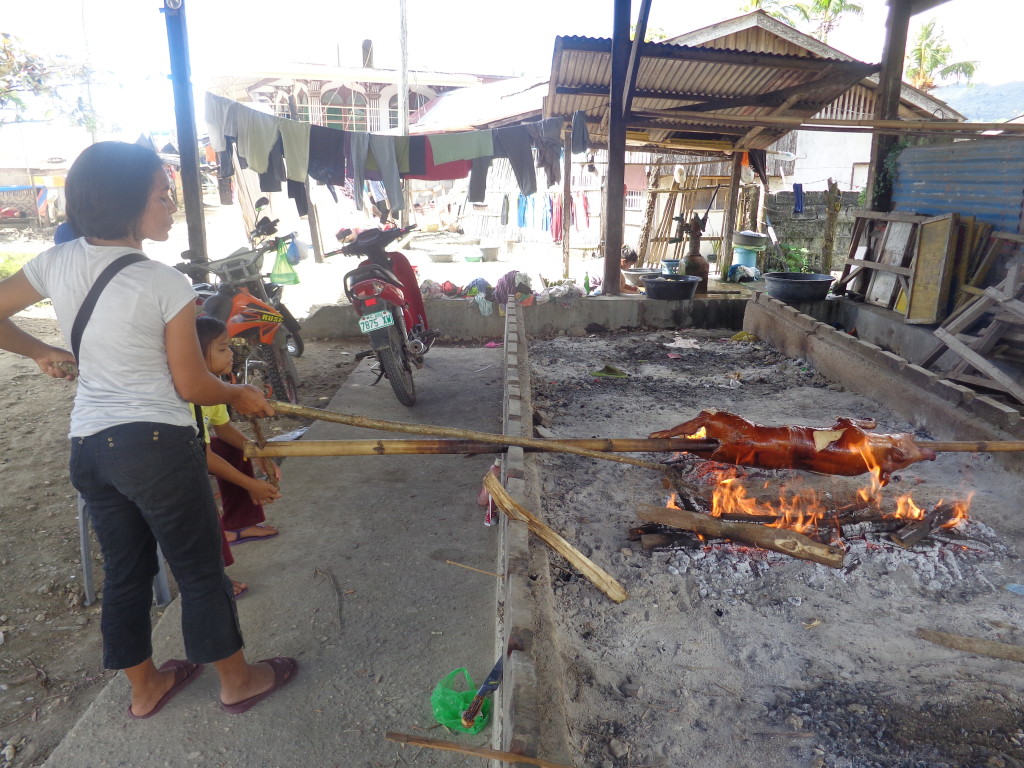 Humbang Nangka 
We tried this dish when we were out and about with our tricycle driver in Bohol. I had specified that I wanted to eat where he ate, somewhere that is local, cheap and did home style dishes. So, he took us to the markets at the town of Loboc, where small dining stalls had a range of pre-made dishes to choose from. Among the dishes, we chose Humbang Nangka, which is a jackfruit stew with coconut milk. Yum.
This is the dish that the lovely staff at Kayla'a Beach Resort made us after I mentioned that I had tried it in the markets, and will be the dish that I think of, whenever I think of the Philippines!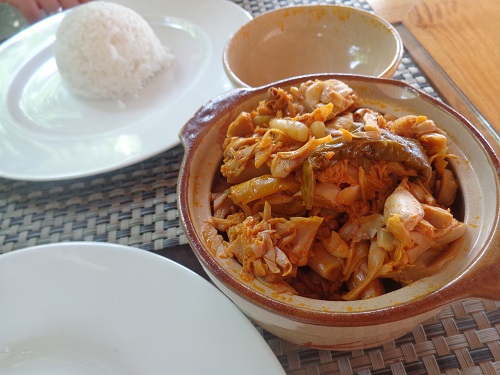 Boneless Bangus
This dish was everywhere: on breakfast menus, piled up in the food court and is often in the pre-cooked section of the markets too. As far as I can tell, these are silver, white fleshed fish from the sea, butterflied and fried and served with rice and a tangy sauce. It's lovely, and surprisingly light to have for breakfast!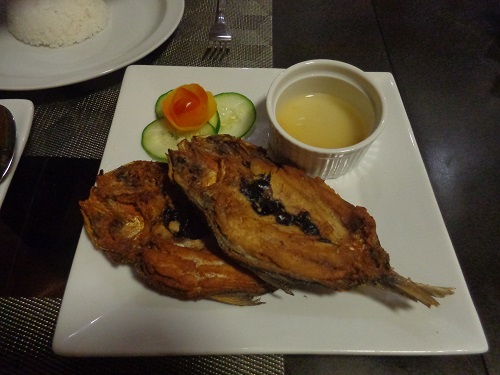 Chicharrons
Chicharrons are pork skin fried to the point that it pops and becomes chip-like, and eaten as a snack. Fresh ones are light and delicious, but if you get them pre-packaged they can taste stale and greasy. Yes, it sounds like a pile of fat doesn't it? As one taxi driver said "Filipino snacks are really nice, yes, but very bad for you!"
Eat in moderation :)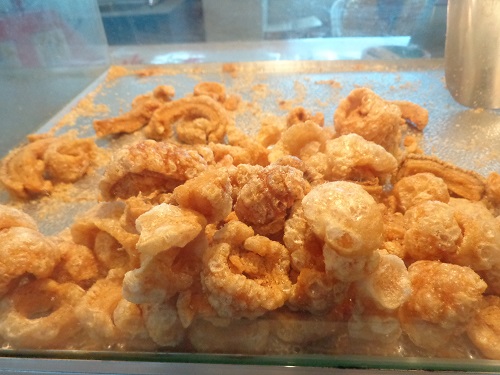 Halo-Halo
Most Asian countries will have their version of a shaved ice dessert, and Philippines is no exception. What the Malaysians call 'Ais Kacang' and the Taiwanese call 'Baobing', it is called Halo-Halo here. As far as I can tell, there are not a lot of difference between the versions, but this particular bowl in the picture is from the Buzz Cafe in Taglibaran in Bohol, where it is topped with a range of fresh fruit and a scoop of 'Malunggay' ice cream, a flavour which, as I found out, is from a tree that is also in my dad's garden back home!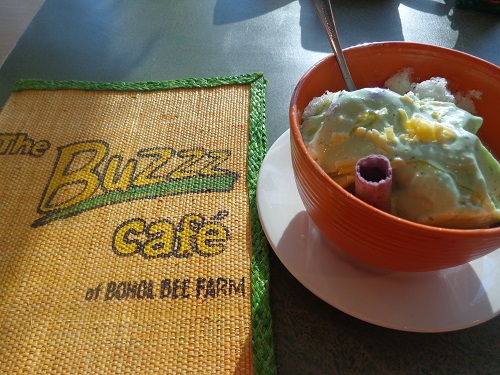 Balut
I hope you were waiting for this! Yes, I tried the legendary Balut, and it wasn't too bad.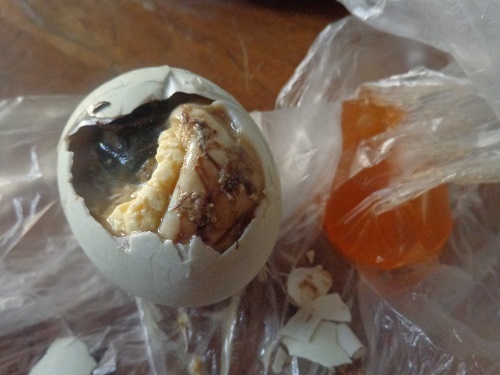 For those of you who haven't heard of this, this is pretty much duck egg that has been fertilised and allowed to development before being boiled and eaten with vinegar.  It is a 'night time' snack, and as the sun drop you'll see street vendors with their eskies holding dozens of eggs on the street side.
Every Filipino I have met expressed their appreciation for this delicacy, but have warned me against diving into the deep end. "For your first balut, you should start with a young one. Make sure you ask for a 16 day egg."
So, under Will's watchful eye, I approached the balut vendor and bought my 16 day old egg.
I am not going to pretend that I didn't think about backing out last minute. The egg smelled awful when you first crack it and there was a very small duck curled just beside the join of the yoke and the egg white. However it didn't taste too bad. The yoke was creamy and the egg white a little on the tough side, but it really just tasted like egg!
Food and Living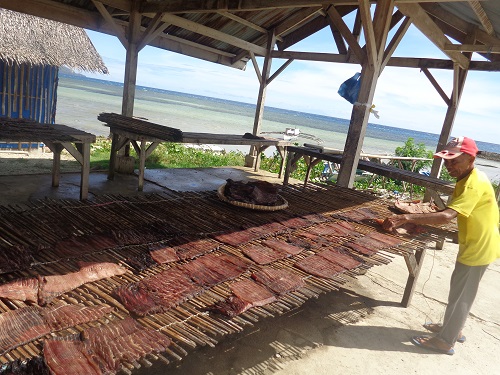 Food is obviously closely connected to the lives of people living in any community, but it is throughout the countryside of a country that you really feel this connection. There are always someone preparing some sort of food, and there is always a food to be associated with particular festivals.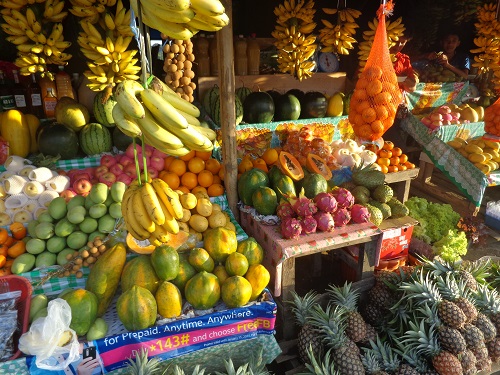 Of course, being a tropical country, fresh fruit is aboundant in the Philippines. Fruit stalls line the streets near farming areas so that commuters and display array of colours and variety of the local produce. Fish markets of coastal towns are often the busiest just before sunrise as the fishing boats are just returning from a night out.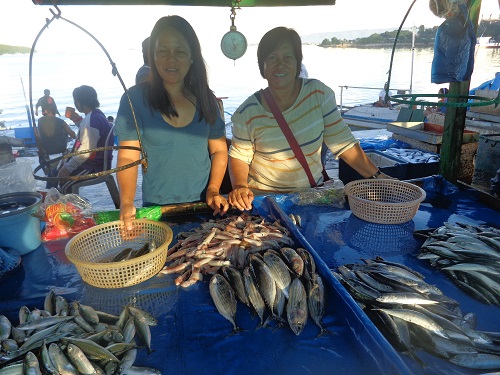 There are a great many things we didn't get to try this time round, but I know that I'll return one day, and is already making a list of things that I will try next time.