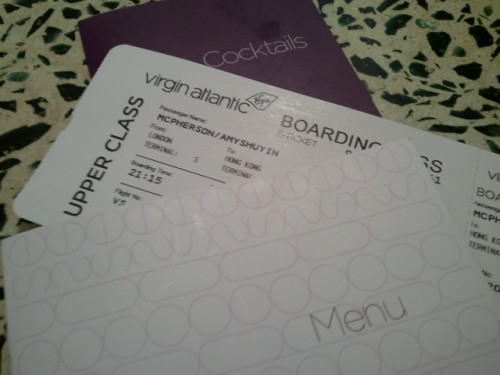 I promised that I'd give you a review, however I've decided not to keep to my usual review template but to simply write to you about this experience instead.
Remember I have been on Air Asia Premium seats? That's was the budget option and this is the first time ever I travelled in a full service business class cabin.
How was it? Well, Upper Class (Virgin Atlantic's business class) is really just like all other business classes I have seen. Lie flat beds, mood lighting, overly courteous staff. However, let me tell you about what my mind went through BEFORE the flight……..
<at the check in counter>
"Hmm. I do have a little bit of savings I could use. I am missing Will like crazy already, I could do with some indulgence. I can just afford it just this time. Wow, that's expensive. That's like… 2 return flights to Europe from Sydney for the price of one way upgrade cost. I don't know how some people could just spend this money. Wow. I mean, I do have the money. I can afford this, but just wow. That's expensive. But I really could do with something really, really, really nice."
<fast forward 25 mins and…>
"OMG. I've just become that 'some people'. OMG. She just charged my card, and the receipt has my signature on it. OMG OMG OMG. WHAT HAVE I DONE??!?"
<calls Will in Panic>
"Will. OMG! I just spent money!"
<explains the perks in a shaky voice>
"So like what I've heard from my travel agent days, business class passengers get access to the airline lounge. But oh get this, you get complimentary massages and full three course meals!"
<5 mins into the conversation, feeling less panicked, more excited>
"Did you hear that! A free massage!"
<Hangs up phone, goes into the "Virgin Atlantic Club House">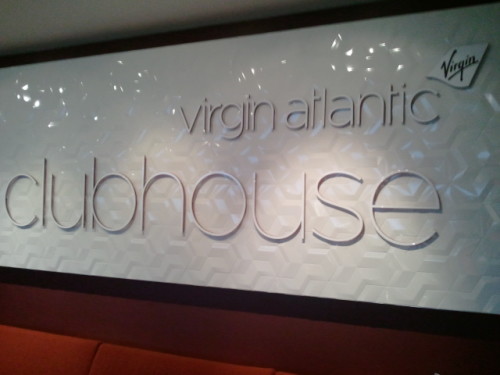 "Wow. Just Wow."
<Still mentally slapping self>
"There is a hair dresser… there is a restaurant… there is a bar… there is some weird looking seating pods… there is a pool table… there is a vodka loft…. there are waiters everywhere… mind blown"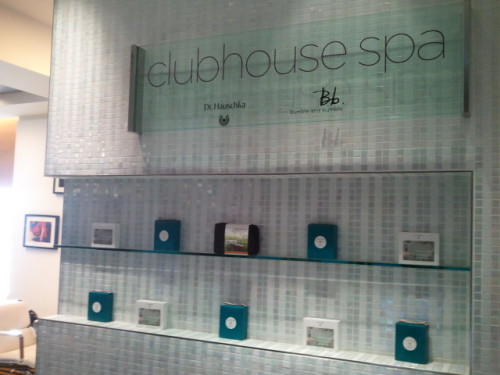 <runs around like a peasant in a big city for a while, then books in for free massage>
"OMG I can't believe I just spent this money."
"Hey look they do facials too!"
"Oh look at the time, better go for that massage…."
<after massage, heads to the restaurant>
"Oh wow, they have fish on the menu."
"Proper mental knives, spoons, forks…. Oh, you mean the fish if not available today? Hmm… oh goodness, don't apologise to me! Why is she apologising to me? It's not like I am paying for it… oh wait…. I DID pay for it…."
"Oh wow, this burger is divine."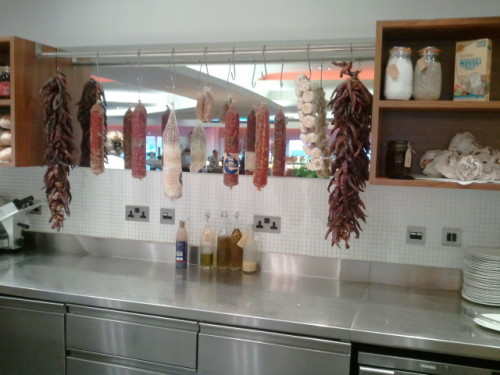 "Oh wow, it taste like real restaurant food <forgetting I was still on land>"
"Wow my shoulders feel good. That massage was GOOOOD."
"Ok, now I am too full. I won't be able to eat what they serve on the plane. Actually, I don't want to go on the plane anymore. I want to stay here…"
"Er, excuse me… would you happen to have a phone charger I can use on my phone?….. Wow, that was a miracle, she had one right in her draw!" <happily puts on phone charge, from the one who packed her charger in the check in luggage…>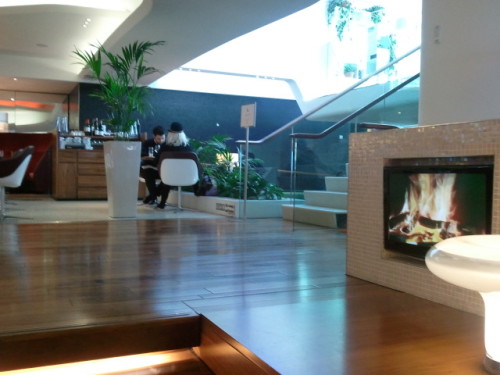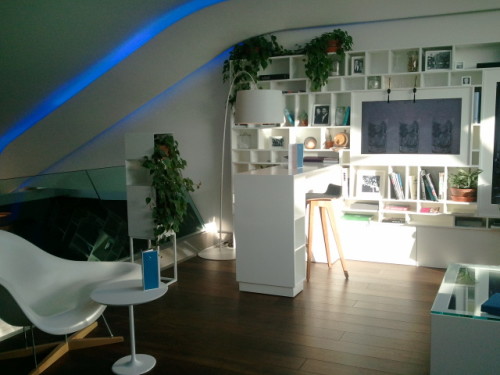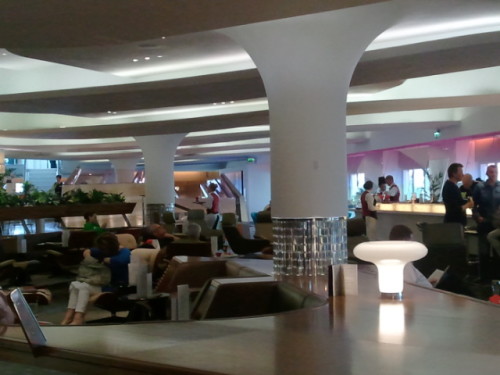 <announcement calls for the flight, giddy with the priority line>
"I don't have to line up. I don't have to line up!"
"Ohhhh…. pretty seats…. all these buttons that does stuff… <accidentally presses the attendant button> oh whoops sorry there, I didn't meant to call you over…"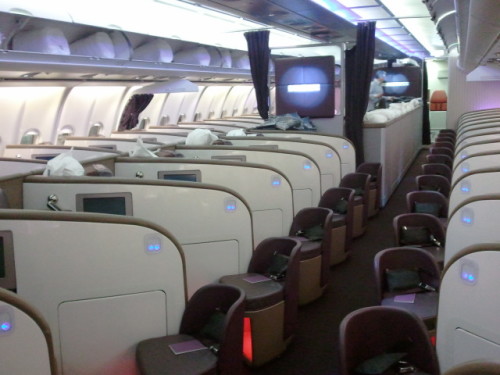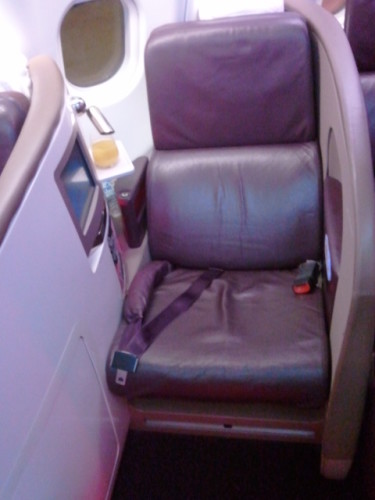 "Oooo the flight attendant just addressed me by my name. Wow, say my name, say my name!! Eh what? Would I like pyjamas for my flight? Ok, never been asked that before….. Yes please! Bring on the pyjamas!"
<flight takes off>
"Wow. Ok, so I am not likely going to be on another one of these again so I am going to try to try everything here! I am just gonna…….. ZZzzzzzzzzzzzzzzzzzzzzzzzzzzzzzzzzz"
Was it worth the 2 return Sydney to Europe flight cost?
[Edited – 12 hours after posting] — there has been feedback that I should have let my verdict come in softer, and not to let you hanging on a high then tell you the below. Apologies for that. It was all super exciting and all, and I did enjoy myself, however I needed to be honest and not just review based on instinct, and below comments were just some hindsight after the adrenaline rush. —  [End Edit]
Honestly? No. At least not for me.
It was extremely nice, but it's not me. There are people who can genuinely afford it or have their trips paid for by their business, there are people who think they must have this comfort and luxury and have other priorities for their money. I am more practical, probably more sensible than that.
Because these 'experiences' can be bought elsewhere. Even if you chose to have a full three course meal at a nice airport restaurant, had an hour's massage at the airport's day spa and paid for a few cups of nice coffee at the airport cafe, it still wouldn't have cost this much. As for the flight comfort, all experience travellers would have prepared themselves with a good book, a good few hours of movies and shows to last our laptop's batteries (and then recharge it up at our transit stop for the next leg) and a nice travel pillow to make ourselves comfortable.
I'd rather have spent the money on a nice hotel at my destinations.
Perhaps I have been a backpacker for too long, perhaps I have been poor and having to finance every single cent of my money for too long, but for the cost of two return flights from Sydney to Europe, I genuniely think that you don't get the value. Sure, you get treated like royalty, sure you get to spend your waiting hours away from the 'commoners', but it is just a little too pretentious, too snobby and too solitary an experience, even for a solo traveller.
Because some of my most exciting travel stories come from being a commoner and having to wait with everyone else in the departure hall.
That's just me. I will probably do it again sometime in the future as a treat for both Will and I, on a short haul flight, but would I choose to travel like this all the time, even if I could afford it? No thank you. Not for the amount of money I could have flown return twice.
Having said that, for the regular business class travellers: the experience was super nice. The lounge was extremely inviting, the staff are all welcoming and lovely and the space had ample comfort factor to warrent even getting their few hours early just to enjoy it. I mean, who gives free massages?
Virgin Atlantic does. If you pay for it.