If you have been following on Facebook, you'll know that the Crazy Cat Lady (me!) was at it again, stalking local cats wherever she goes, and in Munich, she has definitely found her spot, at the Cafe Katzentempel.
<queue: purring from Amy>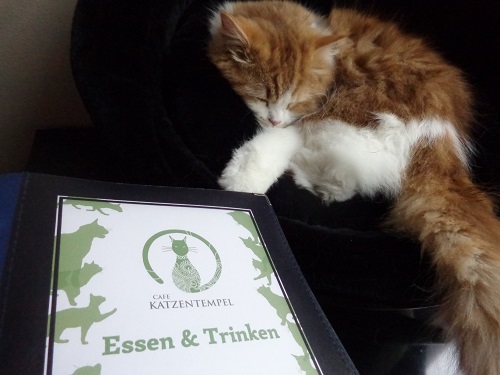 The cafe is located on a popular cafe street near the university (where else would it be?) and is the home of six very beautiful and friendly cat 'wait staff'.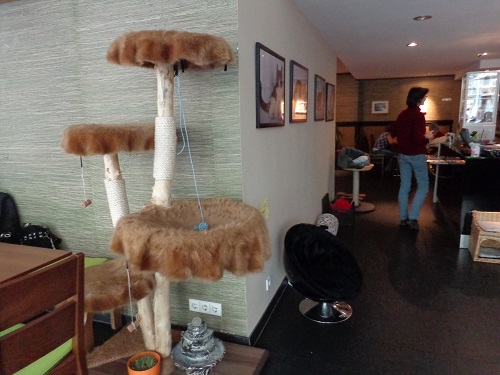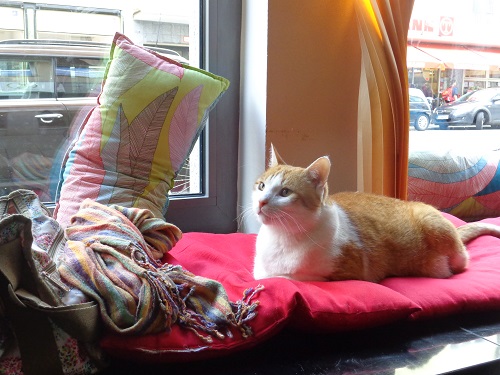 Upon entering the doors, we were first greeted by one of the Siamese at the door, already welcoming our arrival with furvent body rubbing and feet tapping. We found a table by the window where Ayla the long fur ginger was curled up in a sunny corner having a snooze.
I ordered a cold green tea, the husband ordered a milchkaffe (milk coffee) and we shared a chocolate cake. There were flashes of fur all around us, where the Siamese had since been distracted by a ball being thrown around by another customer, and another ginger with three legs (rescued street cat found hit by a car on the roadside) hopped on the cushion beside me and started kneading.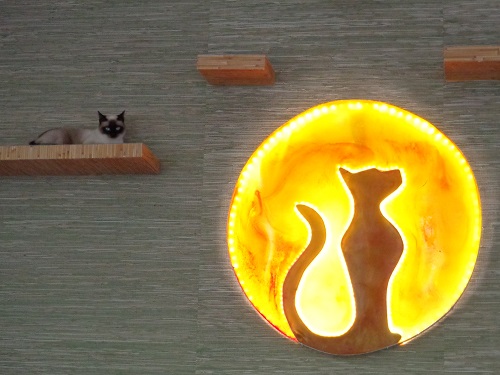 There were two rules to the cafe: you are not to feed the cats and you are not to pick them cats up from where they are settled. Let them come to you.
Cats are great in cafes. They amuse customers with their antics and are self independent enough to amuse themselves at the same time. They are however, likely to be found slacking off on the job, but oh wells, simply being cute and cuddly are also part of the job description.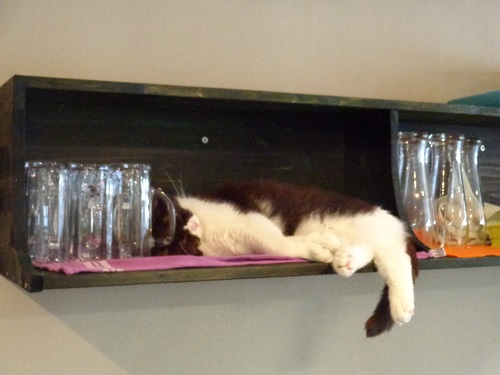 I have found the best thing about Cafe Katzentempel is the relaxed environment. It isn't always busy so you'll always find a spot and be able to have some time with the cats. There is also a back area for those not so interested in interacting with the cats.
Yes, I did get cat fur all over me, and some in my tea and on our cakes, but oh this feels so familiar and comfortable, and I have found my spot in Munich.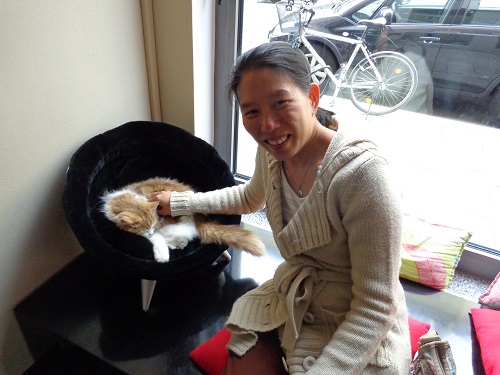 Tips for visit
This is after all, a cafe in the university area, not in the tourist spots, so nothing will be in English. However, be polite, apologise and explain that you do not understand German and the friendly staff will explain the menu to you.
Go during a week day mid morning, when most students at in class. You'll get more of a chance to get a window seat, where all the cats prefer to sit as well.
Location
Türkenstr. 29
80799 München
U-bahn station: Universität
Closed on Mondays.