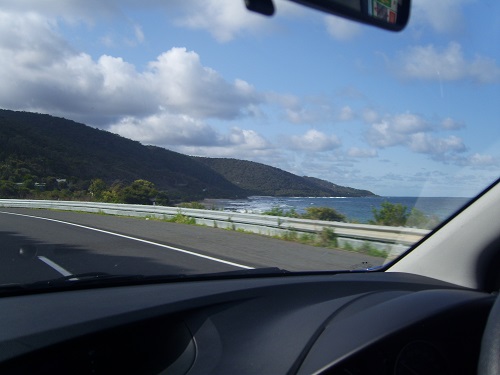 Turo, a car program that can be seen as the 'AirBnB' of car rentals, have recently asked me about my road tripping habits, what I must bring and what I could leave without. Apparently frozen grapes is a must have for these guys!
Well, if you have been following my footprints and memories, you'll know that I am a light packer. I have been known to bring just a toothbrush and a towel on a weekend trip, and still made friends at the hostel! (Tip number one: If you manage it right and keep it neat, and don't tell people you have been wearing the same clothes for the past three days, they'll never know!)
Road trips however, are a little different. I pack light because I don't want to have to lug around unnecessary items up and down the stairs, walking through narrow city streets, to and from transport and in and out of accommodations. However with road trips, I am not generally carrying these things on me. Anything I pack would be usually placed in the boot of the car and I would then allow myself to bring a little bit more.
The Essentials
Besides the obvious (change of clothes, tooth brush etc) I always pack a good compilation of music (used to be a mixed tape, but these days technology makes it too easy with our portable MP3 players!), I have found Bon Jovi being the most suitable for their sing-along-ability! Another essential I always make sure I have, is a punnet of grape tomatoes.
Grape tomatoes?! You say. This is something I learned from a boy a dated. We took a road trip from Melbourne to Adelaide and he had picked up a couple of punnets of grape tomatoes. Tomatoes are full of vitamins, and can assist with fighting fatigue and raising alertness, which is perfect for driving! Not to mention their size and shape make them an easy snack, great for the long drives.
Another absolute must is a couple of bottles of water. One must keep hydrated after all!
The Nice to Haves
As I said, road trips make it easier for me to bring more, and I would often take the opportunity to pack food items for lunch and dinner (oils and spices to cook with), as well as breakfast possibilities along. I am a budget traveller after all and the more I can being the less I buy on the road.
Then there's my pillow.
I like the idea of sleeping on my own pillow. It smells like me and I often sleep better if I have my own pillow with me. When I am backpacking it isn't possible to bring my pillow so on road trips, I make sure I do bring it along! The alternative is my stuffed cat, but then I'll just get called a big girl.
Being a writer, my laptop is always a nice to have. There has been times when I travelled without my laptop due to weight and space restrictions, and I had to rely on public computers to write with. On road trips, I will always have my laptop so that along the way I can start writing my experiences.
Maps.
I know we have Google Maps and whatever e-maps on our phones/tablets/devices, and directions are pretty much available with one press of a finger, but I much prefer having a paper map. The idea of opening it up on the bonnet, tracing my fingers along the lines and trying to fold it all back is all part of the fun! I also like to doodle on these maps, circle the places we've been, make small notes on what we've seen, and highlight areas of interest to plan for our next days.
I have a pile of these maps at home, and they become my road trip 'trophies'. There is nothing more pleasurable in opening one up and sort through the memories of a great road trip!