Our flight had to circle when it got to Yogyakarta (locals affectionately call it 'Jogja'), that's how popular the place is. From the window I can spot the pointy tip of Mount Merapi in the distance, tall and mighty like a volcano would, with a lush green landscape sprawling from it.
"There are a lot more trees here than Jakarta" the girl who sat next to me laughed. We started chatting within 10 mins of getting to our seats. She is from Yogyakarta, but had to move to Jakarta for work and she misses it here.
"It is nicer, no traffic, no tall buildings, less pollution."
I was already sold on the idea that I will like Jogja.
Arrival procedures are as to be expected in a South East Asian country. Hoards of taxi drivers wait at the gates, waiting for the opportunity to grab any passenger without any planned onward passage. I push past them, declining all offers and head straight to the bus shelter. I stick to my philosophy. Public transport is not only one tenth the cost, it is often an experience in itself.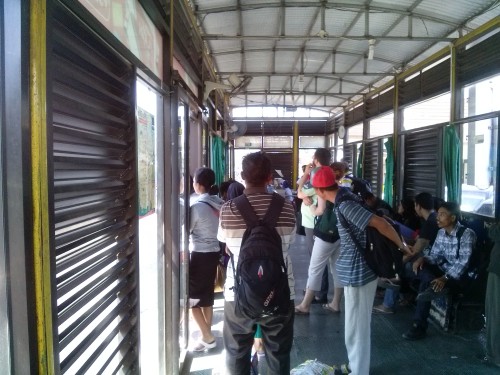 I knew the bus stop I needed to get to, so I attempted my best Indonesian accent and bought a ticket for 3,000Rp (Taxi would have cost 70,000Rp, and would only have saved me 10 mins of travel time). The bus system here on Java have these elevated platforms with waiting rooms. Staff in uniform call out the bus number and its destinations, and you get on if you hear the one you required.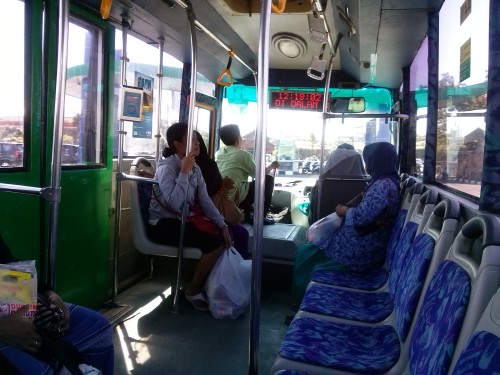 The staff had already advised that it was bus 3B that I needed so I waited for my queue "Tiga B! Tiga B!" (Tiga is three in Indonesian, all these hours of trying to count to five has paid off). I hopped on, trying not to knock out anyone with my giant backpack, which in itself was already bigger than many of the men and women here, let alone children, and took my place.
The ride would take me around 40 mins. This I had already research, so I mentally started a stop watch while I admired the city from the window.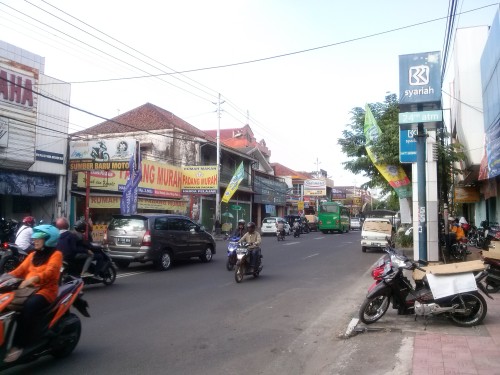 One great thing about bus journeys is that they never take the straightest route, which means, you are essentially getting a sightseeing tour to accompany your bus fare. The 3B zigzagged in and out of traffic and squeezed through alleyways and backstreets, then it pulls into a bus terminal and stopped.
"Ngabean?" I pronounced the name of the stop I asked for. Was this where I needed to be?
No. Apparently I needed to get off and wait for another bus. Oh wells, on with the backpack, step in the elevated waiting room, off with the backpack. A little girl looked up and stared in horror at this gigantic figure with a gigantic backpack who suddenly appeared next to her. I smiled. She walked to her mother and hid her face from me.
"Tiga B!" a staff shouted as a bus pulls in. It was exactly the same driver and the same bus conductor (yes, they still have conductors!) The bus simply required a refuel, and passengers needed to be off it for it to do so.
I get it now.
"Ngabean! Ngabean!" By this time, every passenger knew where I was going, so I was reminded with great enthusiasm that my stop was coming up next by everyone as the bus slowly rolls into Ngabean.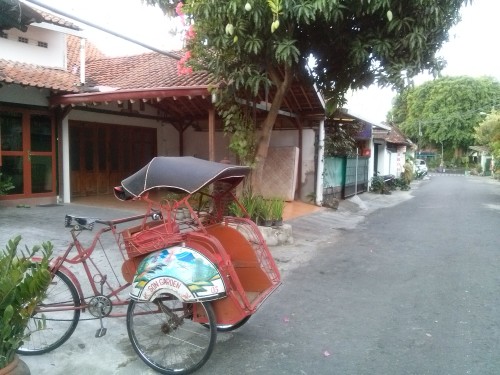 It was a 'cool' 28 degrees in Jogja, so my half a kilometer walk from the bus stop to the hostel was as pleasant as it can be to be walking in Indonesia.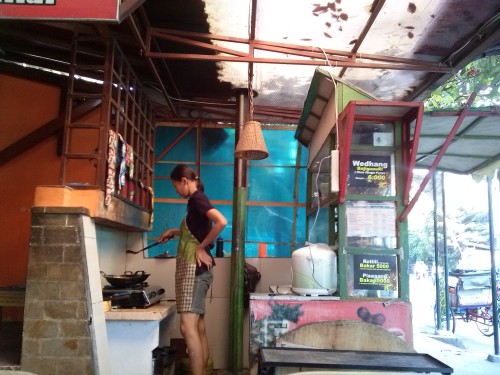 From a short distance, a gamelan band began to busk on the street side, accompanied by a man collecting money from motorists with his cap. I stop by a small 'resto' serving delicious Nazi Goreng for 12,000Rp for a quick snack. From my seat on the side of the street, I looked Jogja in the face and I smiled.
I am going to like it here after all.