When I was in Yogyakarta a week ago, I had the opportunity to stay at EDU Hostel, who was kindly enough to host my stay.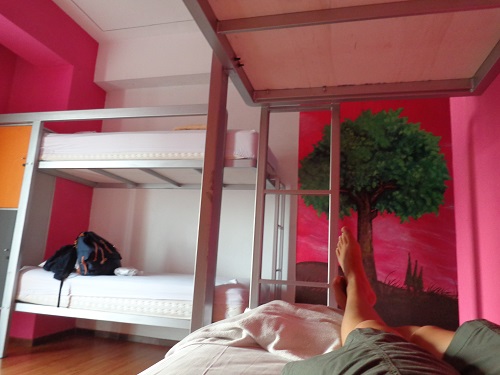 I have not stayed in a hostel for eight years, since our Peru trip, we've stayed more in hotels or guesthouses than hostels. I guess it isn't something you want to do as a couple, but I kind of missed it, so I really looked forward to Jogja, not only for the sightseeing opportunity, but also to return to my backpacker roots once again.
I am a backpacker at heart. I know I have recently had the fortunes of staying with many great hotels around the world, from the Sheratons to the Le Meridiens to the Shangri-Las. I can afford these luxury pleasures, but sometimes, I do miss the days sharing a dormitory room with six or more people, being forced to socialise and in turn, made many friends around the world along the way.
Staying in hostels has taught me how to make do with very little, and to live with anyone of any background and personality from the world. In my dorm of six beds, I enjoyed sharing travel stories and making friends. Sometimes, it doesn't matter if you'll never see them again, but being in a hostel teaches that it doesn't matter. Seize the moment and enjoy the company.
Andre Suryana Yahya, Manager of the hostel tells me that EDU Hostel is Indonesia's first modern city hostel. The concept of a hostel is so new in Indonesia that he had trouble trying to explain to authorities what hostels are all about in an attempt to get his operating license.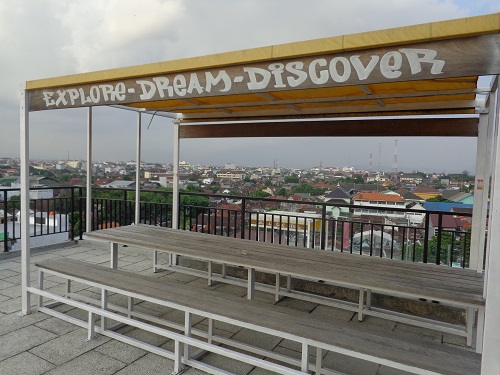 "I had to explain that it is a budget accommodation but we share rooms on dorm beds, they couldn't understand why anyone would choose to share!" He described his experience, "however, it was a lot easier when I had to get the Sultan's approval, he is a modern man, and before he was the Sultan, he actually backpacked around Australia, so thankfully he knew what hostels were all about."
I am pretty impressed at learning this fact. The Indonesian Sultan has actually backpacked through Australia, and stayed in hostels!
"Yes, he is a very modern, but modest man" confirmed Andre.
My hostel experience is not what I had expected. Ten years ago, you were given your own sheets and pillow case and off you go to your bed to make it up. I would have had to BYO my sleeping bag and towels, and would have to have lined up at the communal bathrooms for the toilet and showers outside the rooms. Upon check out, I would have had to take off the pillow case and the sheets to return them at reception too.
Hostels has come a long way. Long gone are the need to make your own bed, and to have to trek a mile to the shared bathrooms and showers.
At EDU, rooms have en-suites, so you only need to share it with those in the same dorm room. The bed is comfortable and already made for you on your arrival, even a blanket and a towel was provided. Each bed also came with individual lockers with a power point which allows you to charge your devices while you are out.
I particularly liked the decor of the hostel interior. Each level had a theme, with inspirational quotes hung all along the corridors. The hostel had invited street artists from Jogja to paint murals on the walls, which really added character and brightness to the hostel, and a cheerful atmosphere.
EDU also had a roof top with a view and an impressive dipping pool for the hotter than hot days.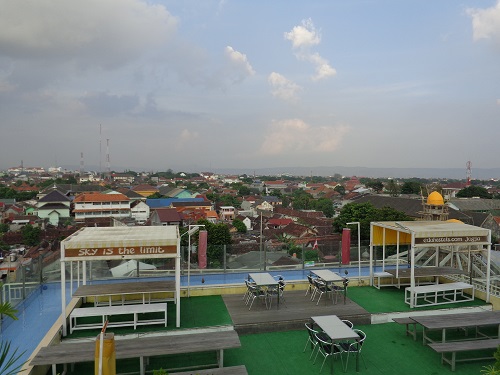 Andre said he got the inspiration for the pool from having worked at Marina Bay in Singapore. He liked the idea of the water against glass wall so much that he brought it home to Yogyakarta for the hostel at a smaller scale. I personally think it's already pretty impressive a hostel would even have a pool this nice, I mean, how spoilt are backpackers now?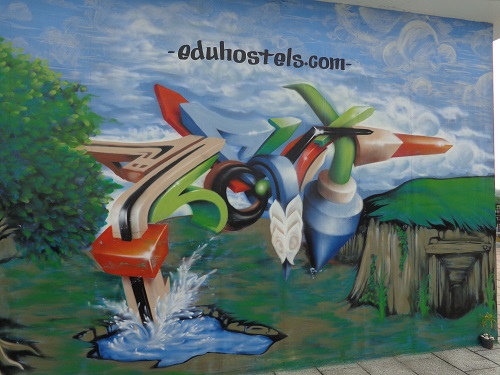 At a hostel you are never lonely. There are always people to chat to and friends to be made, and it seems like it's not just the guests that feel this way. Andre said he loved his job because he gets to meet happy people all the time, a sentiment I agree wholeheartedly.
The most rewarding feeling of this experience was knowing that I still enjoyed it, and I'd happily stay in a hostel and be the backpacker I've always been again.
More information on EDU Hostel Yogyakarta: www.eduhostels.com