"Hey Everyone! Look! I Am Going On Holidays!"
That, is not how you do things.
When you are about to go away for a while, it is perhaps not recommended to announce it to the world. Well, with the rise of social media combined with your own excitement, you probably can't help it, but think about how many cases of robbery happen while the home owner is away having the time of their lives, only to come home to find their house has been broken into and possessions gone?
Touch wood, it hasn't happened to me yet, but that might have something to do with the fact that we don't really have anything valuable in our place.
(After all, who would want to steal from anyone whose furniture collection are mostly picked up from the road side?)
Robbery however, isn't the only thing that could go wrong! Many a disaster could happen! So here's a list of things we do before we leave.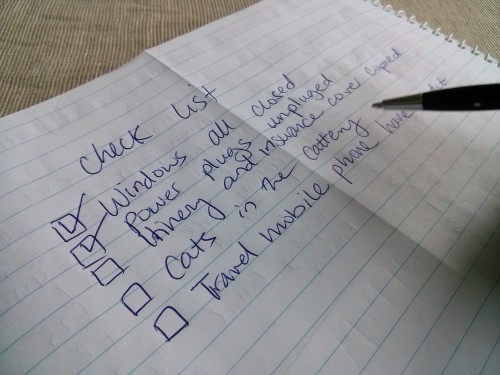 Unplug Unplug Unplug!
One of the things we often over look are dangers surrounding our everyday appliances. Too many careless acts of 'forgot to turn this off' causes millions of insurance claims each year, and most of these incidents are preventable.
First on our check list is to unplug everything. The TV, the microwave, desk lamps… everything but the fridge is turned off and unplugged.
This action not only lower the risk of accidental fires, it also save us on electricity costs. Appliances on standby can often cost you more than you think, so here's another reason to unplug!
Clean Up
Yes, we clean. Especially the kitchen where infestations of insects can occur, especially during hotter months. This is not really a safety precaution but a hygiene process. If we are going to be away, then I wasn't going to let any residual food or rubbish around the house to rot and smell.
So, it's clean up and all rubbish out, so that we can come home to a neat and tidy house.
Pets Safe and Sheltered
This is an important item for us and something we must do for every trip. We have two cats and they need to be taken care of while we are away so there's always a question of "what to do with the children" for us.
Depending on the length of the trip, we may either take them to a boarding house or leave them with family and friends. For shorter trips up to a months, we do take them to a boarding house where they have lots of room to run about and are well fed and loved everyday. Sometimes, for trips up to a week, we simply ask someone to come over and feed the cats and this same person can collect mail at the same time.
However for longer trips (for example, where we have been living in Germany for the past three months and it'll be at least another two months before we can have the cats again) it will often cost too much to take them to a boarding house, so I have chosen to relocate them to a friend's place. I provided enough food and litter to last the entire duration, and have paid my friends some money for the trouble (less than the boarding house but still quite a good sum of money!). This way I can ensure the cats feel like 'home' and be loved by those who know them.
If you have pets, it is important to choose the right boarding house for them. Ensure there are plenty of space for your pet to run around (and not just locked up in a cage somewhere) and the operators are loving and caring. It is advisable to visit the location first so you know the exact condition your pets will be in when you are away!
Have Contacts
We make sure someone knows where we are going and known how to contact us. This will avoid any unnecessary worrying should the news report negative activities in the region we are in.  I find it also important to give this person a copy of our travel insurance policy just in case.
At the same time, it is also important to have someone to check our mail on a weekly basis and have access to our home during the time we are away. This prevent the mail box getting full (hence telling the world you are away) and also having the house checked regularly if anything should go wrong (a leaking tap, or worse – gas).
Travel Insurance
Travel insurance is important, and it isn't just about getting sick. There are often external factors that might cause you to cancel or delay your trip where you'll have to pay extra in change and rescheduling fees, not to mention those nasty 'non-refundable' tickets!
Read more: The Value of Travel Insurance
Register Our Travels
In Australia there is a government registry called 'Smart Traveller'. We make sure that we are registered for majority of the trips. This registry lets the government know who is in what country should any natural disaster occur (such as the Tsunami and earthquakes) and they are able to attempt to contact their local counter parts to ensure citizen's safety.
Everyone prepare for their travels in different ways, and mine is tailored for my living arrangements and lifestyle. And just while we are on this topic, I found this excellent travel preparation checklist that might help you create your own: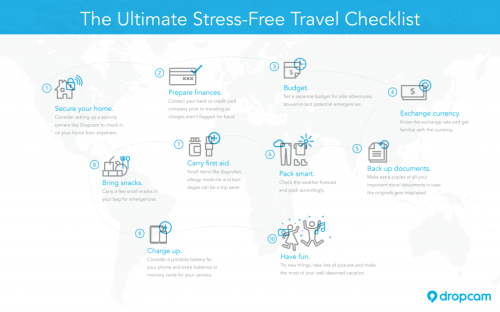 How do you prepare for your trips?