Don't be surprised that most of our activities at the Christmas Markets had something to do with food. Well, after all, I do love some market street food!
In my opinion, Germans have got the best 'street food' culture in Europe, mostly because Europe as a continent just doesn't really associate itself with street food that much, not in the intensity as the night markets in Taiwan and foods in the Philippines. However, at the Christmas markets, especially in Germany, you can indulge in some good quality German street food that will satisfy a craving between ice skating and shopping for trinkets.
Wurst
This is a no brainer. No German experience can complete without munching on an iconic Bratwurst. Bratwurst translates to grilled sausages and these can be seen cooking with or without market action. Mostly sold at 'wurststands' (sausage stands) on street corners but at events such as the Christmas Market, you can see them being grilled on a German style barbecue, which is a round spinning mesh plate over fire.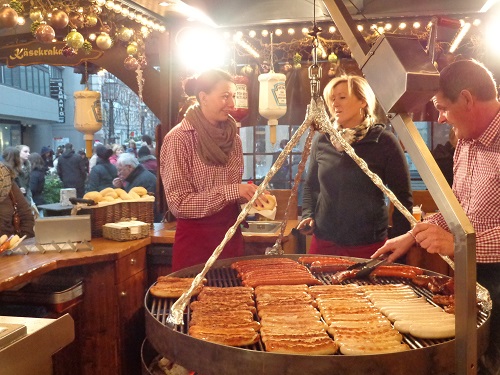 You can have wurst just on a bread roll, or in the style of 'currywurst', which is quite a favourite among the Germans.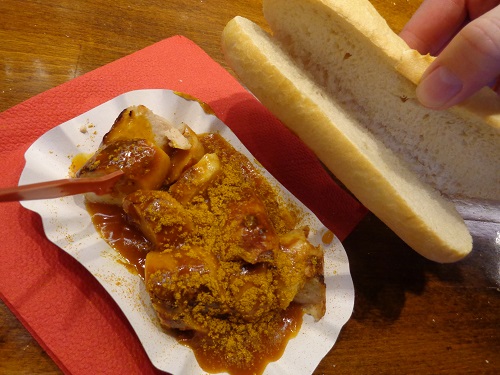 Reibekuchen
These are essentially potato fritters, fried in oil and served with apple mouse, sold mostly around the Rheinland area but can be found almost everywhere because Germans do love their potatoes! At the Cologne Christmas Markets the Reibekuchen was being sold at every corner, so you can say, this is definitely something to put on the list to have.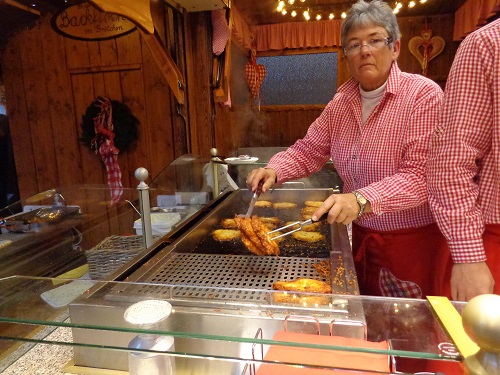 Flammlachs
This is perhaps a regional offer, but at the Cologne and Bonn markets this year I have found stands selling Flammlachs – 'flame salmon', salmon cooked over an open fire slowly – these were absolutely delicious! In true German style these are served on a bread roll over a bed of lettuce.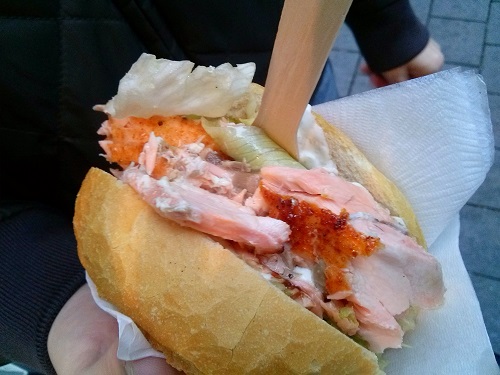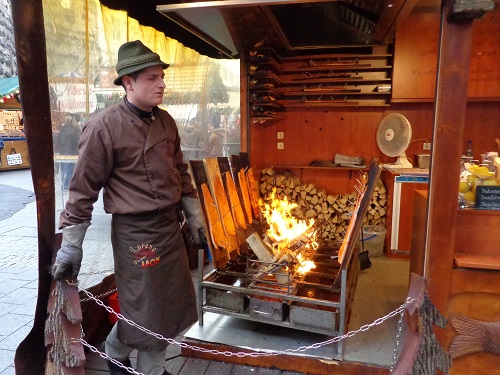 You can smell the cooking of salmon from miles away and is usually marked by a long line of people waiting to be served.  There is a nice atmospheric warmth as you wait in line and watched the flames dance all over the salmon. Cold as it was, I was quite happy to wait in line for a piece of salmon action!
Flammkuchen (& varieties)
A specialty of the Alsace region, which is around the border of Germany and France, I first had Flammkuchen when I lived in Saarbrücken ten years ago. These are a pizza-like flatbread topped with sour cream, onions, bacon and sometimes potato pieces. Variations of this dish can be found in other regions, including a style made with fluffier bread, or topped with spinach and the likes.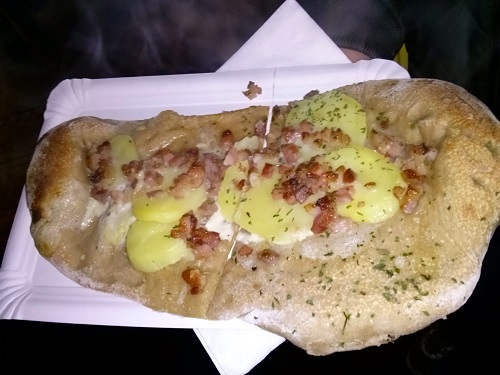 Nuts, nuts and more nuts!
Being at the markets for long enough your nose would pick up another distinctive nutty smell. Follow it, you'll find yourself standing in front of a good selection of nuts – peanuts, walnuts, cashew nuts and hazelnuts coated in sticky sweetness, and is something to indulge in between the 'main meals'.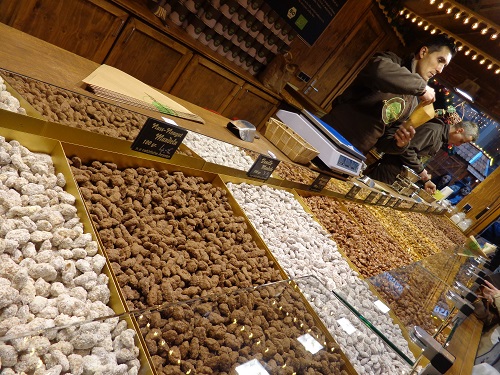 Glüwein
Otherwise known (in English) as mulled wine. These come in red or white and are warm wine cooked with spices to bring out that inner glow in us. Hence its name: Glüwein, which translates to 'glow wine'! There is nothing more Christmassy than holding a mug of Glüwein to keep warm and watch the kids on ice skates enjoying themselves.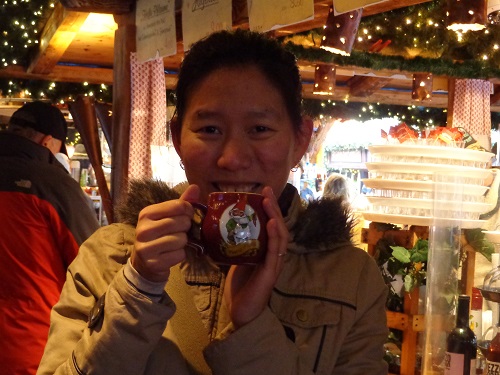 Glüwein are sold in decorative mugs designed for the Christmas Markets, and each market generally has its own mug. It is a habit of mine to keep a mug or two as I visit different markets in different areas, the deposit of 2-3 Euros is nothing compared to the memories I'll have each time I look at them.
So tell me. What have you tried at the German Christmas Markets? What about other markets around the world?
Read more on street food: Taking to the Markets for Food | Footprints and Memories