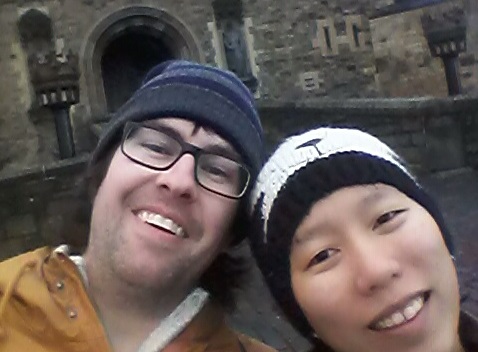 I got to celebrate the New Year for 10 hours this time, starting with a live web broadcast of the Sydney Fireworks all day until Big Ben struck 12 in London. It was ample time to reflect on 2014, a year that was filled with adventures for the McPhreson family.
The Big Move
It was the big year, our year of "do it now or never". It was the year ten years in the making and I for one, wasn't going to let it slip through my fingers!
The process started by me quitting my job – a whole 5 times – followed by selling our unit to get the necessary funding for my visa application. Our original plan was that we would both move to Europe by April, but that got delayed due to us not yet being able to meet the visa requirements.
So I stayed on, while Will headed off to Europe to look for opportunities.
Not enjoying being by myself in Sydney (while Will has all the fun) I decided to leave Sydney to join him in Europe. I was still not allowed to apply for my visa for Britain, so we decided to settle in Bonn, Germany to see how we go. Will went off to study the language while I was persuaded to stay working for the same company in Sydney 'remotely'. It was a fantastic arrangement and I must thank my then-manager who had suggested the arrangement, leaving me with an income while we sorted out what to do.
Came September, was I finally able to apply for my visa and I had to travel back to Sydney for it. Meanwhile, Will went back to the UK to begin a Masters.
And it wasn't until October did I eventually get the visa in my passport and I was able to join my husband in our new home in Surrey, south west of London :)
The Travels!
Well, this is nothing new, I was always going to include a lot of travelling in any year, but 2014 saw my travel opportunities increase with the move to Europe. Living in Germany during the summer had been fantastic for travelling, and having now settled into my new job I have also been travelling for work with more trips to different places on the horizon!
Of course, I have to acknowledge that 2014 hadn't been the best year of travel for many people. Disaster after disaster plagued our news and the coverage of the broken made me cry each time I watched it: lives lost, families and friends gone and many dreams and aspirations will never be fulfilled due to these errors in humanity. These events punches holes in my heart but have only fueled my desire to ensure that my life is not wasted, for it is always going to be uncertain and for many of my own dreams and aspirations I can only say: if not now, when?
I close the chapter on 2014 with both a fond smile and a sigh of relief. I have plans to make 2015 better, with more travels on the horizon, as well as make sure I work harder towards my writing.
And to you, my readers – I hope you have a great year and may you also have the adventure of your dreams!