Kiev made me fall in love with fat.
Yes, that's right, fat. We are talking lard, we are talking slices of pig fat rolled in spices, we are talking pan fried dumplings with its thin coating of oil. It's very much country food in this region, and for both Russia and Ukraine, I have been so impressed with the food!
So here is a selection of my favourites in Kiev and where to find them. There are plenty of good restaurants in the city so there is no excuse not to try out some of them when you are in Kiev (or Ukraine, in general)!
Borsch (борщ)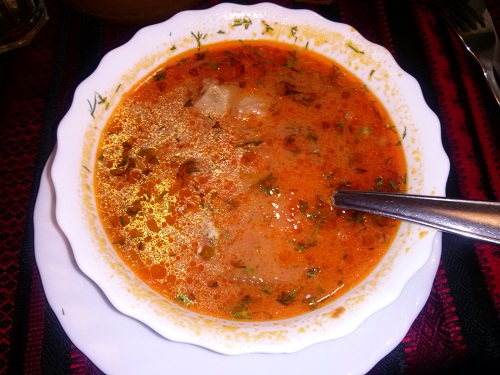 There are subtle differences between Russian and Ukrainian food. In my post about Russian food, I did include Borsch in the list, however, even Russians will tell you that the origin of this wonderful soup is in fact Ukraine, they just have different ways of serving this soup.
In Ukraine, the soup is most commonly served with shredded cabbage and one chunk of rib meat on the bone. I find the little bit of bone really add that extra bit of flavour to the soup and I thoroughly enjoyed it in Kiev.
Borsch can be found in most cafes and restaurants around the city, but I found my favourite at Garbuzik in the business district (Podil). And yes, you do want to try it with sour cream!
Varenyky (варе́ники)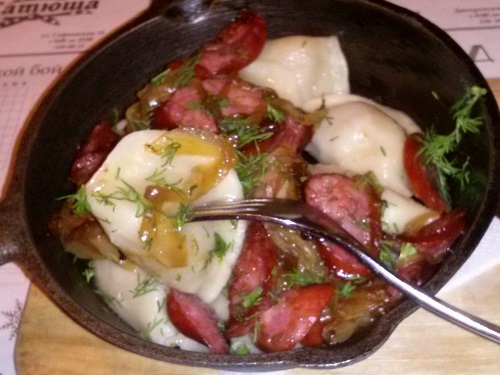 All throughout Eastern Europe and Central Asia region they all have some form of dumpling as their regional food. In Ukraine, they are called Varenyky(s) and they can be served as main dish or dessert, depending on the fillings you get and the choice of sauces and other ingredients that accompany it.
They can be small, or big, meaty, cheesy, savoury or sweet, and most of all, they are absolutely delicious.
A quirky little Soviet-life themed restaurant called Katysha is a specialty in the Varenyky, and the prices are good too. Katysha has three or four restaurants around town, just ask around for the nearest branch.
Chicken Kiev (Котлета по-київськи)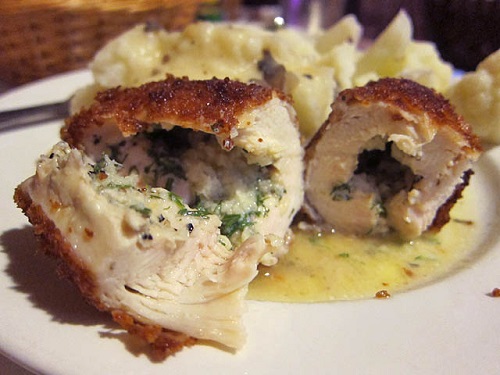 You can't be in Kiev without trying the Chicken Kiev. Tender chicken fillet stuffed with garlic butter. It will make you never want to use the frozen supermarket versions ever again.
Best place to have the Chicken Kiev is at Kanapa Restaurant Salon. The recipe is modern and is made with chicken, guinea fowl and pheasant, and is amazing.
Andriivs'kyi descent, 19, Kyiv – 044 425 4548
Cake Kiev (Київський)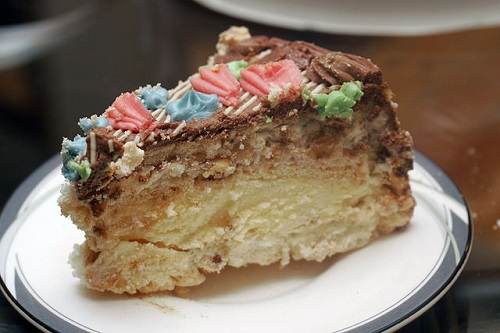 The Kyiv Cake, or Cake Kiev layered with meringue with hazelnuts, chocolate glaze and butter cream. Some restaurants will sell this in slices as dessert, or head over to the nearest Roshen store and buy a whole cake to share!
Salo (са́ло)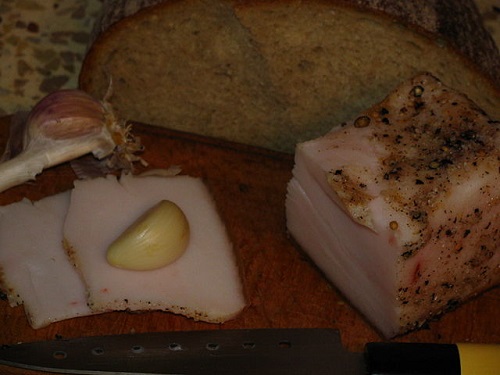 This is possibly where a lot of people draw the line, but really there is nothing wrong with it! Salo, is a dish made up of thin slices of pig fat, often flavoured with spice powders. Eaten as a side dish, it is dipped in horse radish purée and washed down with a sip of vodka.
Great for insulating against the harsh winter months!