That's right. It's about food again. I can't help it. As you know food always play a large part of my travels!
One of the best things about business travel, is that I get to eat in good cafes and restaurants where my backpacking budget would never have allowed me to.
Kiev surprised me with its collection of dining venues, including a good selection of micro-breweries and fine dining options. Besides the ones already listed in the Foods to Try In Kiev post, I also recommend the following.

Kiev's Fine Dining
In my previous post about food in Kiev I had mentioned a restaurant called Kanapa. If there is only one time you get to eat out in Kiev, make it at this restaurant.
Said to be owned by a Ukrainian rock star, Kanapa serves Ukrainian food with fresh ideas. Salads that come in a green house, little pastry canapes served like tinned biscuits and candles made out of garlic butter are just some of the surprising delights. Not to mention they taste just as good as they look!
Kanapa
Andriivs'kyi descent, 19, Kiev
Phone: +380 44 425 4548
borisov.com.ua/uk/kanapa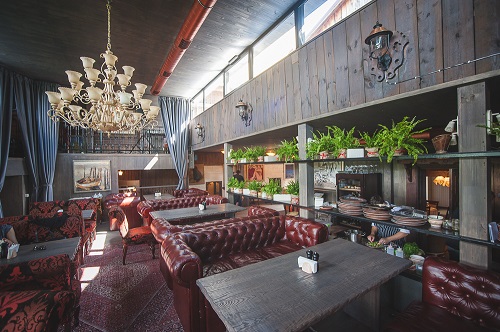 For modern Ukrainian/European cuisine, reserve a table at the popular Under Wonder. Located in the city centre this restaurant not only serve excellent dishes, they also have a good wine list. For something different, I recommend the refreshing Horse Carpaccio.
Under Wonder
21 Velyka Vasylkivska (ex Krasnoarmeyskaya str.), Kiev.
Phone: +38 (044) 234 21 81
www.underwonder.com.ua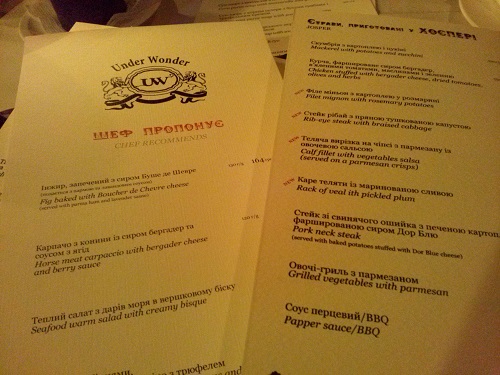 Kiev's Micro-brewery Scene
It was somewhat of a pleasant surprise to find a rise in the micro-brewery establishments in Kiev, which isn't something you associate with this region of the world considering the preferred drink is normally vodka.
Here's some of the ones we tried.
Right in the city centre near the Independence Square (Maidan Nezalezhnosti) is the modern Slavutych Shato (Славутич Шато). Beers range from light to dark, all seem to have a cloudy (but not wheat-y) consistency and distinct flavours. Serves good food too.
Slavutych Shato Brewery
24 Khreshchatyk Street, Kiev.
Phone: +380 44 279 3704
kiev.shato.com.ua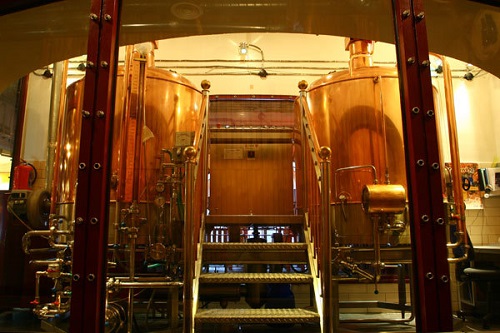 For something more standard, a German style brewery in the Podil area serve up a good stein of wheat beer.
Pivnaya Duma – Пивная Дума (pivnaduma.kiev.ua) has five restaurants in Kiev and serves excellent home brewed German style beer, with their seasonal brew especially refreshing. Do have dinner here as well, if you crave a bit of hock and sausages!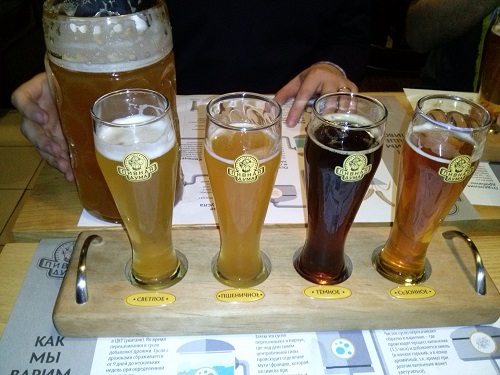 Cheaper Eats
Dotted around Kiev are street stalls selling kebabs, hot dogs and coffee. You can certainly find cheaper eats all around the city by just walking a couple of blocks away from the main streets.
There is a chain of dumpling restaurants that serve fantastic varenyky (Ukrainian dumplings) called Katyusha (katysha.com.ua).
The decor is in a retro, old Soviet style home furnishing, and the food is down to earth, no fuss grub. There's dumplings with all sorts of fillings and sauces, and the price is more than reasonable.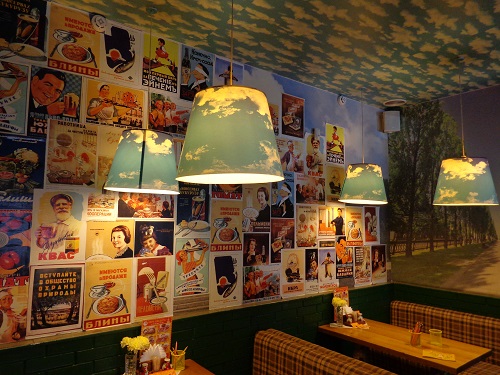 Katyusha has restaurants in various locations in the city, just look out for checked red and yellow curtains/table cloths!
Alternatively a little out of the city centre, a lovely traditional restaurant called Garbuzi. Stepping into the restaurant you almost feel like you've just been invited in some country farmers' house. Its wooden decor is beautiful and cosy and the food is also very traditional.
Garbuzi
Khoryva vul. 2, Kiev
+380 44 425 3586

Happy travels!