This post has been inspired by a BBC documentary, the Great British Railway Journeys which follows host, Michael Portillo, as he travels around this windy isle using the original Bradshaw's Guides to rail travel during Victorian Britain.
I am not a 'train nerd'. I don't know anything about models of trains nor their historical designs. I am however a big fan of rail travel, and since moving to Europe, from Germany to Britain, I've had plenty of opportunities to enjoy train travel, going to and from cities, between countries and between offices for work.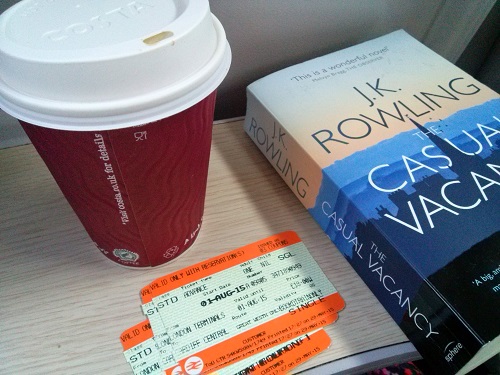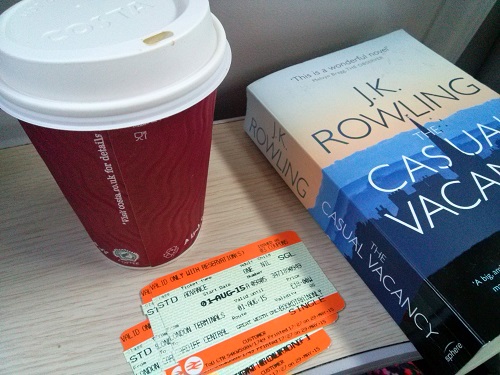 Travelling Britain by rail is the best way to see the countryside and despite the many issues with strikes and sometimes complex connections, in comparison to the hassle of driving and the expense of flying, it is certainly the most pleasant way to get around.
For the purpose of this article I am going to assume you are entering Britain through London.
Trains in and around London
Most people come in to Britain through London. It is the country's biggest air hub and is also one of the most visited, filmed and most 'Googled for' city in the world.
And trains in and around London, by default, has the most extensive network.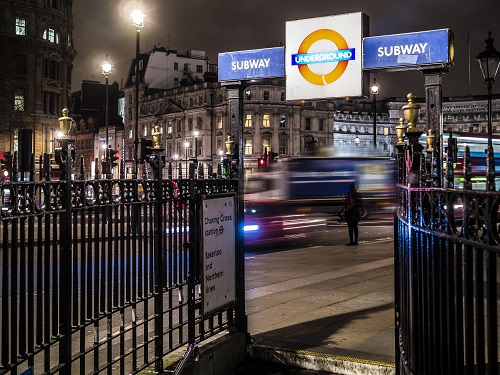 The main form of train you'll use is the iconic Tube. The extensive network pretty much take you anywhere in the city centre and to all the attractions.
Warning: the day before you travel you should check the Transport for London website for any disruptions to the network, especially on weekends when maintenance work might be performed, or any planned strikes that might make your journey difficult.
Other than the Tube, various terminal stations will have trains that goes a little beyond the city borders giving you plenty of options for day trips out of London, or travelling on to the rest of the country.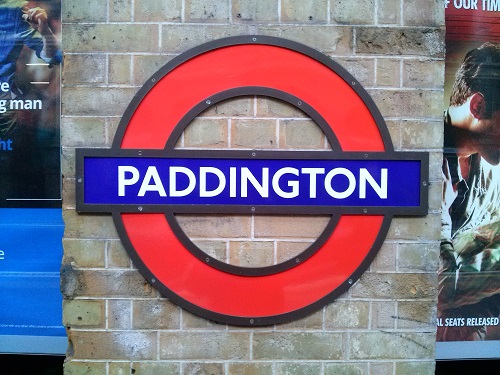 Navigating the rail network
Britain is not a big place, and you can pretty much take the train to almost anywhere in the country in less than half a day.
It can be confusing for the first time travellers however, when it comes to navigating the network. When you purchase a ticket it may be routed differently to what you had originally imagined, so take notice when purchasing.
To start your planning, check the maps available for the UK's National Rail services. Have a brief idea of where you want to go and how you might want to get there before looking at your ticketing options.
If travelling from London, you'll need to head to one of the many terminal stations around the city's border. We are talking about Kings Cross, Euston, Paddington, Waterloo, Liverpool Street, Victoria, Marylebone, Fenchurch Street and other smaller terminals.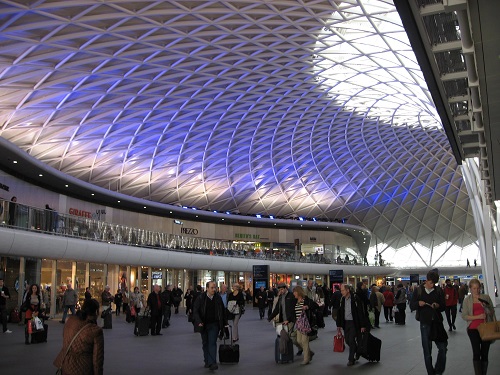 Each station specialises in a direction. Waterloo for example, is the terminal for South West trains, which services south west areas of Greater London and beyond. However, for direct south coast of England, you will have to depart from Victoria, not Waterloo.
Trains from these two stations join at Clapham Junction, so if you happen to be staying around there, you have a good choice of trains to catch :)
Selecting which train station to depart from can affect the 'recommended route' and pricing, so consult a map if you are not sure.
A general guide to train directions (but can differ so please confirm when you purchase your tickets)
There are of course, exceptions, including services with Cross Country which kind of goes on a south west to north east direction!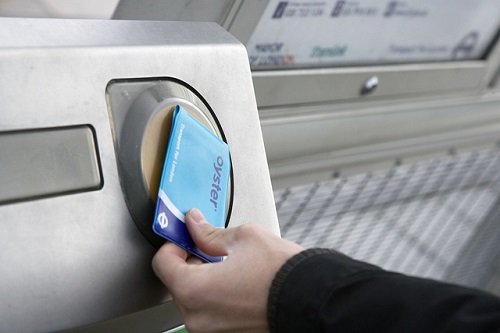 Ticketing for your trips
There are different ticket types and ways to pay for your trips, depending on how far you want to go and how much you want to travel.
Travelling in and around London
When you first arrive in London, make sure you get an Oyster card. It is cheaper than buying paper tickets and will make your life easier around the city.  Use the card on trains, buses, the Underground and ferry services.
These can be purchased at ticket machines at any of the Tube stations and at the end of your trip you are able to get the card deposit and remaining credit refunded, conveniently all through the machines.
Load the card and pay as you go. Each time you exit a gate, the screen on the gates will tell you how much you've used and how much you have left on your card for you to keep track.
To top up, simply hold the card against the big yellow circle on the ticket machines, it'll show you the remaining credit and give you options to top up.
After you've paid the money, make sure you hold the Oyster card against the yellow circle again to load the credit onto the card!
Sometimes it might be worthwhile to purchase a travel card
If you are going to stay a few days, load travel cards onto your Oyster card, which can be 1 day, 3 days or 7 days for unlimited travel wherever the card is accepted (tubes, trains, buses and some ferries).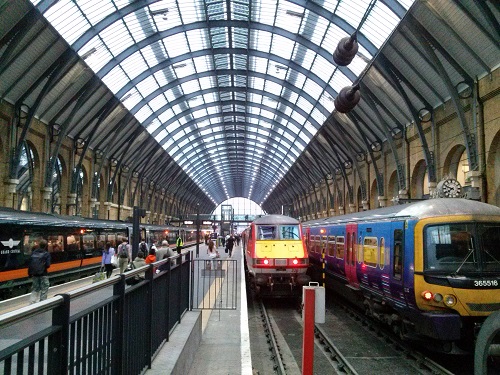 Travelling beyond London to the rest of the country
This is where Britain by rail shines! Travelling by train to all corners of the country can be a pleasant experience.
You won't be able to use your Oyster card for any trips beyond the London fare zones. This means you will need to make sure you have a ticket to travel.
If you have a rail pass bought from your country of origin as part of your big Europe rail journey, then great, use that to your advantage. However those who need to buy tickets will benefit from a bit of research and planning.
Try to travel off peak to save money
If you can avoid the peak crowd, you can pick up a ticket with discount. Off peak travel means between 9.30am to 4:30pm, then again  after 7pm Monday to Friday.
Save money with advanced purchase
For journeys on the extended rail network, it is always advisable to book online early, before the same trip could cost you as much as £100 more if you purchase on the day of travel, compared to if you are able to book about 5 days ahead.
If you know you are going to travel, point to point tickets can be purchased through any of the rail operator's websites (it doesn't matter whose, because it uses the same system).
Look out for Advanced tickets that are cheaper but be aware of the limitation – these tickets are often limited to off-peak travel, or sometimes limited to the actual train you need to take. So always read the conditions carefully.
Some of the cheaper fares are only available online as well, and you get the benefit of looking at the routing before you purchase the tickets. So it's worth to do a bit of research before your trip.
When you have booked online, you can get your tickets printed at a ticket machine at a specified station. You'll need a reference code, and the credit card you paid with to pick up the tickets.
Keep all the tickets until the very end of your journey. Some stations require the tickets for entry, then the tickets will be checked on the trains and some stations will require the tickets for exit.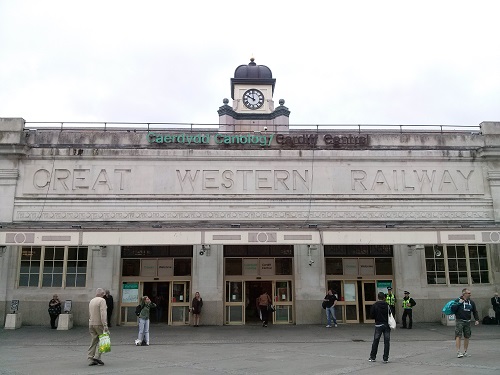 Make sure to checking your platforms
Those who don't live in Europe may need to understand this – at rail terminals trains don't always leave from the same platform to the same destination.
When you get to the station, you will notice everyone milling around a large notice board with all the departing trains. They are looking out for platform numbers. Even if the earlier train to York left from platform 10 doesn't mean the next train to York will be leaving from platform 10, so look out!
Additional discounts make rail train even better!
If you are at a train terminal pick up one of the brochures advertising 2 for 1 deals at attractions.
To encourage travelling by train, many of a city's attractions offer 2 for 1 deals for those who can show a paper ticket on arrival at the ticket counter.
Unfortunately you can't use the Oyster for this if you are just travelling around London, as you actually need to show a physical ticket, but if you are getting the train anyway it could save you a big of money on your sightseeing too!
Another way to enjoy Britain by rail: Steam rail journeys
While I am not a train nerd, I am very much fascinated by steam trains and there are plenty of these special trips that you can take in Britain to experience the British countryside, at the same time, to enjoy a ride on an old steam train.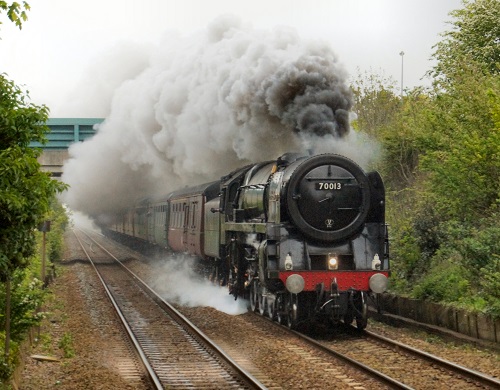 Of course, you won't be able to catch the steam with your regular commuter trains, so the only way to enjoy a bit of this classic train experience is to join a tour.
Simply google 'steam train journeys in the UK' and you'll get a list of operators that runs these train trips throughout the country.
Of course, unless you are visiting the Isle of Man – where the local steam rail network is part of the public transport network!
Have you travelled extensively by train? Got any more tips about travelling Britain by rail to add? Comment below!