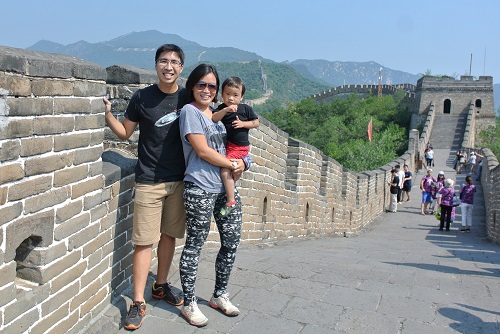 Continuing with the family travel series is Deborah Chan of Ardent Traveler. Deborah has recently just completed a bit of a month-long epic China / Trans-Siberian journey with her husband and 2.5 years old son and describes it as the "trip of a lifetime".
Starting with Guilin, the family took the high-speed train to Beijing and spent 1.5 weeks exploring the karst mountains of Yangshuo, visited the Great Wall, strolled through Tienanmen Square and Forbidden City. From there, a train took them to Ulaanbaatar for a week of Mongolian experience, journeying into the countryside and staying with a local family's Ger tent, and witnessed the annual Naadam Festival.
The Trans-Siberian then took them into Russia through Siberia, westward to Krasnoyarsk, then Omsk and the capital, Moscow and finally to St. Petersburg.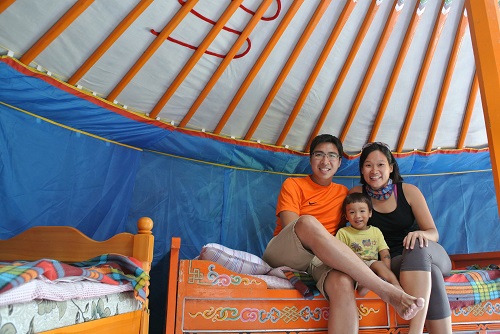 I asked her a few questions about her trip and what it was like travelling through some very unfamiliar and rural terrains with a child in tow.
Why did you choose to take this particular journey?
It was a train journey of a lifetime, crossing through 3 countries and 7 time zones.
The challenge of the trip was enough to thrill us! We were looking for an adventure and our toddler, then 2 years old was at an easy age to travel with (eg. less baby stuff to lug around, he was an easy eater (he ate what we ate) and he was small enough to share a train berth bed with!)
Some of the areas are difficult to travel to even for adults. How was it travelling with your son and did you come across any difficulties with logistics, supplies… etc?
Yes! This trip was logistically tricky.
Starting with visa applications to China and Russia – we had apply visa's just before the trip as the Russian embassy did not allow visa's to be issued more than a month before the date of travel. Next, it was the purchasing of train tickets. We had to consider the different time zones and make sure that we got the date and time right for each ticket purchase.
During the trip – language was quite an issue. Although we are Chinese (Malaysian) we spoke little Mandarin. It was challenging to order food in Guilin as menu's were mostly in Mandarin. We relied on Google Translate!
Same with Russia, most people spoke little or no English. There was a lot of body language, guessing and Google Translating!
Apart of that, the trip itself was quite a breeze. We packed light and carried wet wipes on the train to keep ourselves refreshed. We also stocked up on snacks every time before our next train ride. This ensured that we never ran out of munchies.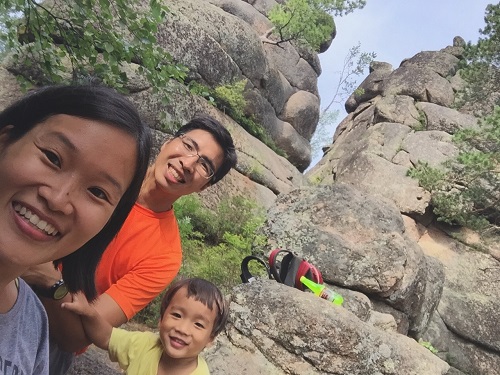 Would you do it again? What's your next trip?
Yes – another train trip for sure – now that we have crossed out the Trans-Siberian. It's a wonderful way to reflect, relax and enjoy the journey and not just a destination. Our next destination is Sabah – we hope to scale some mountains and enjoy the beaches of Sabah.
What advice do you have for parents who also want to follow your travelling footsteps?
Plan well ahead in advance and book your return flight and first train trip ahead in advance if possible and get your visas sorted out. Allow your route to be fairly flexible as you might want to stay a few more days at certain stops. To prepare for the long train rides make sure you have enough snacks and entertainment (eg. books, downloaded movies, games, etc) to keep your and your family entertained.
Carry items you will frequently use or will use throughout the duration of the train ride in a day pack so you don't have to rummage through your large backpack when needed. Finally, get your children excited by reading children related storybooks with them before the trip. It will help everything come alive!
Deborah has written an intimate memoir Live to Last – available now.