On our trip to Iceland we didn't really have time to go all the way round, so instead we concentrated on sights that are around the capital Reykjavik, and to our surprise, there were plenty to be seen!
Volcanoes are the basis of everything here in Iceland. It forms the land that cities and towns are built on, the lakes and the glaciers that cover the craters of sleeping mountains and is half the reason why there are very little trees in Iceland.
In 2010, the Iceland volcano Eyjafjallajökull (which sounds very much like Aye'll-Have-A-Yogurt) stopped European flights for about 2 weeks, and a few surrounding volcanoes are now over due for some serious eruption too.
But that's the reason why Iceland is so fascinating, its landscape is one of the youngest in the world, it is forever changing, and if your trip is only a short one, make it all about waterfalls, hot springs and glaciers.
Fill up your bottle at the majestic Icelandic waterfalls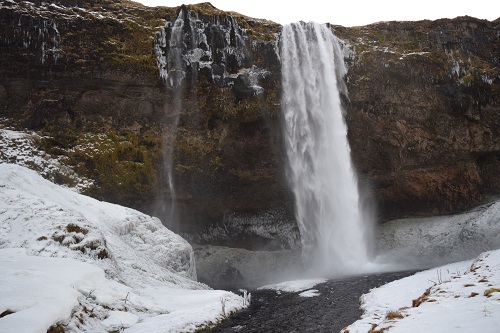 One of Iceland's beauties are in it many amazing waterfalls.
These may not be as grand and deep and famous as names such as Iguazu Falls in South America, the Niagara in Canada and Victoria Falls in Africa, but their thundering splashes surrounded by the barren volcanic environment and legends of trolls guarding its treasure make them just as magnificent and uniquely Icelandic as any other sights.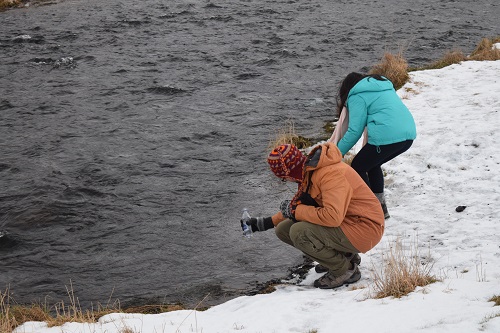 Driving out of Reykjavik towards the south coast we pass barren plains and the odd trickle of water from the mountain tops. We stop at Seljalandsfoss, apparently Iceland's best known waterfall. Following the stream we were encouraged to fill our water bottles from the flowing icy waters.
"Where else can you get clean, glacial bottled water from its source?" said our guide. Yes, I do recall seeing bottled Icelandic water on the shelves, marketed as 'premium' water often costing more than $7 a bottle, so we stepped carefully around the icy grounds to fill out bottles up.
And I can vouch for the taste – it was clean, crisp and refreshing, direct from the source!
After Seljalandsfoss, we drove further south to visit the larger Skogafoss. This waterfall is said to be guarded by a troll, and with a bit of imagination you could see the troll asleep besides the waterfall, with its big belly sticking out, guarding the treasures that he had hidden inside.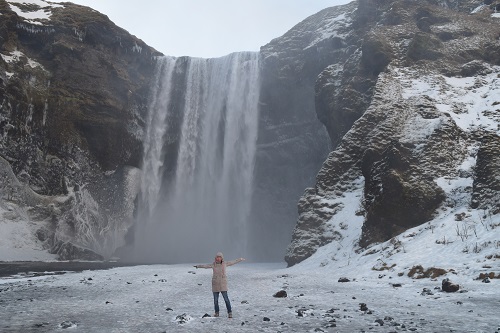 Looping back up north we come to Gullfoss, a large, multi-layered waterfall that can be heard from a mile up the road. Unfortunately by the time we got there, it was getting dark, and our camera was simply not up for the job of photographing its cotton candy mists.
In winter, daylight breaks around 10-11am, and the skies darken by around 4pm. In the dim dusk, I got a glimpse of the falls and felt its power from the viewing platform, and planned that we shall return in summer to properly view it in all its majesty.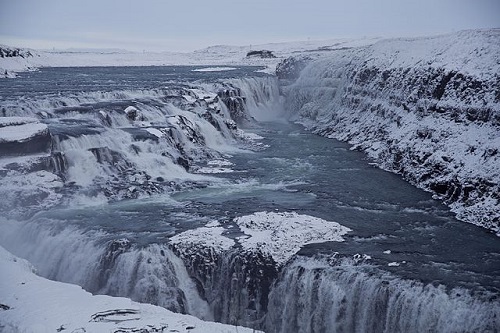 One of the downside to visiting waterfalls in winter is that half of the landscape surrounding the waterfall are frozen and icy, which makes visiting waterfalls a rather slippery experience.
However, it has its magic, where parts of the waterfall would be frozen in time, forming different shapes of ice into natural sculptures creating a view that can't be seen in summer.
The hot tempered Geysir of Iceland
Geyser
ˈɡiːzə,ˈɡʌɪ-/
noun
plural noun: geysers

— a hot spring in which water intermittently boils, sending a tall column of water and steam into the air.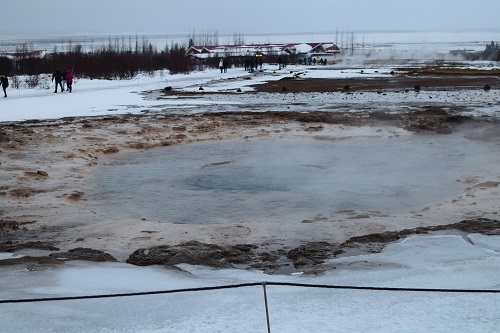 I can't be sure of this but our guide insisted that the word 'geyser' came from this place called 'Geysir' in Iceland.
Apparently ever since scientists have seen this here in Iceland, everywhere they encounter similar volcanic/geothermal activities they've started calling it geysir, and eventually it became geyser.
So, when it comes to Geysir, it is actually the town in which heavy geothermal activity have caused hot sprint water to spurt out of the earth's crust creating pools of hot springs.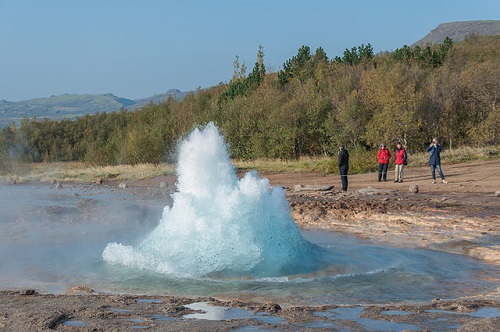 Not the kind you can soak in unfortunately, the water in each pool can be as hot as 100-200 degrees that you are advised not to get too close, even in winter, surrounded by snow that a bit of direct hit from the water can cause burns.
It was a rather surreal experience to be walking in snow, surrounded by cold and yet, get bursts of heat from the smoke from the heat of the geysir, almost intimidatingly too hot to approach.
The deep blue and green appearance is just as I remembered from the geyser I have seen in New Zealand, the the smell of sulfur like those in the hot spring regions of Taiwan.
I imagine myself boiling the perfect egg in this water, but settled for a bowl of lamb soup, one of Iceland's staple dishes, to warm me up from a old winter's day.
A chance to climb a glacier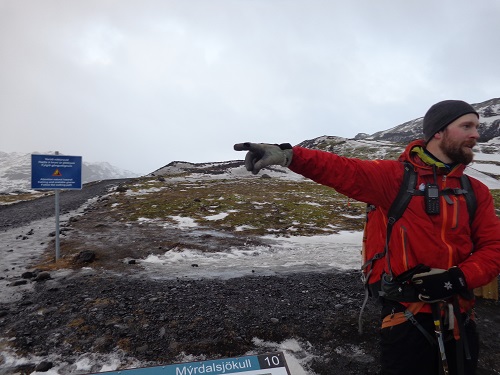 While it isn't the only place you can climb a glacier, Iceland does have Europe's biggest glacier in the Vatnajökull National Park. Seeing a glacier from afar is one thing, being on top of the dense, deep blue ice is another.
With clamp-ons on our shoes (strapped on spikes) we inched our way forwards as we learned that the glacier is actually the cap that covers a volcanic crater when its dormant, and one of the biggest threats to an eruption is in fact not the eruption itself, but the melting of these vast glaciers causing damaging floods to surrounding villages.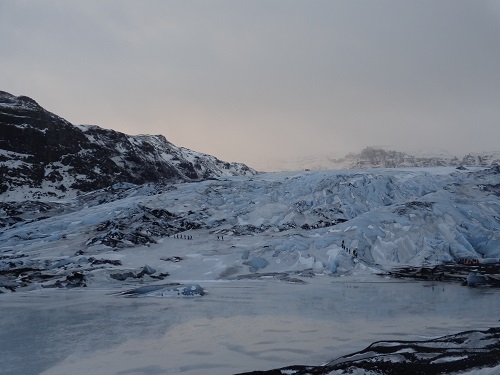 With that knowledge in mind, I developed a new respect for these large chunk of ice.
Looking back towards the canyon we just came from, I also noticed the seemingly 'newness' about the lands that opens up under the glacier, and our guide's next parting of wisdom confirmed my suspicion.
"This glacier has retreated about half a kilometer since 2010," he said.
Wow, that was only around 5 years ago. The rapid retreat immediately had me thinking about climate change. Not really good news is it?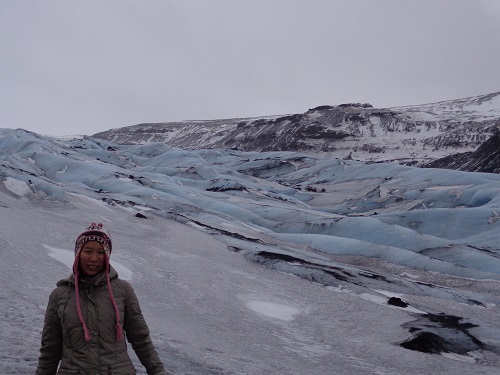 "However, it's not all for the reasons that you are thinking."
As if reading my thoughts, our guide continued. "See these black dust on the ice?" He touches a surface of the ice that was covered by black soot. "That's actually volcanic ash."
"Each time the volcanoes stir a little, they produce a little ash, and this ash being warm and settling, warms up the glaciers and melts them faster than usual sunlight would."
As I pondered on the fact that not everything is always as it seems, it was time for us to say goodbye and descend the glacier.
Our very short visit to Iceland had been a small revelation to a mysterious land. I made a mental note to return in summer, when Iceland transforms from the white winter wonderland to green fertile farmlands and to visit the northern parts where more natural wonders awaits our discovery.