Alice: Would you tell me, please, which way I ought to go from here?
The Cheshire Cat: That depends a good deal on where you want to get to.
Alice: I don't much care where.
The Cheshire Cat: Then it doesn't much matter which way you go.
Alice: …So long as I get somewhere.
The Cheshire Cat: Oh, you're sure to do that, if only you walk long enough.

~ Excerpt from Alice's Adventure in Wonderland – Lewis Carroll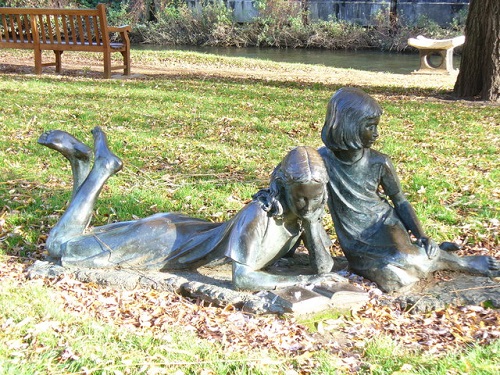 Unlike Alice, we did know where we wanted to go, and that was to Guildford in Surrey, a town that much celebrates the life and death of former resident Charles Lutwidge Dodgson, more familiarly known to us as Lewis Carroll, who lived in Guildford in the later part of his life.
Visiting Guildford from London
Living on the border of London and Surrey, getting to Guildford was just one scenic train ride away.
We chose to alight at London Road station, as it allowed us to avoid the busy commercial centre of Guildford and slowly make our way to the historical castle via residential areas.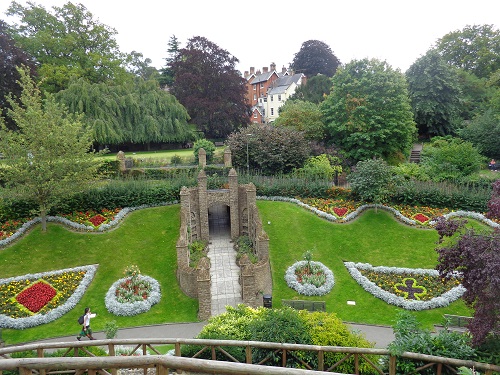 A city with an ancient past
Guildford castle is thought to have been built shortly after the 1066 invasion of England by William the Conqueror, but no one is really sure.
Today it is just a ruin but the beautiful garden grounds are carefully landscaped each season to provide a tranquil location for picnics/walks and general time out.
Alice in Wonderland
From the top of the castle ground there is a good view of the general Guildford area: across from the underpass towards the corner of a patch of greens is a statue of 'Alice Through the Looking Glass', a tribute to Lewis Carroll's sequel to Alice's Adventures in Wonderland.
Various such references to Alice is dotted around the town, surprising visitors who do venture outside the high street/shopping areas.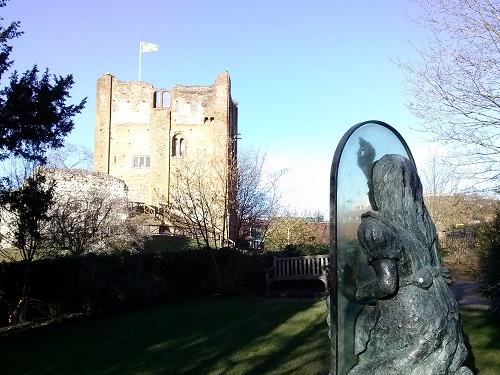 Not that's it necessarily a bad thing to be hanging out on the high street here in Guildford.
One of the prettiest high streets in England
The town claims its cobbled high street is 'the most attractive high street' in the UK', lined with Tudor style houses as well as the famous Guildhall clock with its black and gold trimmings.
Having visited many high streets here I couldn't agree more!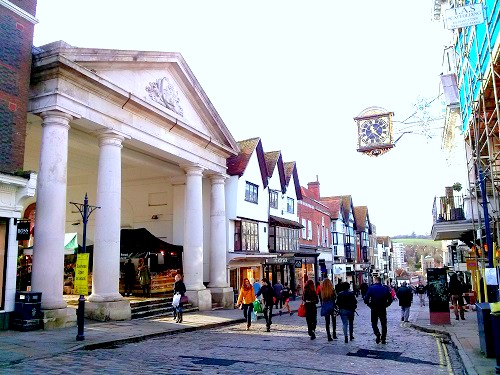 A city with a wonderful museum
There is a certain charm about historical towns with many of the original architecture still erect and in use, and I always find it even more meaningful, after having seen the place to visit the local museum to get a sense of what life was like in the past, and the excellent Guildford Museum served that exact purpose.
Located in the old Castle Gate house and surrounded by pre-1900 cottages its exhibitions showcase the archaeological finds and local modern history of Guildford and surrounds.
Of course, a small section of the museum was dedicated to Lewis Carroll and his 'Alice'.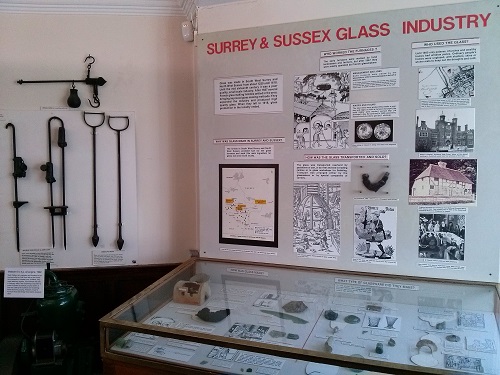 After enriching ourselves with historical information, we spent a long while strolling along the Wey river with careful steps so we don't fall down any rabbit holes.
Follow the flow of the Wey
One of the delights about living in Europe is that there is always a river to follow, and the British river ways provide many leisure canal boats to navigate around the beautiful countrysides, up and down the system with the many locks along the way.
Following the Wey course we find more historical references with such a lock system: the Millmead Lock. An iron plaque states that it was opened in 1764 and was the first lock on the Godalming navigation.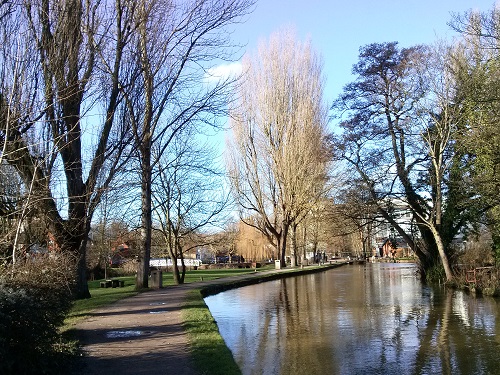 And such is the reason why I love living in this part of the world.
History is often everywhere around you – long and extended history – and are part of our everyday lives.
It gives you the thoughts to reflect on just how far we have come and sometimes, how little we have advanced because the original designs have been so good that they continue to be used today (such as this river lock).
Guildford is an easy day trip from London Waterloo station.
If you are around this part of the world and want to get out of the chaos that is London – why not step out to the countryside and experience the charm of a historical town?
Have you been to Guildford? Did you like it?