Lisbon is a great city to spend a long weekend in. It is small enough to be explored in 48 hours but not too bland and boring to leave you with nothing to do.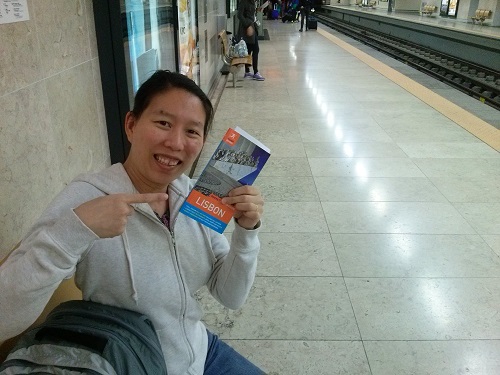 Not only that, there's something for everyone, from foodies to culture lovers to history buffs…. and surprisingly, almost everything was open during the Easter long weekend!
So, here's how you can spend 48 hours in Lisbon.
The first 24 hours: do some general sightseeing
Morning
Lisbon is a hilly city. While it's small enough to get around on foot, which is great for the exercise, to be able to get around and see everything you'll probably want to utilise the excellent transport network the city has installed.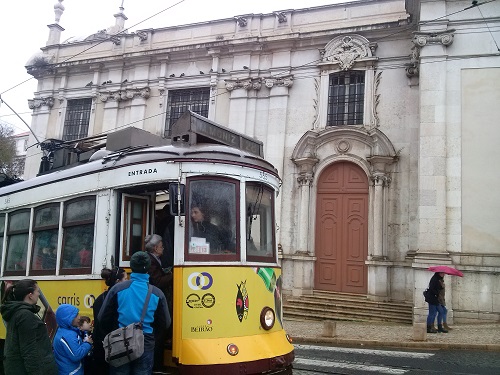 You have an option of trams, the metro and buses so for your first 24 hours, get a 24 hour travel card (€6) on the Carris network (which runs all buses and trams and the metro) from a Metro station ticket machine.
The card will then give you unlimited travel on all the city's Carris network which covers pretty much all the sights that you'll want to see.
Once you have that you can start sightseeing!
Depending on where you are staying, you will want to check the map and workout the best route (remember you only have 48 hours, so you'll lose time in backtracking) to see things you want to see.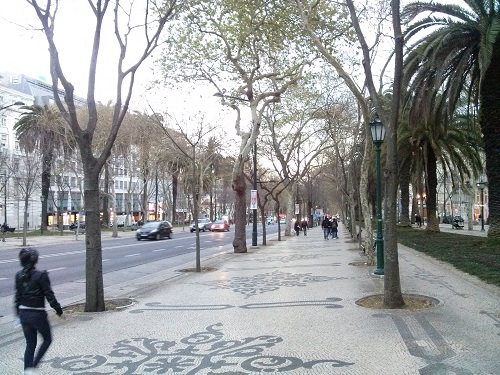 We stayed near Parque Eduardo VII on Avenida, and found that it was easiest to start from the 'bottom up' (which on the hindsight, was a bit stupid but you'll see why).
So, getting on the Metro, we headed towards the water to the end station at Santa Apolónia. From here, we are able to view the glimmering harbour, and then slowly wind our way through the picturesque but steep narrow lane ways and steps of the Alfama neighbourhood, where most tourists are too timid to enter and enjoy a leisurely walk… UP. Here we find small cafe businesses and sit down for a coffee and a rest, before continuing to explore.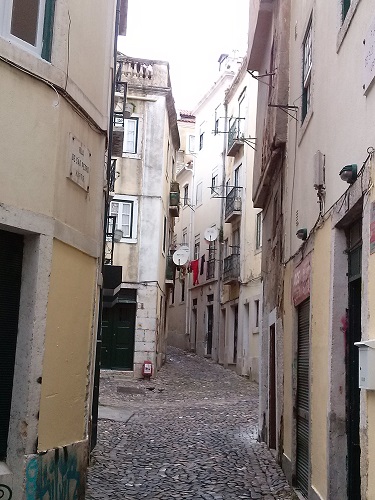 Here's the thing. I mentioned that Lisbon is a hilly city, a the high points are generally away from the sea. So, working our way bottom up, meant that we were always stuck with walking up. As I said though, had a great workout.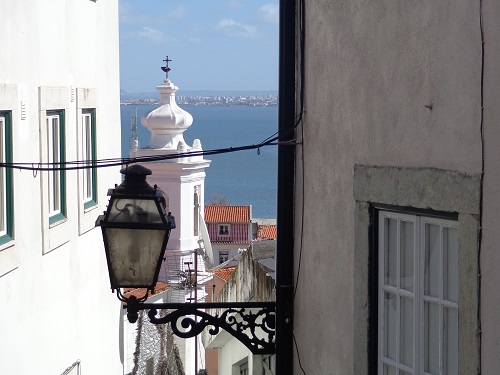 Our sights were towards Castelo de Sao Jorge, a castle that dominates the Lisbon city's skyline. There are fantastic views over Lisbon city in all directions, as well as history to learn from in and out of the castle walls. It's pretty much in ruins but you can scale the walls and visit the archaeology site where they are still digging for new stories.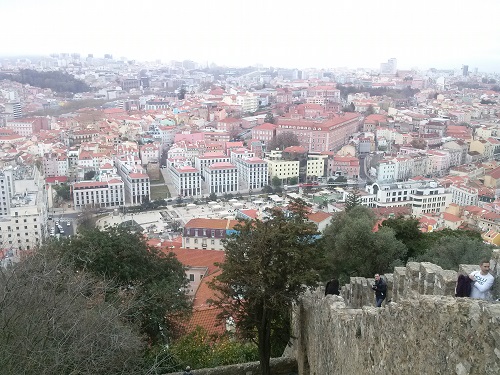 The garden cafe in the castle has peacocks. They seemed to get a lot more attention than anything else!
Noon
Heading out of the castle, make your way to Miradouro de Santa Luzia. This is a lovely lookout towards the harbour, and when we were there we stopped at the terrace restaurant for lunch.
The outdoor setting is perfect for a sunny Lisbon day and the menu included local specialties such as fresh prawns and pork stew with clams. The meal was fantastic and for its location wasn't all that expensive either.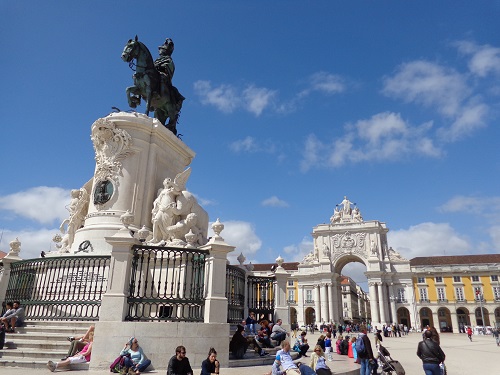 On the way back down, we walk through the castle markets to visit the Se, and then got onto a tram heading towards Lisbon's most recognisable square: Praca do Comercio.
There is a Beer Museum but with time ticking by we bypass this sight and cross over the Arch to Rua Augusta into the bustling Baixa area. This is the entertainment district of Lisbon with shops, cafes and restaurants are, and you'll find shops of all varieties, including a street long flea market which became my favourite!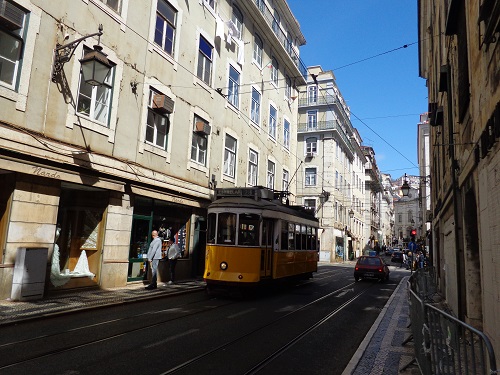 Do some shopping, buy some Mateus rosé, perhaps eat another tart and continue to roam the streets of Baixa. Notice the beautiful tiles used on building facades.
Tile art is beautiful in this part of the world, and many of the old style buildings will have these traditionally designed tiles covered walls. Mostly in blue, green and yellow it makes the streets so much interesting to explore.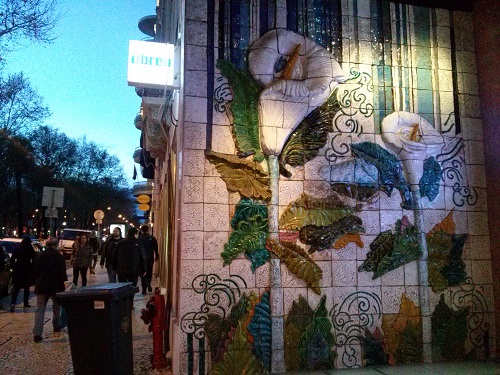 If you are into architecture, when you hit the end of the Baixa district look for Rossio Station. The exterior of this station is beautiful and was the old Central Station. Let's just say, we don't build buildings like these any more!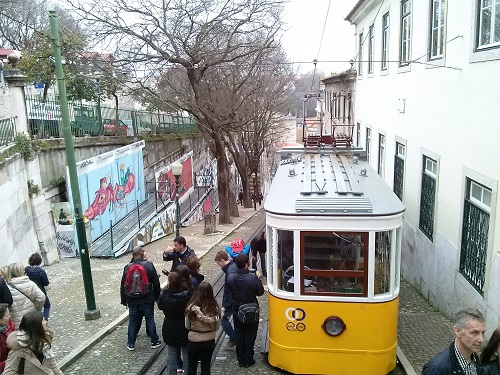 Nearby the station is one of the iconic 'elevators' – Ascensor da Glória – a tram that takes Lisboans up and down the steep hills and today has become a major tourist attraction.
Your travel card works on this too so why not take a hike up, where there are more views of the city from Miradouro de São Pedro de Alcântara view point, and if you are lucky there will be a market on where you can get yourself a piece of tile hand painted by local artists.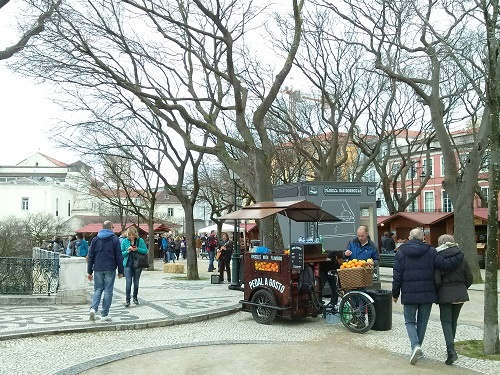 Evening
By now, you'd be getting a bit thirsty. Sangria is not just a Spanish thing but in Portugal they do their versions of this fruity wine too. So slip into a cafe and get some apperitif before tucking into some great cuisines.
While there are plenty of restaurants available everywhere in Lisbon, especially in the Baixa area, we found that going to the back streets near Avenida are plenty of little local establishments selling fresh seafood and grilled dishes.
The next 24 hours: enjoy Lisbon's wonderful food scene!
Having seen most of Lisbon's central sights, it is up to you whether you wanted another 24 hour ticket or not. Depending on how much you want to walk or catch transport!
Morning
Coffee at Mercado da Ribeira is a must.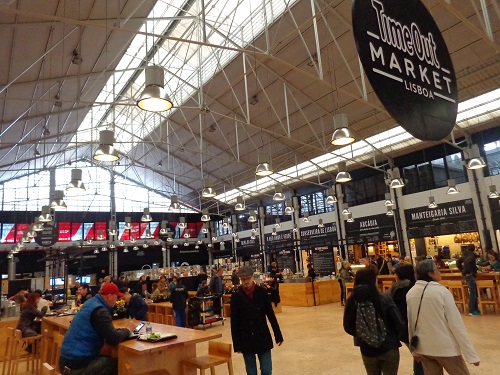 Yes, I am aware it's now called the 'Time Out' market, but in fact, the transformation of this market by Time Out investment is fantastic. The old fresh produce area is still the same as before, but it is the food hall that drew my attention.
This is where you can get some good quality presunto (jamon/ham), selection of boutique beers, wine, cheese and everything loved by foodies.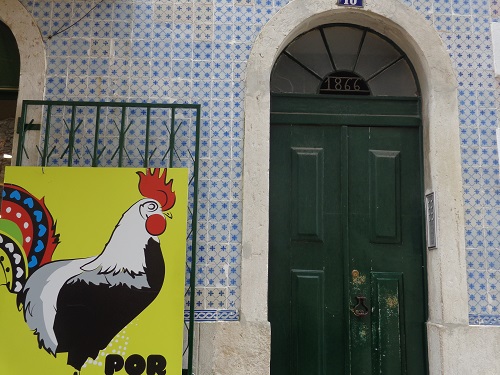 It's true, it is rather touristy now but hey, we are tourists! Do head upstairs and have a look at the great tiling on the walls, there is also some kind of a gallery up there too.
From here, you are close to Cais do Sodré train station, where it is only a 10 mins train trip to historic Belém. However if you bought another 24 Hour ticket, then hop on a tram instead as the trains are run by another company.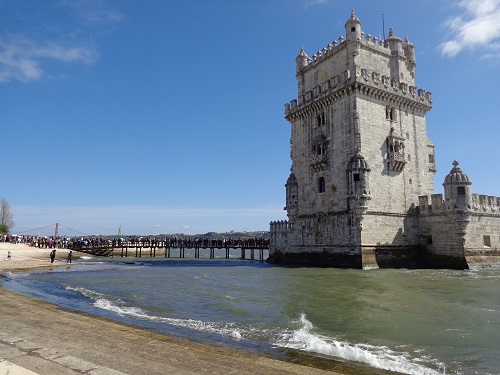 Tram 15 will take you all the way to the main street of Belém, where you'll find some majestic sights such as Jerónimos Monastery, Belém Tower, the Presidential Museum (with dress guards out front) and Padrão dos Descobrimentos, a monument to sea explorers that rather interestingly look very Soviet to me!
Noon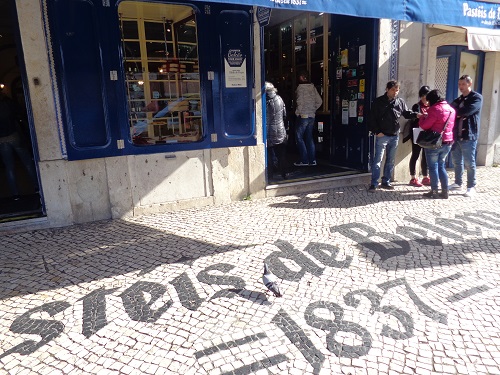 There are plenty of cafes and restaurants in this area to choose from. You could either have a light lunch at Café do Forte – their chicken pie is awesome by the way – or head straight to the world's oldest Pastel de Nata bakery Pastéis de Belém first for a sandwich and make sure you end your meal with this world famous custard pastry.
Later in the Afternoon
Relax a bit after lunch in one of the lovely parks on the waterfront. Perhaps you want to back track and visit some of the attractions you missed in the morning.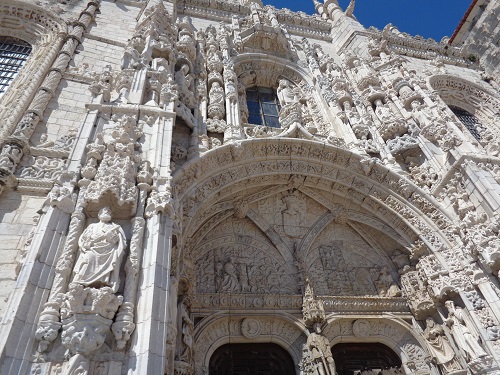 Before leaving Belém, visit the Museum of Coaches. It's just right opposite the train station and has a fascinating exhibition on coaches! It certainly is one of those 'a little different' museums.
Evening
Back in the city, the Chiado area is fantastic for your second night's dinner and a good night out. If you are out in summer, the shops will still be open so you can do a bit of retail therapy (the modern kind, with H&M, Zara and stuff), before heading over to the Barrio Altos area for some great bar scene.
Enjoy Lisbon :)