Stayed: 1 night, 23 – 24 April 2016
Room: 3911 (Superior Shard Room)
Price Paid: £435, booked through Secretescapes.com
Breakfast: Included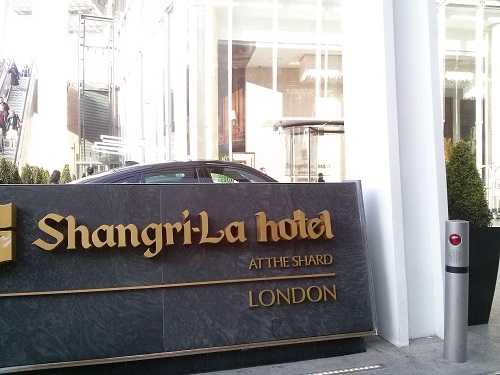 That feeling, when you've done something that you normally wouldn't do – like, spend this kind of money for a night's accommodation – is still lingering in my head 7 hours after checking out of the Shangri-La Hotel at The Shard. I feel like I've just dreamt it all.
It was a belated birthday and a bit of 'romantic' getaway for us, and we just spent most of the past 24 hours with our heads 'in the cloud', on level 39 of one of London's most iconic buildings with our own private view of London.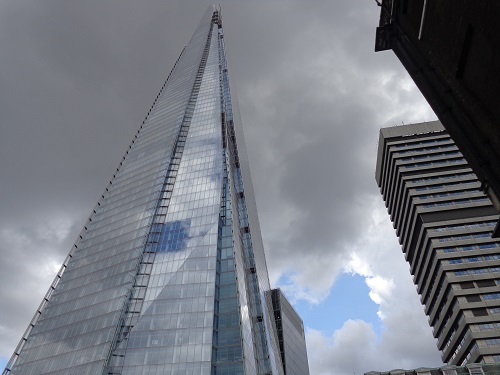 It is 'the' hotel for London
An experience of any kind is often defined by how this experience is being listed – not described – and when you start putting 'the' in front of things it makes you expect the best.
While I immediately recognised that Shangri-La at The Shard may not be the most luxurious of the city, upon landing on reception at level 35 it was evident that this is 'the' hotel for London.
Why? Well, from this level of The Shard, the tallest building in London, it has without doubt, the best view of London.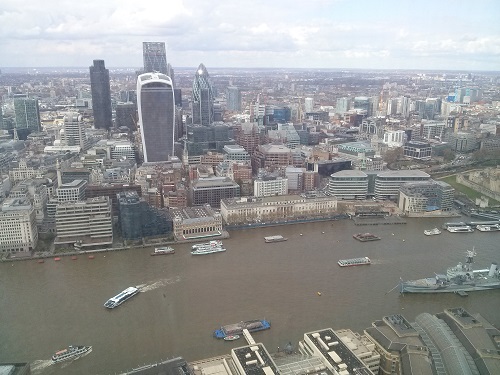 It's all about 'The View'
The viewing platform of The Shard is not called 'The View' for no reason. From up here, you can pretty much map out the entire City of London's every street corner, every landmark, every bridge and every curve of the river Thames.
Stand in one spot of the Sky Bar, you will see London Eye to your far left, all the way through to the Tower Bridge to your far right. It's the lazy person's way to sight-see!
Obviously when it comes to the view from your room, you do need to choose wisely. Choose a city view room if you want to wake up to the Gherkin and the Walkie-Talkie across the river. The cheaper option (ours) boasted a view of Surrey.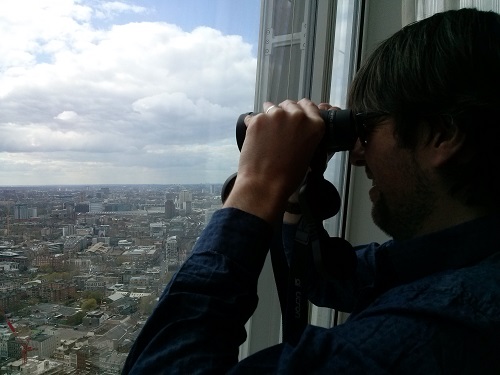 You can see Surrey from London?
Depends on who you ask. Officially, Surrey doesn't start just beyond Surbiton across to Sutton, which is approximately 15-20 kilometers from the centre of London. Realistically, we could see as far as Richmond… which is not yet Surrey… but hey, anything at this height can look amazing.
It isn't all about the view
Wait you just said it's all about the view! 
Yes, I did, but it also isn't all about the view. When Shangri-La set up shop in The Shard, it brought along its famous oriental hospitality with it to London and as a guest, your experience begins as soon as you set foot through the rotating turnstiles.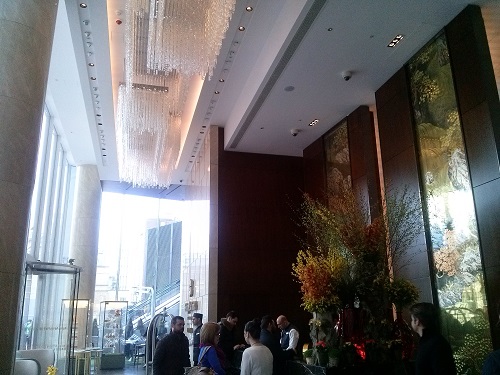 You are greeted immediately by a ground floor staff as they direct you to the lifts to reception. As you exit the lift, you are immediately greeted again to check that you are checking in, and led to a representative at reception who, upon processing your check in, personally escorts you to your room to settle you in.
The ability to make you feel like the only guest, even for someone who's paid for a discounted room rate like me, was impressively executed!
From then on, every time we pass a member of staff, we were greeted by a smile and a hello, and are always ready to answer questions and take personal requests. It is obvious that Shangri-La has found the secret to creating that first impression, and ensuring a consistency of an excellent service, throughout a guest's stay.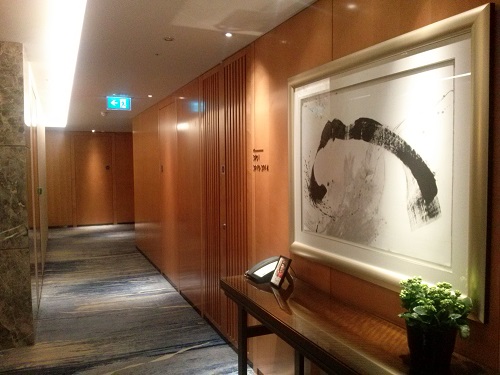 The room (superior Shard room)
For a new-ish modern hotel, Shangri-La has chosen, like most of its properties around the world, a conservative interior design.
There is nothing 'state-of-the-art' with the hotels' use of wood throughout corridors and in the rooms to create a homely feel and embroidered cherry blossom tree as its feature wall.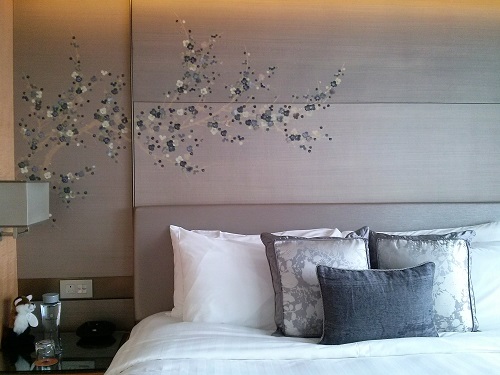 The bathroom is equipped with a bath and a separate walk-in shower.
Besides the in-mirror screen that allows you to watch your favourite show from the comfortably heated loo seat, there isn't any of that futuristic pretentiousness about the bathroom space that many of the new luxury hotels seems to have these days.
The room itself is spacious, and the floor to ceiling windows are perfect for that London view.
Being so high up, it's unlikely that anyone can see into your room but equipped with your binocular – you can indeed see into various other buildings!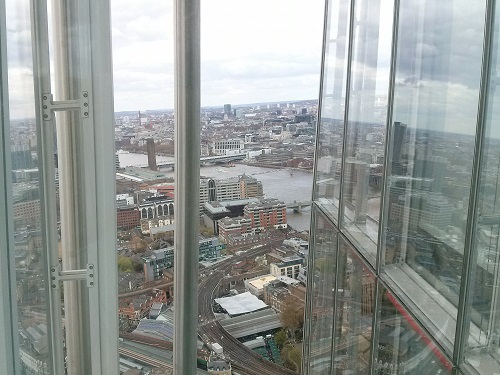 The gym, the pool and the breakfast
There is a gym with a view: small but sufficient, supplied with new equipment, bottled water and magazines; there is a small pool with a view too, with plenty of lounging spaces and serviced by an attentive staff who will bring you towels and drinks (ordered from the bar next door).
The pool area is unfortunately too humid from the heated pool, and the air has too much chlorine in it for me to want to linger.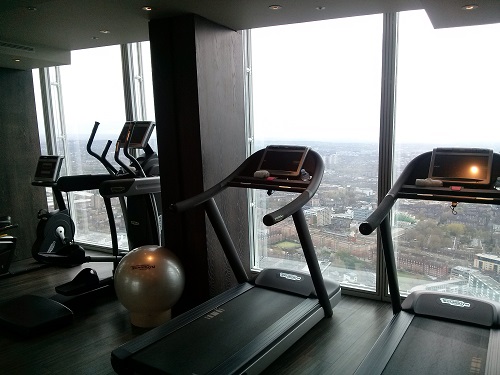 Breakfast was included in our rate, and it was served in the Ting Restaurant and the Sky Bar.
The continental selection is good: excellent cheeses, cured meats, bakery items, fruit slices, salads and basic hot items such as sausages, scrambled eggs, bacon, tomatoes, hash brown and steamed dim sums.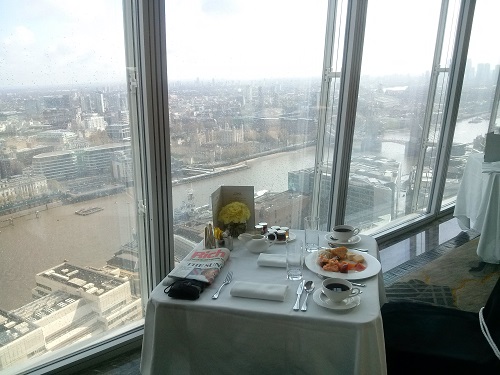 Diners also have a choice of ordering it from a menu full with cooked breakfast goodness, which is a better way to eat I find, than those hotels that over-do their breakfast buffets with live cooking stations because the lining up can make getting breakfast feel like a chore!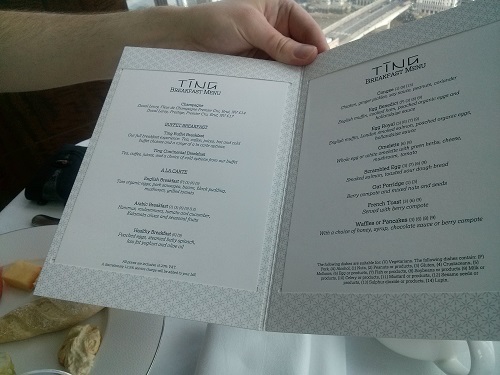 Again, service is good. There is a designated staff for a set of tables so you do get to know your staff well, and they are able to provide a more personalised service such as bringing you the right coffee / tea top up and if you've already said no to juice, they don't ask again.
It's a 'let's do it once' experience
For those of us who live in London, it really is a let's do it once experience, especially for special occasions. Most of us can't afford this kind of room rate when we go on holidays… but for one night, to be able to see our own city in a new light, felt kinda special.
For those visiting London – how about considering spending your last nights here? Book a cheaper hotel for the majority of your stay and then splash out a bit at the end of your trip. It will be the finale you'll remember for a long time.