"Thank you for visiting Belfast, it's good of you to come."
Our AirBnB host couldn't be more welcoming. We arrived in the wee hours of 2am on a Saturday morning, from a flight that was 3 hours delayed in London and he wasn't the least bothered.
The reassurance that we were in fact, welcome, is signs that Belfast is fast becoming the boom town it longs to be, and tourists are coming to re-discover its charm.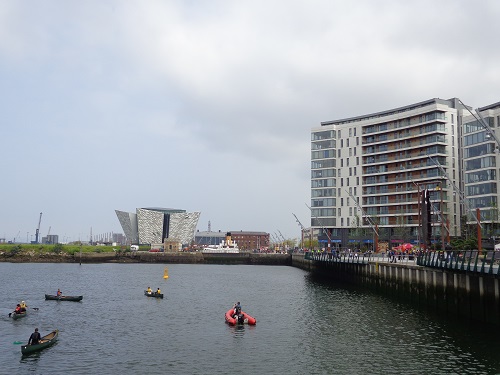 Why? Well, it was only about 20 years ago that the streets of Belfast weren't all that friendly, with internal religious tensions keeping the travellers away, and the sight of an armoured vehicle and armed forces on the streets were a common sight.
But things have been looking up in the past ten years, and it seems like we are reaping the rewards of coming to visit, for the city has made major investment in new infrastructure and attractions, and from our balcony in the Titanic Quarter, one of the chic new apartments that wouldn't look out of place in Darling Harbour in Sydney or Canary Wharf in London, and new building projects are happening all over the city centre.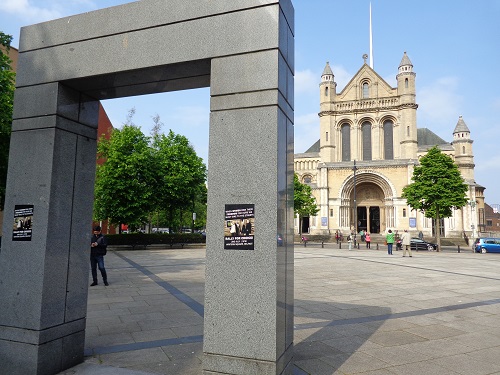 Michael Palin said Belfast was one of his favourite cities. It's not pretty, he admitted during his travels there in 1994, but he said "what she lacks in looks she makes up for in energy, courage and determination" (Michael Palin's Great Railway Journeys, 1994, BBC)
Well, that was 1994. Belfast has grown up from the ugly little duckling she was in Palin's eyes, to this brilliant harbour city pulsing with a positive energy. And yes, she is still energetic, courageous and determined.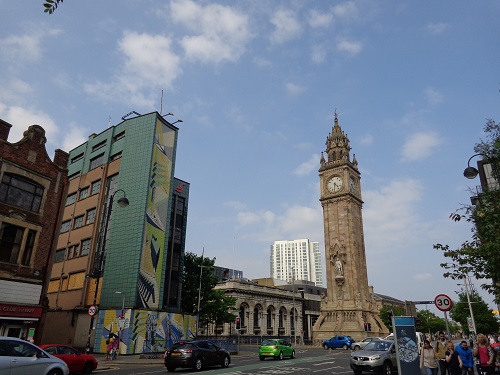 And sunny! Despite all the warning of "Northern Ireland always rains!", Belfast had put on a brilliantly sunny weekend for us for our visit, and the parks around the museum are filled with families enjoying a picnic or a kick about. Along the water front on our way into the city centre, we chanced upon the Maritime Festival alive with tall ships and naval vessels, as well as food vans and happy children on jumping castles; the place was full of buzz that continued across the Lagan river in the city centre.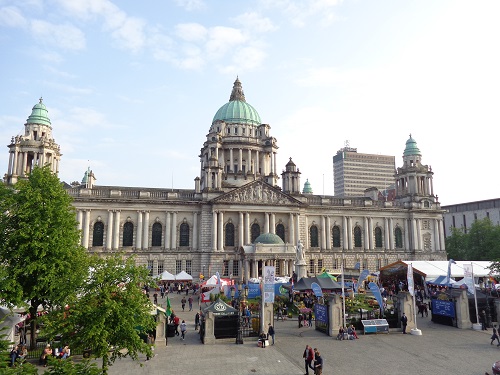 Belfast is one of the great street art cities – street art is used by people to express their desire to speak out, perhaps against political regimes, social hardship or simply carry messages of unity and peace.
More about the politic messages later, but a combination of old heritage buildings and new developments in the city has made Belfast rather exciting. A visit to the City Hall for a free tour gave me an insight into the political workings of Northern Ireland, at the same time, enriched my trivial knowledge.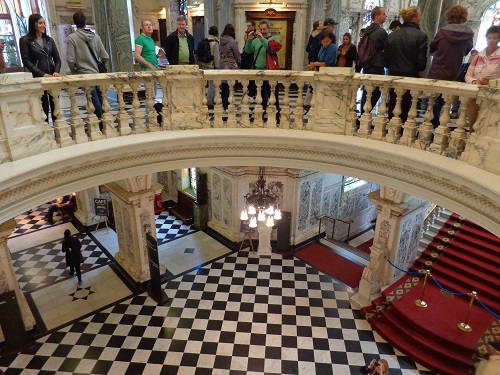 Do you know why there is a bell on the city coat of arms?
Apparently when they were designing the coat of arms and deciding on what pictures to put on it, they thought: well Belfast has the sound 'Bell' in it, so let's put a bell there! However, the name Belfast is derived from Béal Feirste which means 'Mouth of the River Farset' in Gaelic!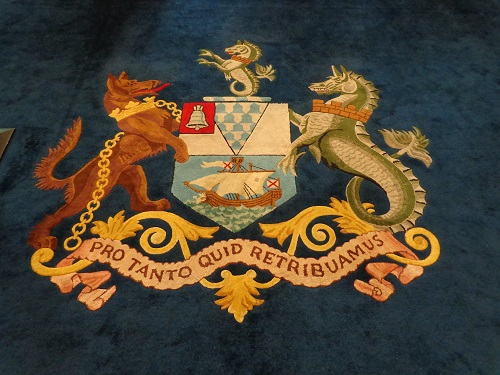 Just outside our accommodation was the Titanic Museum. Opened in 2012 to commemorate the centenary year of the launch of the ship. Exhibiting Belfast in its industrial days, the building of the Titanic, a ride that simulates a 'walk through' of a ship building yard (with sensual effects such as heat and vibrations), a gallery of myths and facts about the sinking of the Titanic, and a cinematic viewing of an underwater exploration of the Titanic wreck.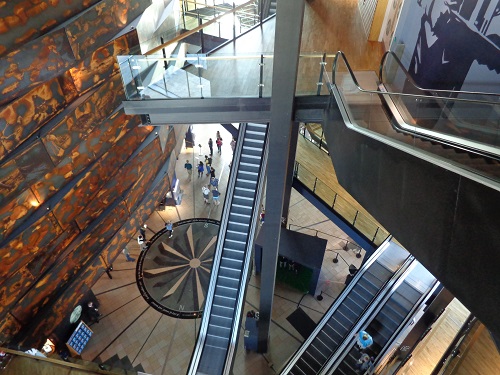 Of course, there's also plenty of opportunity to be Jack and Rose….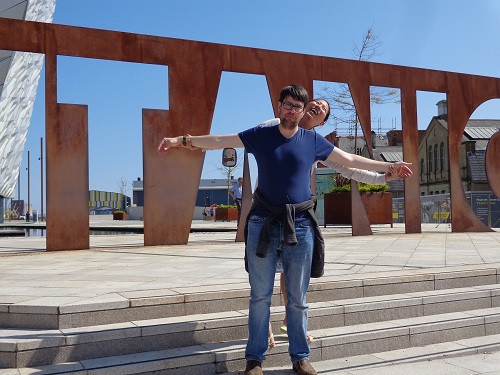 I found my favourite place in the whole of Belfast to be in the vibrant St George's Market where the atmosphere is friendly and alive. Fresh local produce are on offer along with arts and crafts and a fantastic spread of international cuisine from Thai street food, to crepes, to burgers to curries kept me going around in circles with a happy grin… grabbing myself a samosa and a Nutella crepe, we sat down to enjoy the band that was entertaining the crowds as we we each enjoyed our delicious finds.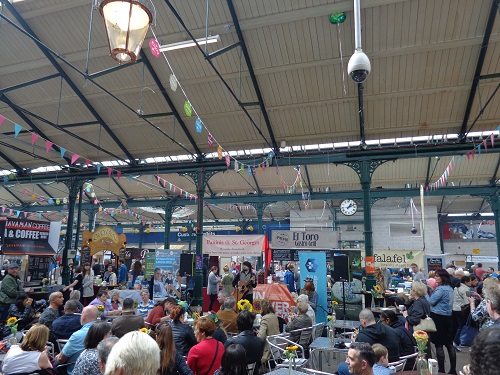 Belfast is fast becoming a city where its residents are drinking artisan coffee, mixing it in with the fusion cuisines and eating gourmet French brie and organic rocket sandwiches!
However, there is a dark side to Belfast – that side is West, and when we find ourselves gingerly picking our way through the streets of the Shankills, we knew this is probably a place where we were not welcomed.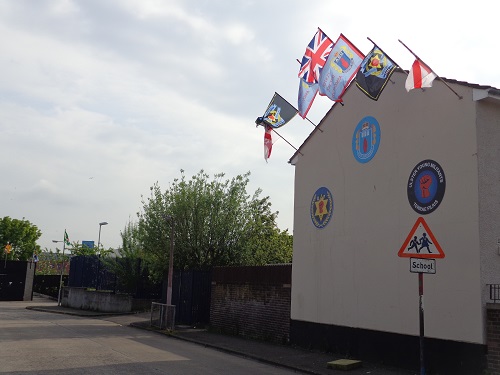 In great contrast to the happy image the city puts on in the city centre, this is an area where the great religious divide is still evident in the wall that separates the inhabitants of 'the Shankills' from those in 'the Falls', where murals depict the militant glories of the defense of their 'rightful place', with names and portraits of the fallen as martyrs to their cause.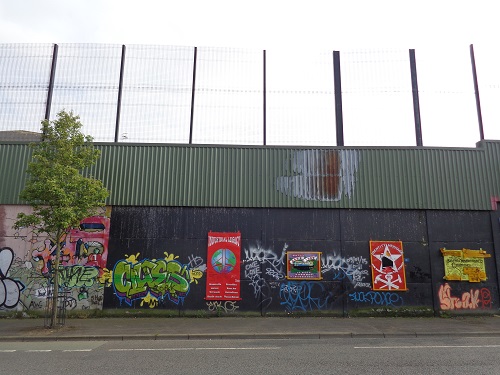 No where else in the western world (ok, perhaps in Texas and Alabama) have I seen such militarisation of neighbourhood civilians.
I know that was a mouthful of words that shouldn't really be used in a sentence, but that was exactly how it felt.
Divisional flag of the loyalists (those who are loyal to the English crown = protestants) and nationalists (those who believe Northern Ireland should be Irish = catholics) flap in the winds and the streets were eerily quiet, at least, on the Shankill side.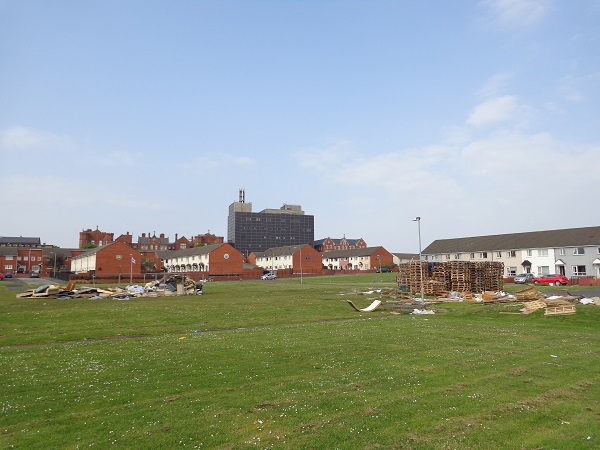 It was 5pm on a sunny Saturday afternoon, when kids should be out playing and friends gather round for a drink or two.
Yet, walking around the Shankills felt more like walking around a neighbourhood being surrounded by a war zone. People nervously peeked out of their windows, watching our every move, staring, as if looking out for any slight gesture of hostility.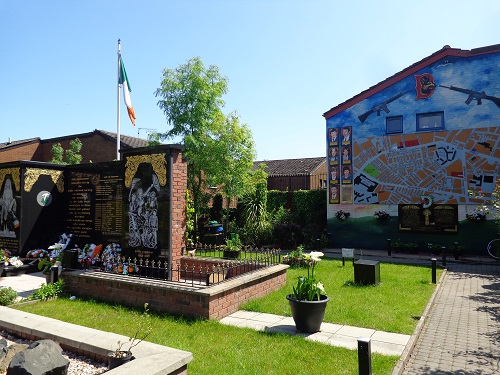 A wall, tall and intimidating loom in the background, evidence of the violent that can still erupt even today.
It's a sight that reminds you of places like Berlin where the city was divided in half as a consequence of the war, as well as many other walls that has been built to divide people…
The wall is painted with messages of peace, but every year, there is what's called 'marching season' that will spark violence across this area which forces the authorities to close the passing gates between the neighbourhoods.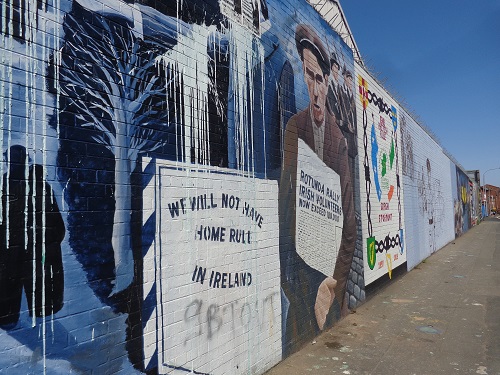 As I walk along looking at each mural and reading each message, I wonder just how much of the real conflict do any of these younger generations actually understand, and whether people just have a tendency to just want to be jerks to each other.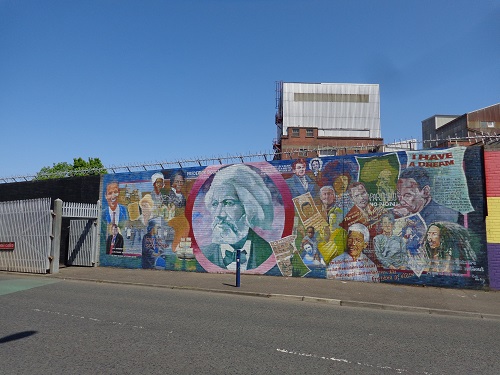 Will humans ever learn?!
Yes, in today's world Belfast is still rather troubled. Despite the boom, that wall is still sadly up, and is still heavily monitored.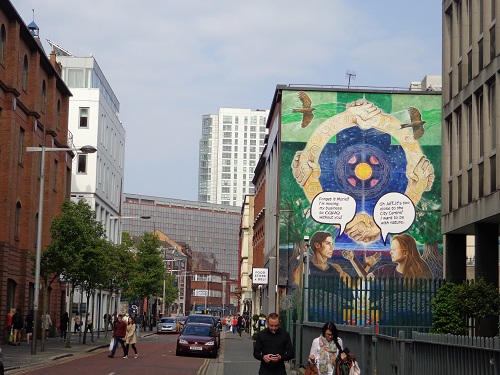 However, I want to believe thing are looking up.
There are a lot more opportunities in the city and a lot more tolerance and understanding. In the end, it's all about jobs, security and wanting to be treated as equals. Deep down in each of us, that's all we pretty much want, isn't it?