Italy. One of those great destination for food lovers.
And whenever I am in Italy, I just want to eat everything.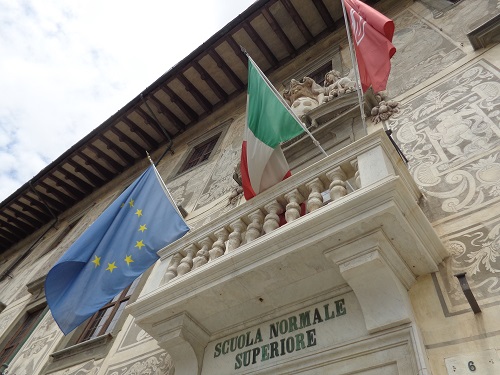 It was my second visit to Italy on a recent long weekend visit, a country I will always associate with fine arts, impressive churches and incredibly lovable food.
Incredibly.
My most favourit-est (if that can ever be made a word!) dish is Spaghetti alle Vongole (Spaghetti with clams). Popular in the central regions of Italy between Florence and Rome (but also popular throughout) this dish is the epitome of Italian cuisine to me. It is so simple, no over-saucing, no excessive ingredients, no complicated methods. It is simply just so. Spaghetti and clams, flavoured with garlic, olive oil and the natural saltiness of the fresh clams.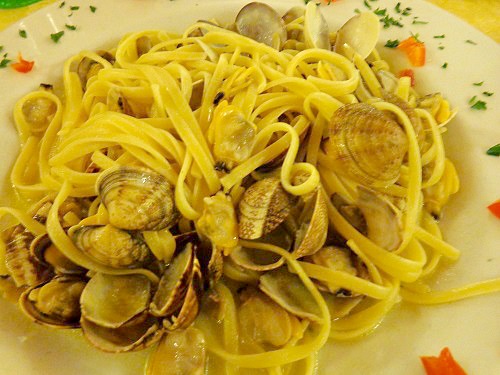 The best places are those that are frequented by locals, preferably those that display an array of the day's freshest ingredients at the door (which are zucchini flowers, selection of wild mushrooms, tomatoes and artichokes are the season's specials at the moment), hole in the wall type decor without pretension, and menu written with bold markers on brown paper, in Italian.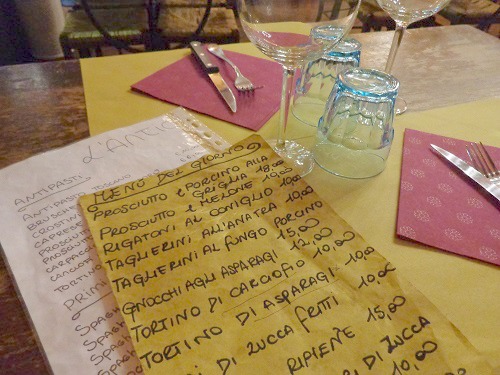 And we found such a place surprisingly right in the heart of Florence. L'Antico Noè, in the heart of the popular restaurant district surrounding Piazza Gaetano Salvemini, is the place to go. While other surrounding restaurants were doing a roaring trade – including the Irish Pub around the corner (I can never understand why you would bother coming to a foreign country insisting to enclose yourself in just another Irish/English pub) – L'Antico Noè was surprisingly quiet. Having ordered, we sat in a corner table and watched at least five sets of tourists take one look at the menu on the wall, and possibly put off by not seeing a word of English on the menu and turn away. It wasn't until later did a few more adventurous travellers venture in to try their luck.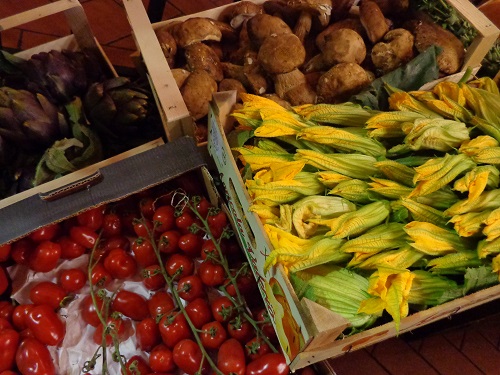 Meanwhile, two groups of Italian had taken their eats and are already noisily (and animatedly) engaging in friendly banter over way too many bottles of wine!
And that the kind of moment you know, that you've picked the right spot to eat.
I even did a mini fist pump :)
So you see, even in the most touristy places you will find some fantastically local places!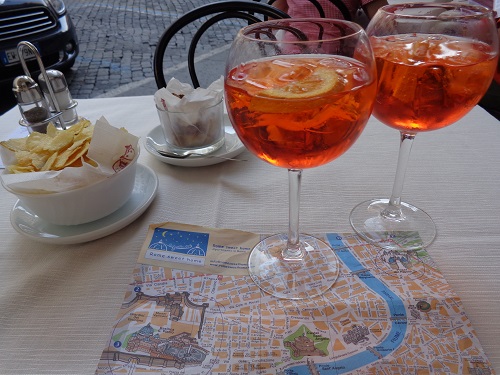 It is easy to fall into the traps of believing Italian cuisine is whatever you can order at your local Italian restaurant.
Throughout my years of travelling I have come to a realisation a long while ago that what we believe is a country's cuisine, is often only a small sub set of the flavours that can be experienced when you are in the country.
For example, in Italy, it isn't always just about the pizza and the pasta! Italian cuisine is also about the prosciutto, the olives and the use of daily fresh produce for the most incredible meals that makes that difference.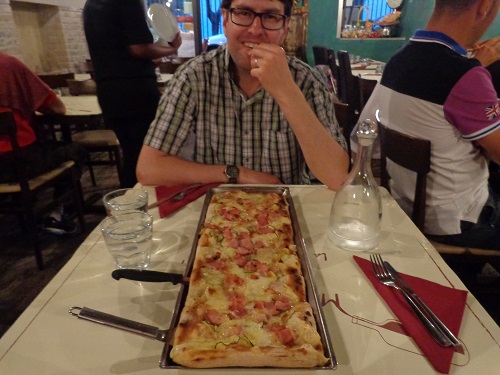 The best places to learn more about local food and ingredients are market places.
When you are willing to walk the side streets and find local communes, you'll come across street markets selling fresh produce. Here are the best places to watch locals at work – selling and bargaining for their day's meals and of course, if you are staying for a while, why not buy from here too instead of the supermarket? You are guaranteed fresh ingredients and you support local businesses.
However, if you simply want to browse and not really adventurous, you can always visit the more touristy markets such as Florence's Mercato Centrale.
While it may seem like they only sell to tourists, locals still shop here in their numbers. The bottom floor is full of all the yummy things I love about Italy – legs of prosciutto, cheese, stuffed olives and artichokes, fresh meats and tripe, brightly coloured fruits and vegetable and wonderful handmade pastas.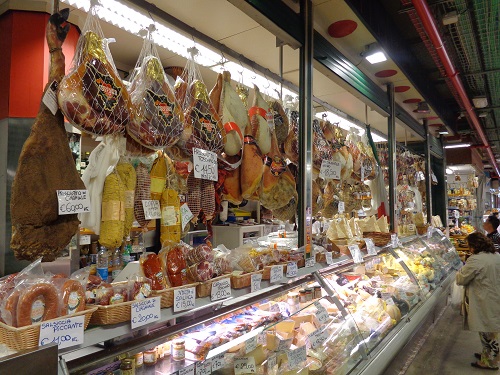 Up stairs is a a great hall with loads of choices for a meal or a snack. This is a great place to come for a spot of aperitif.
Things are slightly expensive here, as it is for tourists after all, but all the stores are locally owned and good quality, not to mention the atmosphere is fantastic. Come grab a plate of prosciutto and cheese pair it with a house red from the bar and sit back to relax!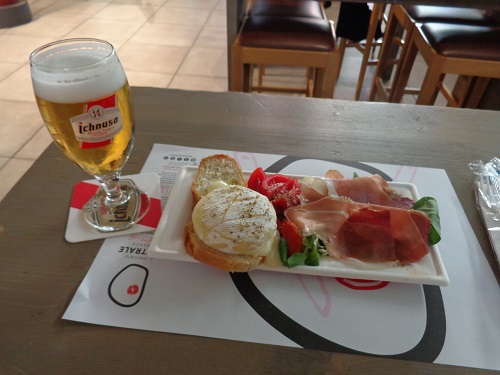 And then, after all that talk about food, there's the coffee.
Forget the fancy chai lattes, you are not going to get these here in Italy. Also don't make the mistake I made when I backpacked 10 years ago. I walked into a cafe bar and ordered tea.
Do that, and get stared and laughed at.
You may not be an Espresso fan at home. That's because you are probably being served pretty crappy coffee in Sydney/London/New York. Come to Italy, and give it a go. Simply walk into a coffee bar, order yourself an espresso, add a small spoonful of sugar and enjoy. You'd be surprised!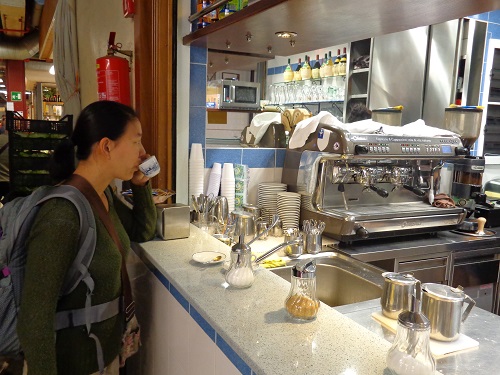 Espressos are so called because they are a shot of coffee drunk quickly, an Italian's way as a quick break from daily life, a chance for a quick chat with friends, before getting on with whatever they need to do.
And you'll find coffee bars with locals standing around the bar having their shot and quick chat.
Another thing – never sit down. If you sit they are likely to charge you a 'cover fee' which ranges between 2-3 Euros. This is what is charged in cafes and restaurants for your meals, which is perfectly ok, but when your coffee only cost you 1 Euro, then it is no longer worth it, obviously.
And lastly, and most importantly – gelato.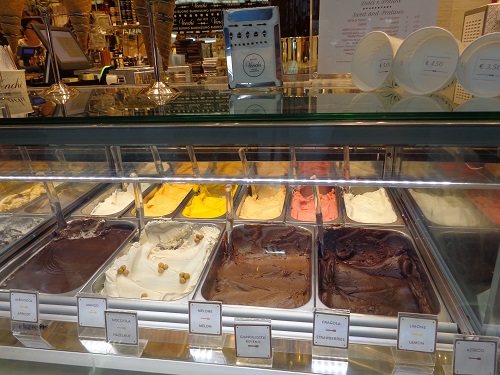 My favourite is the simple milk gelato. No fancy flavours and combinations – just that fresh creamy goodness!
Although, I have a tendency to have two or three gelatos a day when I am in Italy, so I do cycle through other flavours such as strawberry, hazelnut and pistachio – but never 'peanut butter' or 'cheesecake' flavours. They are for armatures ;-)
If you prefer someone to take you on a food adventure in Italy – Eating Italy Food Tours have a good selection of tours in Rome, Florence and Venice!