I hardly need to tell you about Rome. Surely with all the travel information available on the internet you know exactly what Rome has to offer its tourist.
What you do need to know, is how to travel in Rome easier.
For most visitors, their travel in Rome is all about visiting the top five: Colosseum, The Spanish Steps, The Vatican and St Paul's Cathedral, Roman Forum, and the Pantheon, because that's pretty much what most people associate with Rome, thanks to the various movies and media associations with this ancient city.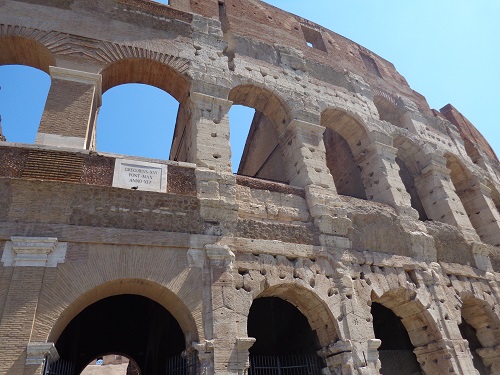 Understandably, they are the five most impressive things about Rome, with so much history and stories attached to them. So going anywhere near these attractions means battling thrones of other people who also want to visit these attractions.
And because of this I have a love / hate relationship with Rome. It is beautiful in all its glory and the Colosseum, the ceilings of St Paul's Cathedral and the Roman Forum are all impressive in their own rights and yes I believe anyone with any interest in ancient history or art should visit absolutely every one of these attractions.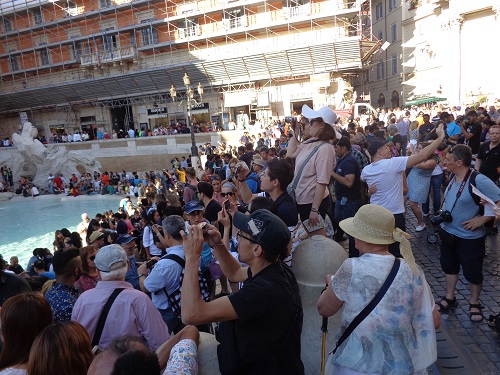 But that's the problem. EVERYONE wants to visit Rome, and instead of your ideal Roman Holiday moments you have in your head, you are likely to be heckled by another hawker trying to sell you selfie sticks (how I loath selfie sticks!), paying extra for your dinner at tourist hot spots and most frustrating of all, is that you are probably going to spend more time queuing for entry into the various attractions than time actually spent enjoying the attractions.
However, don't let any of that discourage you from visiting this great city! So I thought I'd share some of my tips to make your trip to Rome just a little bit easier.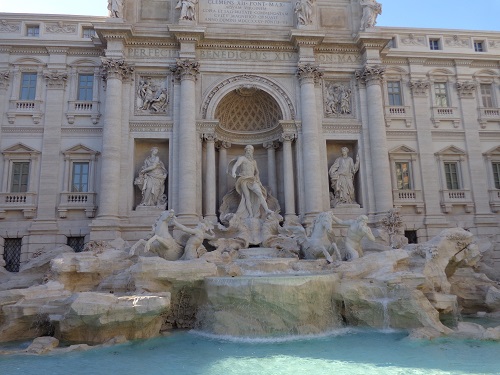 Tip #1 – Plan your day
Unless you are travelling slowly and have plans to stay in Rome for a long while (a week, a month…) you are going to have to plan your day in Rome, if you want to see the attractions you want to see.
And I suggest doing this on the plane/train over, which not only shortens your horrible trip being stuck in your seat, it also gives you the ability to start your sightseeing straight away if you happen to be arriving in the morning!
Even if you don't have a map already, everyone has access to Google Maps – look at the locations of every attraction you want to visit, look at where your accommodation is, and start from the attractions either furthest away from your accommodation and work backwards.
If you are staying in the city centre and surrounded by attractions in all directions and divide the visit in half and visit on end first before visiting the other.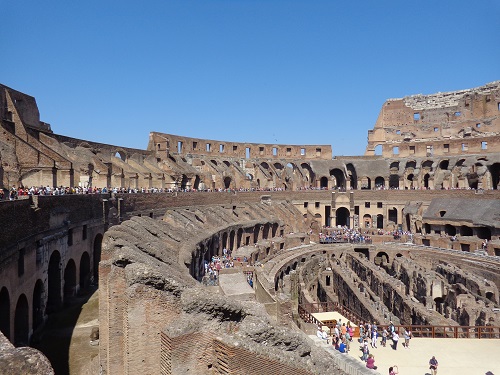 Tip #2 – Get up early!
Most people are lazy. They'll want to sleep in on their holidays, enjoy a leisurely breakfast, before bothering to leave their hotels to visit all the sights.
This means, if you are an early riser, you are able to visit the sights and museums in relative peace.
The best time to visit any attraction is within the first hour it opens. This is usually around 8-9am, depending on where you want to visit. So plan to visit the attractions that's most important to you for early in the day and progress to the less interesting, and more openly accessible attractions (such as Trevi Fountain and Piazza Navona) later to avoid queues.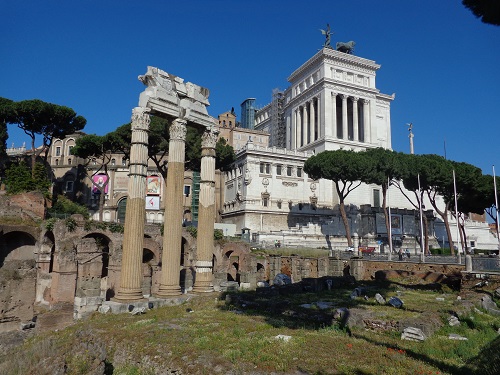 Tip #3 – Pre-purchase tickets
Many attractions will allow you to pre-purchase tickets online, even before you leave your house! This allows you to at least avoid the ticketing queue and begin with the entry queue instead.
Some tickets, such as the ticket that allows you to visit the Roman Forum and the Colosseum over 2 consecutive days (one entry per attraction) can easily be bought on the day of visit. For this, the best advise if to go to the Roman Forum ticket queue first and get your ticket before 9:30am. This queue is less used so you'll spend less time queuing up and more time exploring.
Visit the Forum first – the site opens at 8:30am – majority of the people will start turning up around 11am so if you arrive early it means you can have the place almost all to yourself. The Colosseum is more popular in general and will already have crowds even in the early morning so you might as well enjoy some self time at the Forum before heading over to the Colosseum.
Tip #4 – Stay a little outside the city
Most hotels are in the city centre, and I understand the need for some people wanting to stay somewhere 'central'. However, if you really want to experience Rome and explore parts of Rome that isn't all about the tourist attractions, you will need to try to stay a little outside the city.
Try residential areas around Trastevere, the suburb just north of the Vatican City (aruond Valle Aurelia train station and near Cipro metro station), or Garbatella, south of the city. As long as you are near public transport, you are able to get around easily to major attractions, at the same time, experience a bit of the local live.
And it's easier than ever to stay in residential areas with great airbnb places to stay at!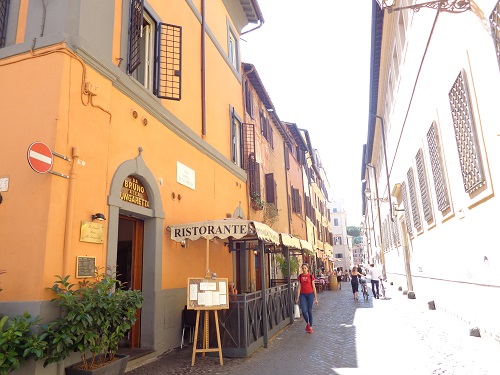 Tip #5 – Walk away from the main roads
Be adventurous! I find it a little weird that everyone follow the same roads to go somewhere and gather only in designated landmarks. So the tip to avoid the crowds in Rome, is to get away from where everyone's going (until, you get to the actual place you need to be).
Don't follow the hordes when you are trying to get from one attraction to another. Take the detour, walk away from the main road into little alley ways and explore the city under its skin. You'll find pretty little squares, churches and delis that are almost empty of tourists.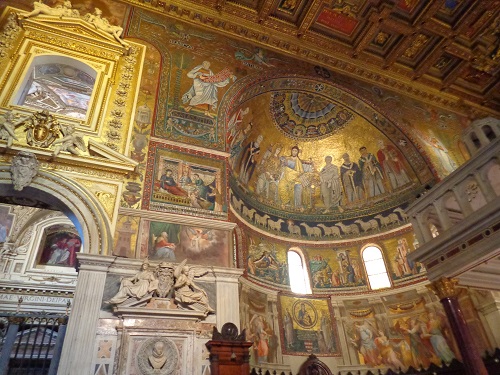 Tip #6 – Make use of public transport
Rome is serviced by good transport links – and can get you closer to where you want to go quicker, without having to battle the traffic and other crowds above. And transport is cheap!
I recommend you travel in Rome with a 24 hour ticket with unlimited travel on buses, trams and Metro for €7. Other tickets available are:
100 minutes ticket for €1.50
48 hours pass for €12.50
72 hours pass for €18
Please note you can't use these tickets on the main line trains.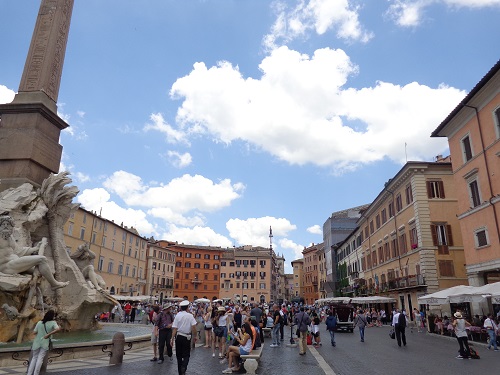 Tip #7 – Learn to relax!
We have always taken the attitude of things will happen when it happens. We'll get there when we get there. There is no reason to stress over things like "there's too many people" and "there goes another selfie stick". Just sit back and relax. If it's too crowded, then just got with the flow, and you'll eventually get there. People will eventually move on!
And if people don't do things the way you do them, why should that bother you? That's just part of normal life!
Go with the flow :)
I can't make the tourists go away, sorry, but remember they are there for the same reason why you are there, and you could just as easily be their annoyance as they are yours, so be tolerant and treat others the same way you want to be treated and we'll all be happy tourists together :)