Back to talking about Cornwall!
So here's the thing. Cornwall is filled with nature's best gifts. Rugged coastline, beautiful little fishing villages with cute little beaches, wildlife and home to the pretty epic Eden Project, so naturally, there is room for an outdoor theatre constructed in perfect symmetry with the curve of the cove creating the perfect seating environment with the most spectacular backdrop.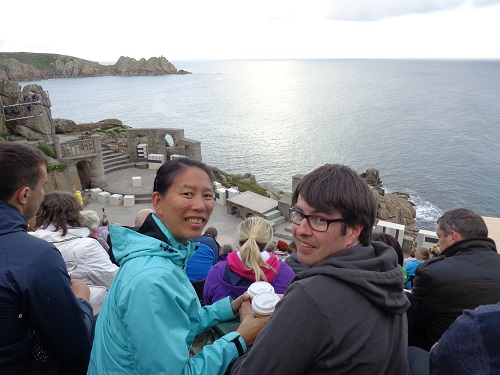 And of course, such as place exist in Cornwall – it's called 'Minack Theatre', and wonderful open air theatre on the tip of the Cornish peninsula.
I've long been a theatre lover, from operas to symphonic concerts to the musicals of the West End, as well as a great Shakespeare production.
And this is where the Minack came in for our Cornish adventure.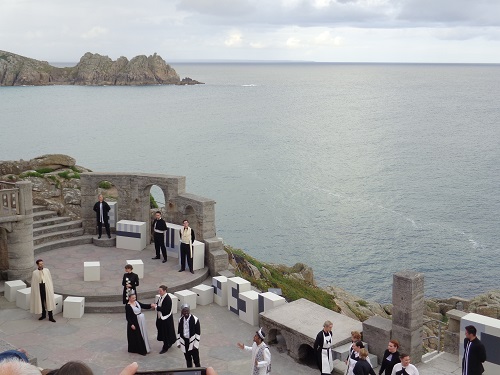 Minack is the creation of one woman's determination. Rowena Cade, who lived at Minack House at the top of the cliff where the theatre is today, wanted to create a dedicated theatre for the local drama troupe to perform Shakespeare, and saw this rocky cove as a potential. With her gardener, they slowly transformed the cove into the spectacular open air theatre that we know as Minack today.
And it is very special.
I knew exactly what the theatre looked like from pictures, but nothing prepared me for the awe induced by actually standing at the top of the hill, looking down towards the stage.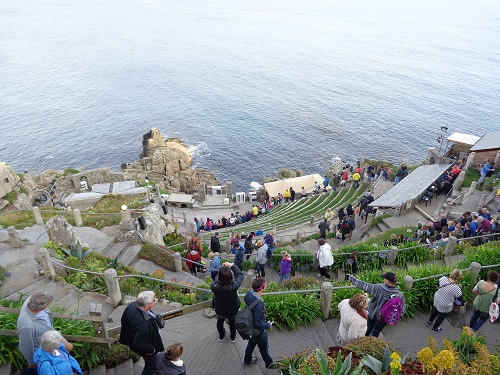 If you remember from previous posts, our trip to Cornwall was plagued by rain in the beginning, so unfortunately the sky was covered by thick grey clouds that threatened to rain. So fully prepared with rain jacket and all, we squeezed up the stone steps along with other audiences (cushions under bums, coffee and snacks on hand) and waited.
Unlike being at an indoor theatre, where waiting is often the boring part, at the Minack it was easy to lose ourselves in the natural surroundings around us. Birds sing their lullabies to the day against the backdrop of the calm sea and the slow dipping of the sun behind the horizon. We watched as a ship slowly sailed across as if on queue to be the supporting act, and seagulls surfed the winds above our heads.
It was a stage that didn't require special dressing. No velvet curtains, no painted backdrop. What couldn't fit can only be imagined and being there was simply a pleasure.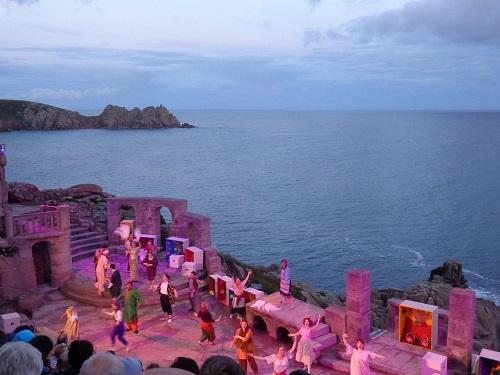 As a show it wasn't the best Shakespearean production I have ever seen, but considering the location, we came to the Minack for the view and for the experience of an open air theatre.
Yes, we did eventually get rained on, and yes the stone seats got a little uncomfortable (even with cushions under us) after 2 hours but the whole experience was magical, and I can't imagine what it would be like on a glorious summer day!
Visit the Minack
Porthcurno
Penzance
Cornwall TR19 6JU
Box Office: +44(0)1736 810181