Lyon is France's third largest city, and you've probably not thought of it when you were there. In fact, it's easy to forget that Lyon is a city at all if you don't venture beyond the old town and see all the skyscrapers by the Part-Dieu station.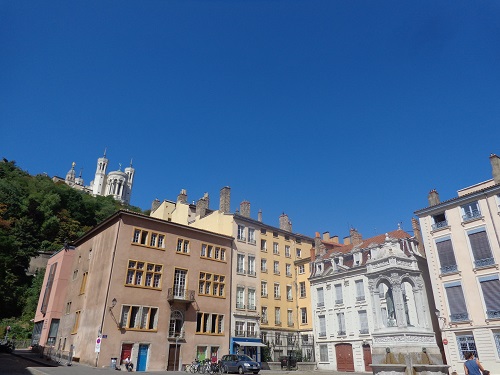 Because you'll probably be having too much fun getting lost.
We were in Lyon for 2 days. It was way too short but the time constraint couldn't be avoided. Thankfully we have my friend Livia of Chamelle Photography, who is a local resident to show us around, and we happily followed her and got lost in this beautiful city.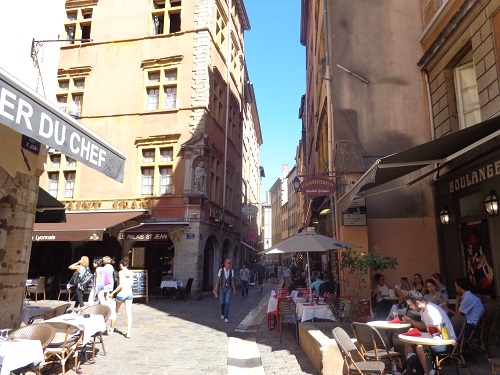 Getting lost in the Traboules of Lyon
Lyon used to have a roaring trade in silk manufacturing. The silk were transported through the many tunnels between houses called Traboules and, you can still visit some of these 'silk routes' around the old city.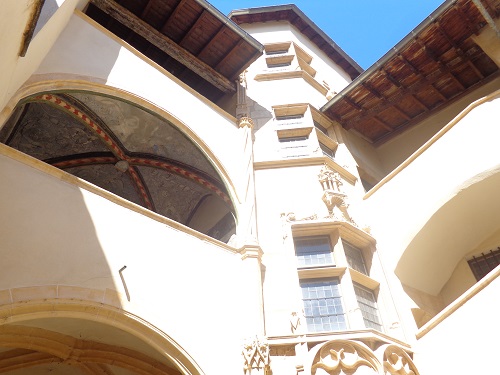 Traboules are accessed through very normal looking doors, so you'll need some guiding to find them. In them, you'll also find yourself in small cute courtyards with architecture very typical of the sort of architecture that existed when Lyon was the silk central of Europe.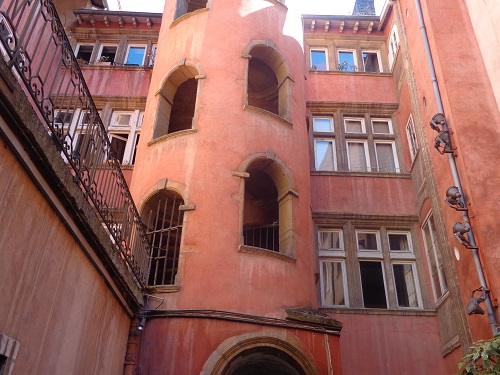 We all have a little trepidation about stepping through a door way that isn't marked as a shop or a hotel, but in places like Lyon (as well as many places in Italy) it is the only way to discover some of the hidden secrets about that city.
Following Livia's lead, we found ourselves through tunnels that open up into cute little courtyards, with intriguing architecture and photogenic stairwells.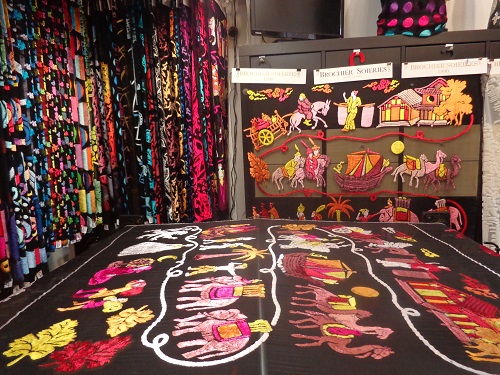 In one, we happened upon the last silk workshop of Lyon: Brochier Soieries, a silk workshop that has been going since 1890 and is today, still working the silk in traditional methods and selling their creation to the public at their store on the same site.
Getting lost trying to find amazing street murals in Lyon
There's street art, and there's STREET ART. I have seen them in Yogjakarka, in Moscow, in Paris, in Amsterdam and in Melbourne, but I've never seen street art like it until Lyon.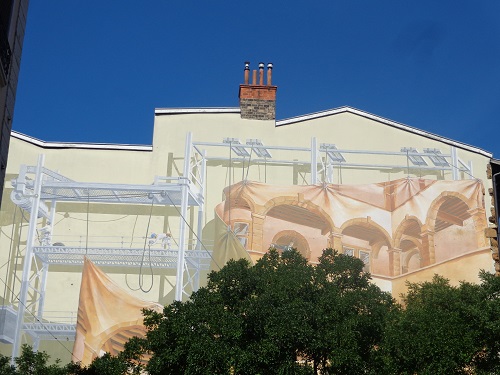 The murals of Lyon are pretty famous, and they are dotted all throughout the city. We managed to find some, but have left others for our next visit.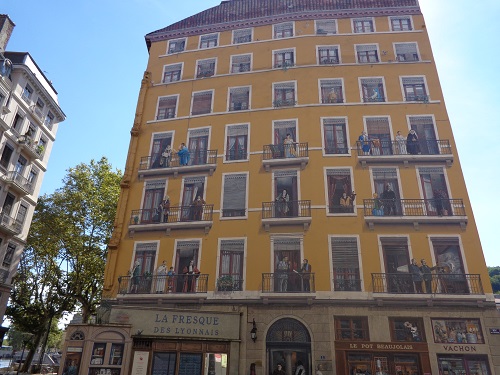 The murals are known as illusion murals, they make you believe there's really a window opening, a step going up and a cat staring down at you with its beady eyes.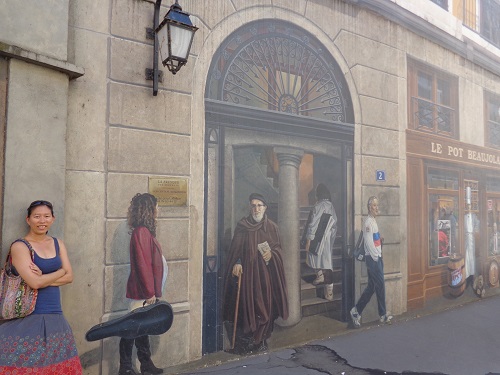 And yes, almost everything you see, has been painted. It's like playing spot the real windows – there are very few!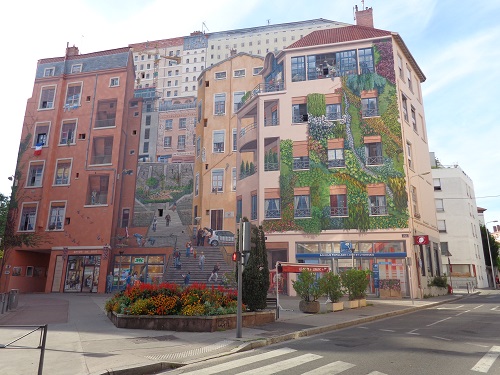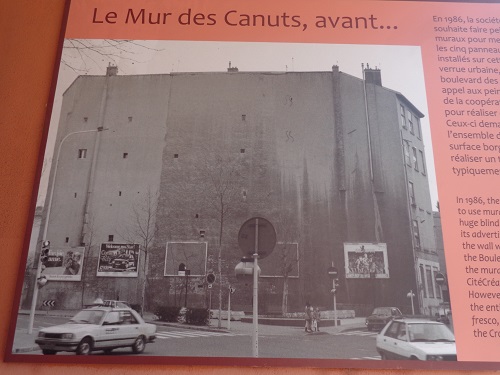 The murals are not easily found and not all of them are marked on the tourist maps. These wonderful painting are not in the most touristy spots so you'll have to be really keen to trek out to them.
However it'll be worth it, for while you are looking for the famous ones, you might just chance upon the random unofficial murals along the way!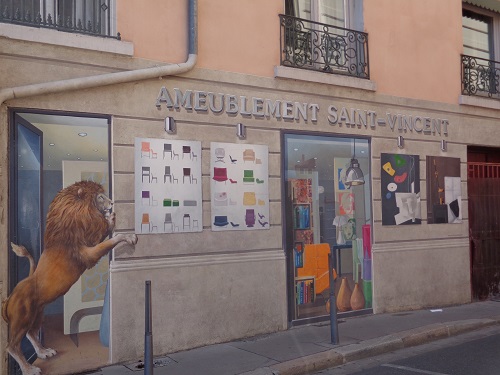 Lyon really is one for street art lovers!
Getting lost up and down the stairs in the hilly bits of Lyon
Lyon is surprisingly hilly. On the side of the Saône in the Vieux Lyon area, where history is seeped into the cobble stones and every corner has some kind of viewing point towards the river and beyond.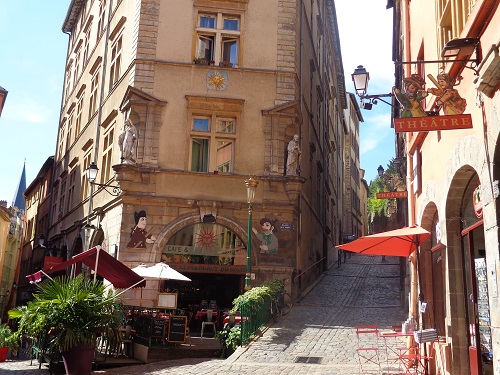 We found ourselves trying the different steps and checking out the vibrant dining scene in the old town, discovering the puppet theatres that used to entertain the people of Lyon, and taking the funicular up to Notre Dame for that spectacular view from the top.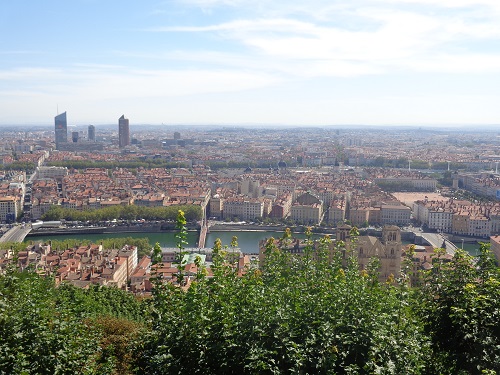 Then, heading north to the Croix-Rousse (to find yet another great wall mural of the city) we explored the little green parks that line our descend, with views all the way down back towards the town hall, while hunting for coffee and pastries on the way.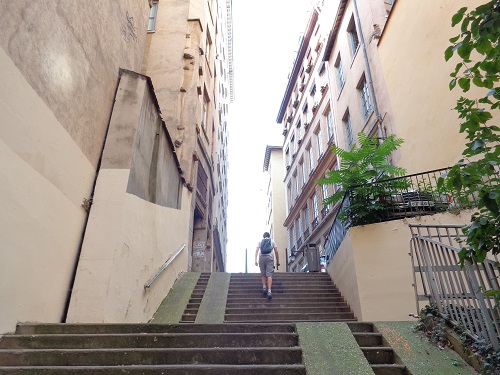 It is the sort of sightseeing we enjoy, indulging in the spirit of discovery rather than follow the bus and only stopping at major attractions. And Lyon makes it so easy for us to simply just get lost.