I hadn't expected to like the French Riviera.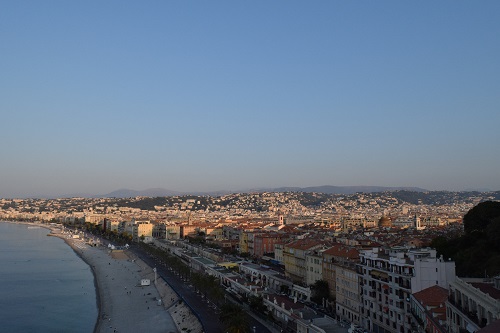 The French Riviera, or Côte d'Azur, refers to the stretch of coast from Nice to Marseille, including the glamorous Saint-Tropez and Cannes.
Why I didn't think I'd like Nice
I had classed this part of the France along with beaches of Ibiza, Mallorca, and Tenerife in the same "I'll go only if I must" bucket, that are packed with British tourists, the type that visit every year, staying at the same hotels, who spend their entire week sunbathing and eating their heart out in Irish pubs, some may even live there 6 months of the year, may even own properties in the surrounding areas, and yet, refuse to speak a word of French (not even Bonjour).
We had included it in our itinerary only on the insistence of my father in law who had childhood memories of spending time here with his family.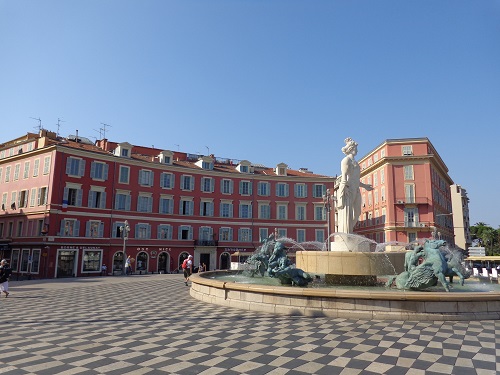 The French Riviera has long been a favourite holiday destination for British travellers who want a bit of sun and warmth that are not as frequently experienced in the British Isles. Before it got cheaper to get everywhere else, families have been coming here in the car loads. It's their yearly dose of vitamin D and good food, away from the gloomy mother land.
And that was the reason behind my skepticism of coming here. Anywhere that has been a traditional holiday destination for a particular country (Bali for Australia, Phuket for the… let's call them thrill seekers) is always packed with experiences that lack the local culture, the exact thing that I travel for, and therefore, I tend to avoid places like these.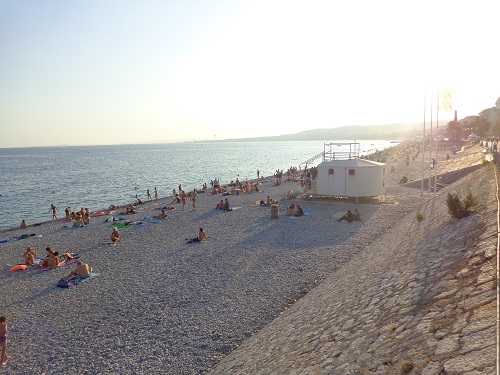 However, I have been surprised before, and I must say, I am surprised again.
Staying local helped me fall in love with Nice
We chose to stay away from the hub of tourist activities – the stretch that make up the Promenade des Anglais and chose a cute little airbnb apartment in Vieille Ville.
Never tried Airbnb? You should – travel like a local – get a £25 credit for signing up here!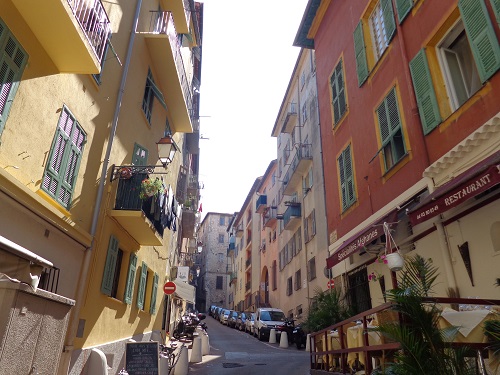 It was only a couple of blocks from restaurants and markets, and a bit more further from the beach, but as the apartment was nestled into one of those hidden courtyards it felt quieter, less rowdy and certainly more local.
Nice had me at Markets!
One thing that first caught my attention was the daily fresh produce market. I have a soft spot for markets, one of those things that continue to lure me back to the continent from time to time. In Britain they don't do markets as well, if at all! So wherever there are fresh produce markets always get a bit tick in my heart.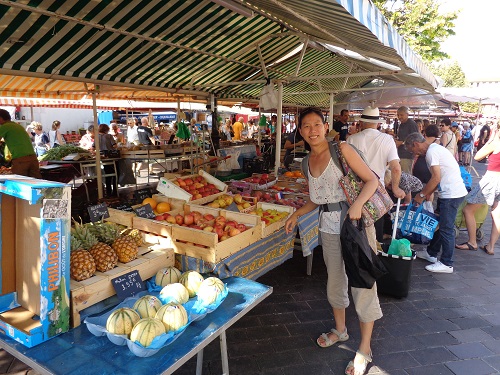 And Nice, had not just one, but several markets, as we explored a bit further away into the residential streets towards Place  Garibaldi, we came across a small fish market set up at Place Saint François. Turn around and head toward the other end, we came across a book market on Place du Palais de Justice.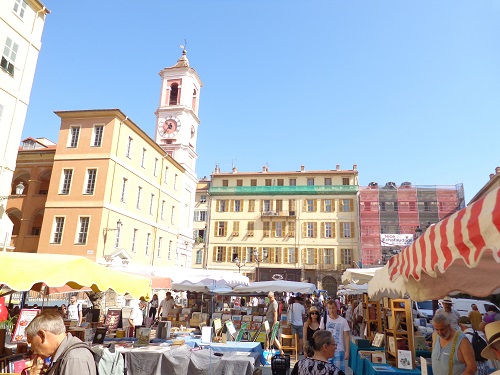 It seems that Nice had a surprise for us on every corner, and all it took was to walk away from the beach into the small lanes and side streets, where you can smell the delicious smoke from the ovens of freshly baked breads, the shouts of the local children as they race down the cobbled streets on their bikes and the slapping of the laundry outside apartment windows.
It is like looking into the soul of a place, and Nice, as I found out, does have its own soul.
French Riviera for the sun seekers
Although, strolling along the promenade watching the sunset over the Mediterranean, I can see why the Riviera draws a lot of British tourists each year. In a country where summer last about a month (at the most, two) being in a warm place with the sun and salty waters of the ocean really is a dream.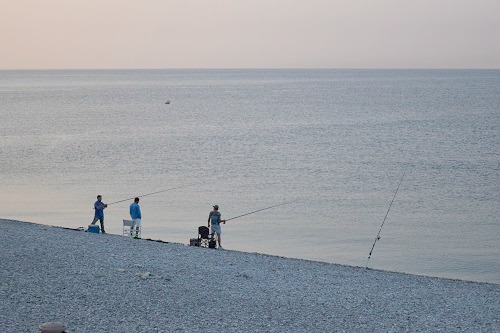 Temperature at the end of August was absolutely boiling for the long term British resident, at 30C, the heat was almost unbearable. At this point of course, a dip in the ocean is always welcome, and the calm waters of the Mediterranean along Nice's beaches provided the much sought after heat relief.
And once the sun disappears over the horizon, there are plenty of restaurants serving up great food, from fresh Fruit de Mer platters to deliciously made Plats du Jours (Dish of the Day), as a foodie, it's enough to lure me back to Nice again.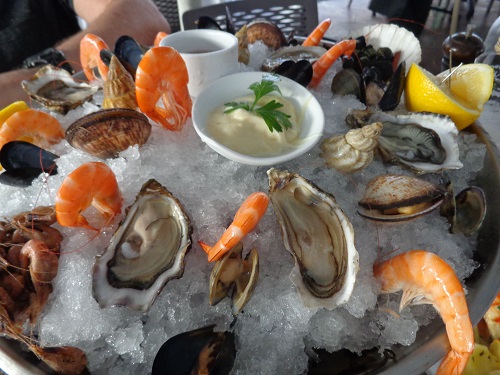 At our end of the beach where it is quieter, with room to stretch out and enjoy the sun, without the rowdy, beer drinking, trouble making British tourists, I felt a sensation I've never felt before. As much as Nice is touristy, I can learn to love it.