On our Slovenian journey we had the opportunity to travel with Vesna from Slocally around Soca Valley. It was a beautiful day, and the day in fact, begun in the living room of Herbal Rooms, the lovely homestay retreat run by Vesna and family.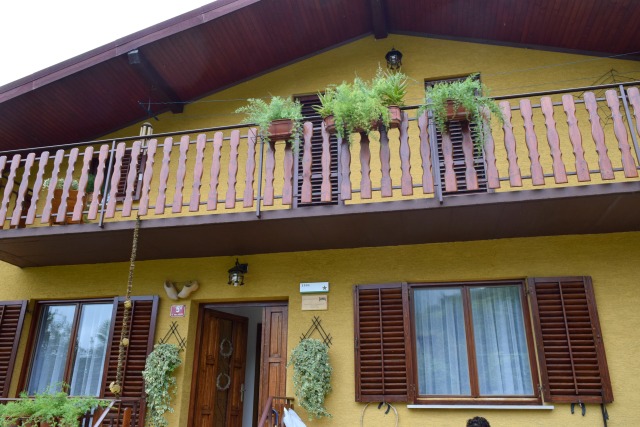 As we arrived at the Herbal Rooms, we were greeted by the smiling Vesna, who welcomed us into her homestay with a traditional Slovenian gesture: offering of the house slippers.
"This is the traditional way Slovenians greet their guests. We always offer slippers" she said as she guided us toward the kitchen.
One of the best things about a homestay experience is that you get to learn about the country you are visiting through the hospitality of the locals. It is, so much better than staying in a hotel where everything is impersonal!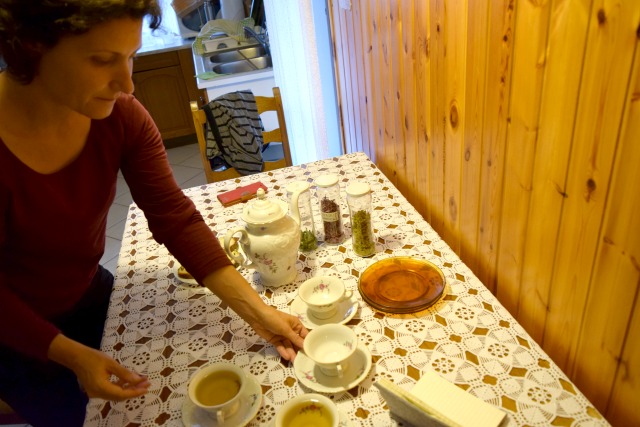 Herbs are a part of Slovenian life
It's a lovely place, and I had already noticed the well stocked garden as we entered, so the need to grown your own produce and the connection with herbs is obviously very important to Slovenians.
Having sat us down at the kitchen table, Vesna's mother Karmen was keen to show off one of her specialties: Tarragon and cream cheese cake, served with Vesna's home blended herbal teas.
"Slovenia is the only country that uses Tarragon herb in sweet food such as cakes and ice cream."  (PS, I did have tarragon ice cream in Ljubljana and I can tell you, it's amazing)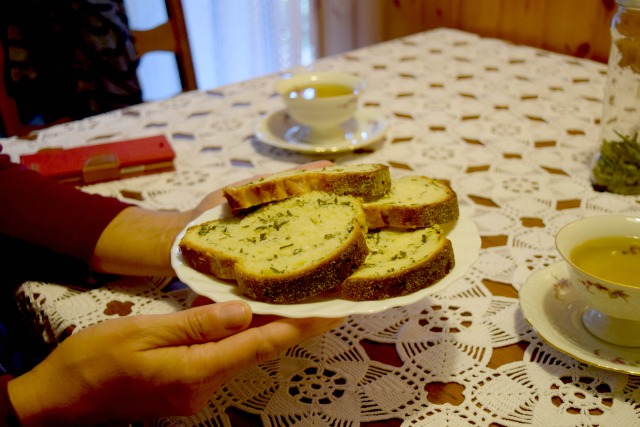 I couldn't have imagined tarragon used in cakes, as it is often mostly used in cooking with fish and poultry and salad dressing, but I tell you what, the cake was absolutely delicious.
And the tea! I could immediately taste that this was no ordinary tea, as we found out that it was tea made of three herbs: fennel, citronella and the petals of Purple coneflower. The combination created a gentle aroma and as we sipped I could feel my body lifting with energy.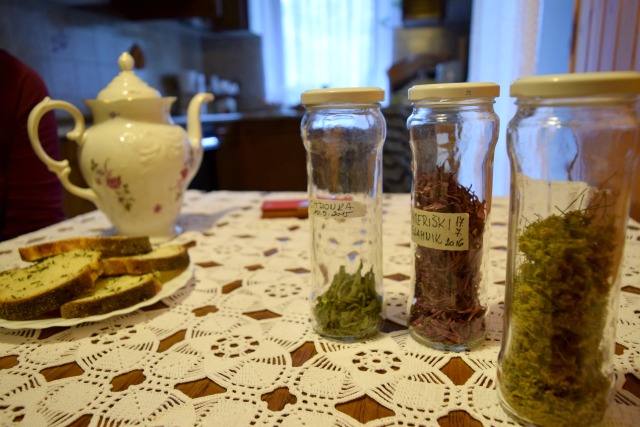 Learning the ways of the herbs with Vesna
"Ah yes, so I dry my own herbs. It is important to know how to do this properly, because some of the dried herbs you buy in the supermarkets are not properly processed and they lose their quality."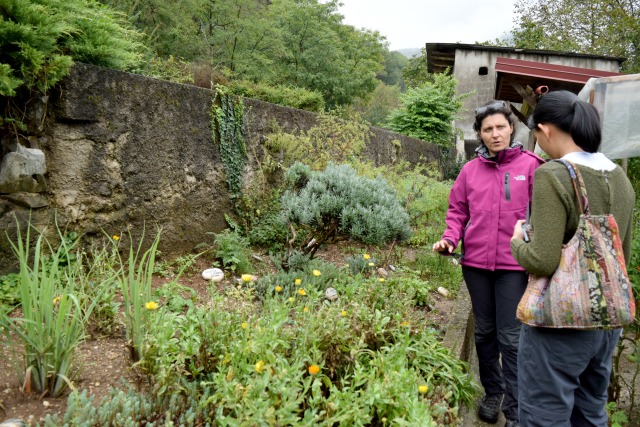 Vesna has a wealth of knowledge about herbs, as it is part of the Slovenian life to live as naturally as possible and the knowledge of which herbs are beneficial to the body are passed down through the generations.
"The drying process should not change the colour of the herbs. If the herbs become  brown, it means the herb has lost its potency and will no longer be beneficial. Everything must be carefully tended to, and as natural a process as possible."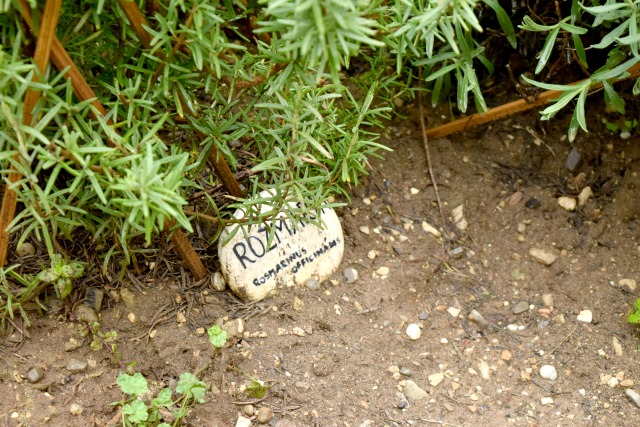 Herbal Rooms is about an unplugged experience
Vesna has created Herbal Rooms as an experience rather than just a place to stay for her guests. Living and working with herbs and the natural environment plays a bit part in the guests' experience.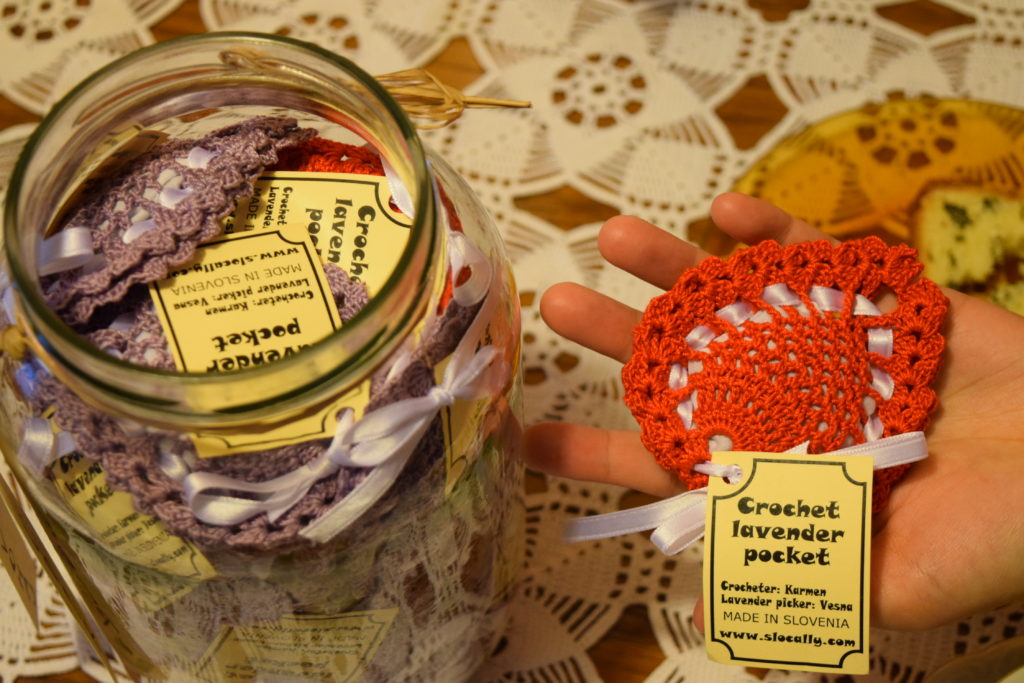 "I want my guests to feel refreshed and unplugged from their city lives. They will sleep on herbal pillows, enjoy herbal tea and cakes and even learn to forage for wild herbs with me in the forests" Vesna explained, "every month I try to have a different activity for the guests to take part in, if they want to; they can learn to blend herbs into teas, we can go mushroom picking in autumn and I am even willing to teach them how to make their own herbal pillows!"
And I had a feel of this herbal pillow of hers, and it feels soothing and comfortable. To sleep on them is guaranteed a restful night!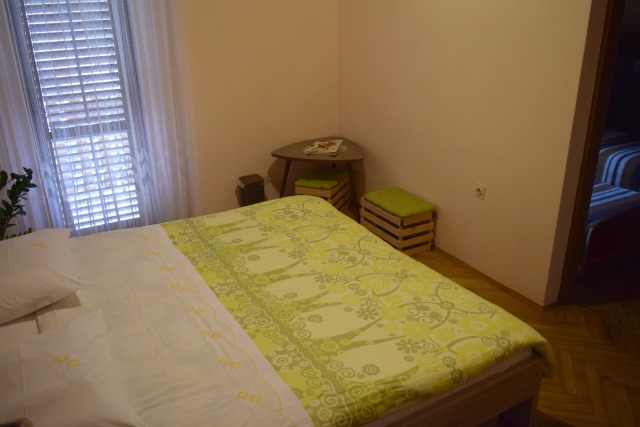 A peaceful, private retreat in Soca Valley
The bedrooms are upstairs in a private part of the house, and while there are two separate rooms, Vesna says she'll never book in two different bookings at the same time, to ensure her guests have complete privacy if they wanted to.
"Some guests prefer just to be by themselves, and that's fine. They don't have to feel that they have to do any of the activities. The rooms are upstairs for a reason, they don't even have to choose to see us at all if they didn't want to!"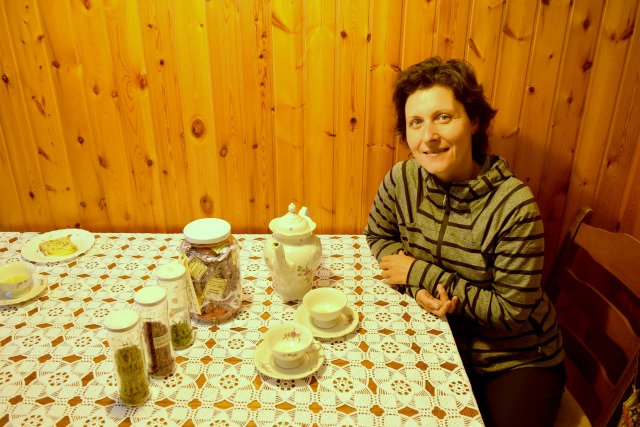 And what about internet?
"Aha, I purposely didn't install wifi in this house. I feel we are too surrounded by wifi, and that when you are in the Herbal Rooms you are here to get away from it all. There is a computer connected to the network if you want to use it, but by not having wifi, it forces you to have time away from the internet as well."
What a great philosophy. This is definitely somewhere to come, unplug and get to know nature. Stay a few days and let Vesna guide you through this beautiful Soca Valley, introduce you to a herbal life and feel refreshed overall!
I know I'll be returning to stay soon :)
—————————————
Herbal Rooms is in Plave, a village in the Soca Valley. You can reach it by train, cycle or self drive.
Even if you are not staying here, Vesna also runs guided trips in Soca Valley. Visit her website Slocally.com for more information!