Our second Christmas markets destination of the year is Dresden. It is about an hour and a half by Regional Express from Leipzig and is, one of the most interesting former East German cities to visit, outside Berlin.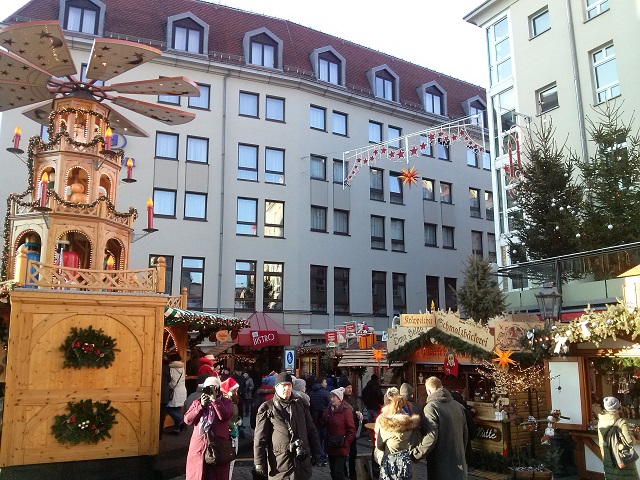 And being so close to Leipzig (and with direct flights from London currently only available to Leipzig) it easily makes Dresden and Leipzig a double destination to visit!
Being a much more touristy destination, the Christmas markets here are naturally bigger. There are ten markets in total around the city, with the main markets dotted around the Altmarkt, Neumarkt and Frauenkirche.
We stayed in a hotel right on the old market square – Altmarkt – which made it fantastically convenient to enjoy the historical Striezelmarkt, Germany's oldest documented Christmas market which celebrated its 580th anniversary back in 2014! (That is older than a lot of the countries in the world folks!)
The best things about this market is the concentration of stalls that focus on traditional wood crafts, toys and bakery items, as well as a good range of food.
Not just your usual wurst in a bread roll type of food, but traditional, hearty Saxon (Sachsen) pan dishes – green cabbage stew, curry wurst stew, a sort of short noodle in sauerkraut dish, as well as beer goulash (Biergulasch) which in this parts of the world, you'll find some sort of goulash dish no matter which country!
At the courtyard of the Residenz-Schloss, a middle-ages market – the Stallhofmarkt – has been set up for the year, featuring all stall holders dressed in what seems to be the dress code for around the 17th Century, and to add to the atmosphere, charged for goods and services not in Euros, but in Tatlers! (Yes, but you still pay in Euros)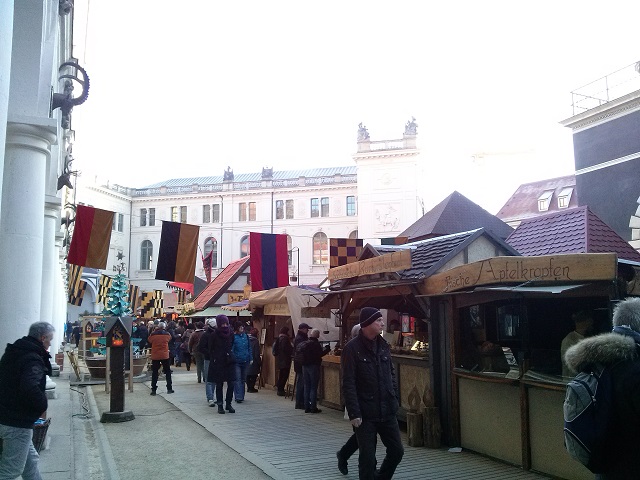 There were roasts off the spit, loads of meat in a bread roll as well as the opportunity to shop for bow and arrows and magical potions (wines).
There are a few videos and photos of this market online and some taken in the snow. I would have loved to experience the markets in the snow! Unfortunately while the entire time we were in Leipzig and Dresden were cold enough, it wasn't moist enough for snow…
Three more markets were within our walking distance. The market at Neumarkt (Advent auf dem Neumarkt), the and the Weihnachtsmarkt an der Frauenkirche are linked by the famous Lutheran Frauenkirche – Church of Our Lady – and the surrounding pedestrian streets.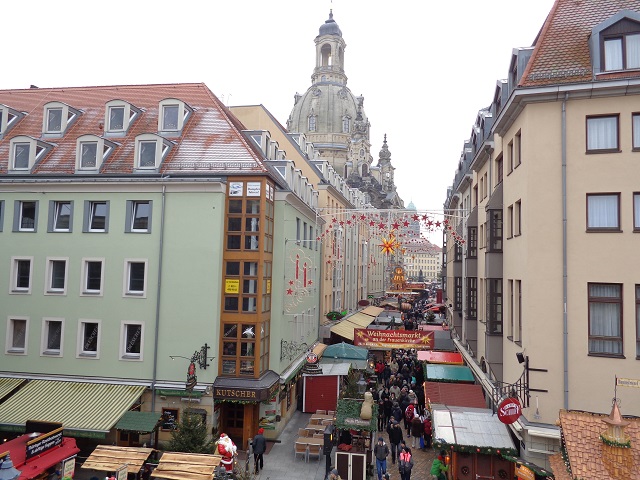 All the Christmas markets feature a tree, as well as the wonderfully constructed Christmas pyramids, with large ones to include a stage where bands entertain market goers with joyous Christmas tunes.
Across the river (you'll do anyway, while sightseeing) another market has less of the tourist crowds but feels a bit more community is the Augustusmarkt, where the atmosphere is relaxed and perfect for friends to gather and simply hangout.
Here's a selection of photographic highlight of Dresden's Christmas Markets this year:
Surprisingly, the markets weren't too crowded, perhaps due to our visit being in the middle of a working week, and mostly comprises of locals popping out from their offices for a bite to eat and school children wrapped in their puffy jackets enjoying a day out with the class.
As Dresden is a more touristy city, the markets are dotted everywhere, unlike Leipzig where they were pretty much concentrated along the old city pedestrian streets.
We managed only to see the major ones around the old city centre, each with their own designs and specialties, as well as the collectible market mugs.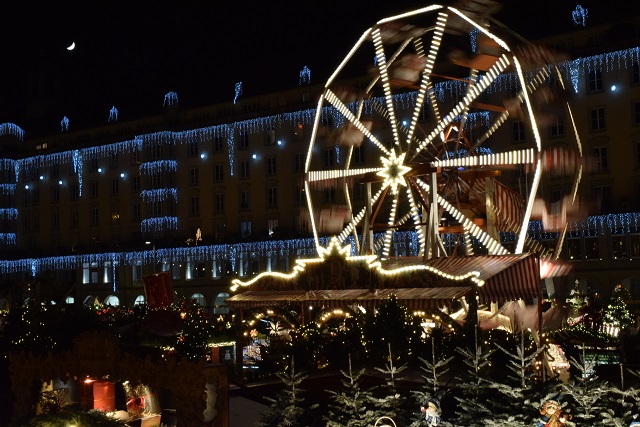 So if you are planning to visit Dresden's Christmas market this year, I suggest staying around the Altmarkt and make your way around. Almost everywhere is at a walkable distance and you will have access to five of the markets in town!