Besides Berlin, Dresden is the most popular destination in the former East Germany. Not only does it has (officially documented) Germany's oldest Christmas market in town, the city used to be called Florence on the Elbe, as the city is known for its beautiful architecture and a grand collection of art treasures.
Today, the city is being hailed as the 'New Prague' and is still just as beautiful even having been almost flattened during World War II.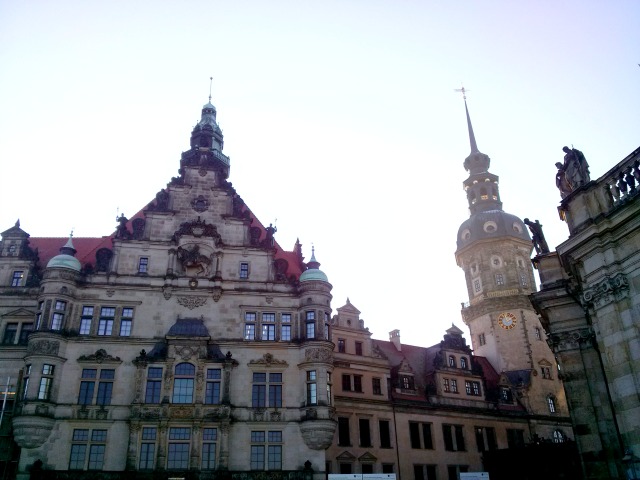 Dresden's architecture and skyline
Architecturally, Dresden is very important.
I had first visited Dresden in 2003, when I lived in Saarbrücken for a year. A friend who was studying Construction at the time is naturally very into architecture and buildings that she was keen to visit, to view the re-construction efforts of the Frauenkirche, which was destroyed during WWII.
I remember the city was dirty then, and was undergoing a phase of clean up. The black bricks you see on the buildings are weathered by years (and years) of exposure; sandstone 'age' over the years and naturally blacken, contrary to popular believe that the soot is caused by dirt and pollution.
Today, Dresden is once again the beautiful city it once was! The most popular place to view Dresden's beauty is the stretch of river between the Semperoper and Brühl's Terrace, where an ensemble of Dresden's historic buildings form an impressive 'skyline'.
Try cross the Elbe on Augustusbrücke. You'll get fantastic shots of this view from the riverbanks across from Canaletto-Blick. This is the view of Dresden that was painted by Italian painter Canaletto, who was commissioned by Augustus the Strong to paint Dresden.
Visit Residenzschloss of Augustus II the Strong
Isn't it interesting that old kings like to attach adjectives to themselves, to reinforce an image? Well, the force seems to be 'strong' in this king in Dresden.
As the traditional capital of Saxon, the city was the residence of Augustus II the Strong, King of Poland and Grand Duke of Lithuania in the 17th Century.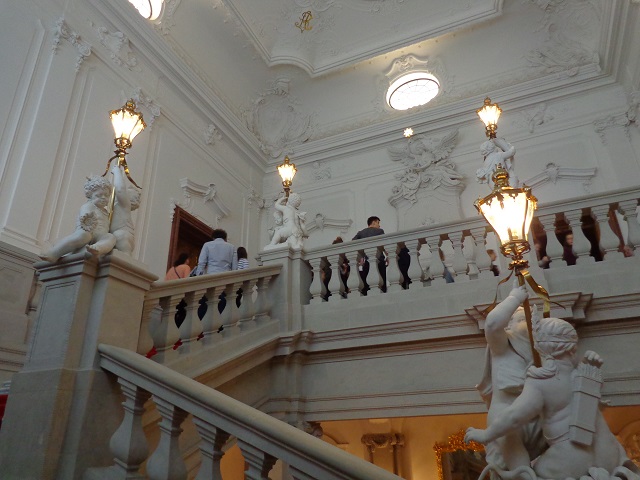 Augustus the Strong was know for his love of art, jewels and expensive collectibles, believing a show of wealth is a show of power.
At the reconstructed Residenzschloss (Royal Palace) his collection of world jewellery, gold and diamond artifacts and objects made of amber and ivory are displayed in the magnificent Historic Green Vault (Historisches Grünes Gewölbe), in the way Augustus II have showed off  his wealth.
The rest of the museum is also fascinating. For those interested in ancient history, there are exhibits of Turkish military tents and weapons, collected and gifted to the kings throughout the long standing close relations between the Germanic tribes (this is, before countries were countries that we know of today) and the Ottoman empire.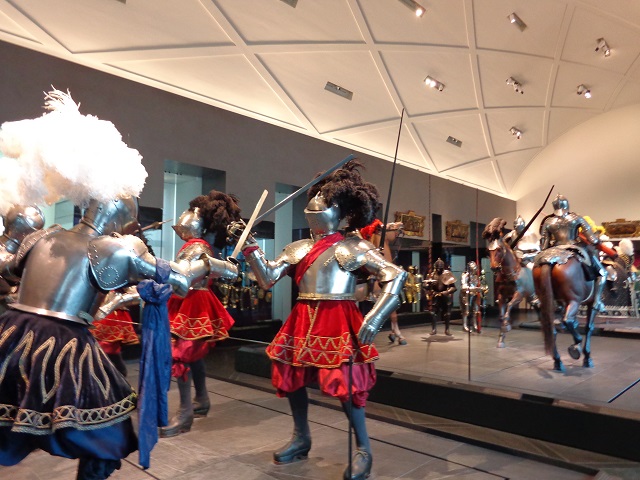 A floor down there are ancient knight's armours, weapons, dress outfits and items of interest, and at the time of writing this, there's also an exhibition of old world coins.
We are talking old, and the collection has coins minted during the middle ages, and also those used around the world. Most interestingly, a coin from Taiwan used between 1837-1845 during the Rebellion of Chang Wen.
I must ask my parents about that!
The reconstructed Frauenkirche
I mentioned that on my previous visit 13 years ago, the Frauenkirche was still undergoing reconstruction. The church was completely destroyed during WWII and  the reconstruction salvaged old bricks (where they could) and included in the construction.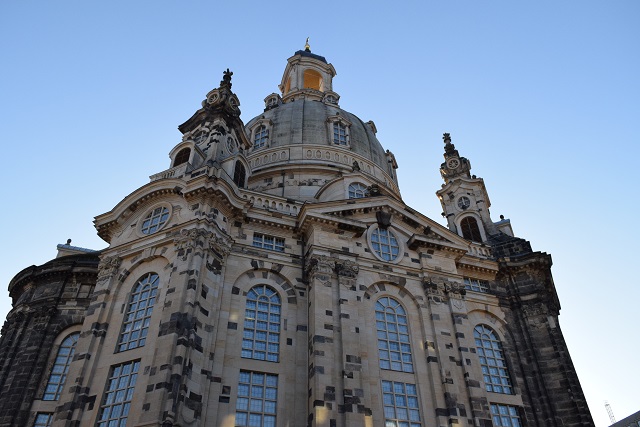 I am not certain whether being a Lutheran church had anything to do with it, but the interior of the church is bright and cheerful – unlike the Catholic churches we are used to.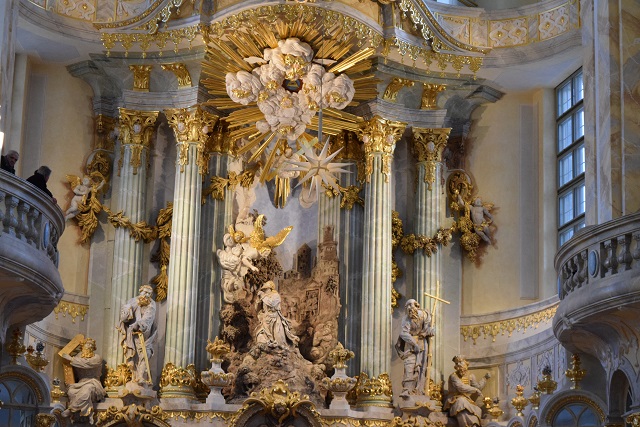 The pastel colours with laces of gold, the detail that are cut into the figures and the intricate designs around the rim of the balconies have attracted many tourists to visit and the Frauenkirche is today, one of Dresden's biggest attraction.
Zwinger
The Zwinger is a magnificent sight. A Rococo style palace that served as the orangery, exhibition gallery and festival arena of the Dresden Court, in other words, this is where the kings entertained and did a bit of showing off.
Today, Zwinger houses a wonderful art gallery and museum, but what fascinates me isn't any 'collections' or exhibitions, but the architectural delight of this structure.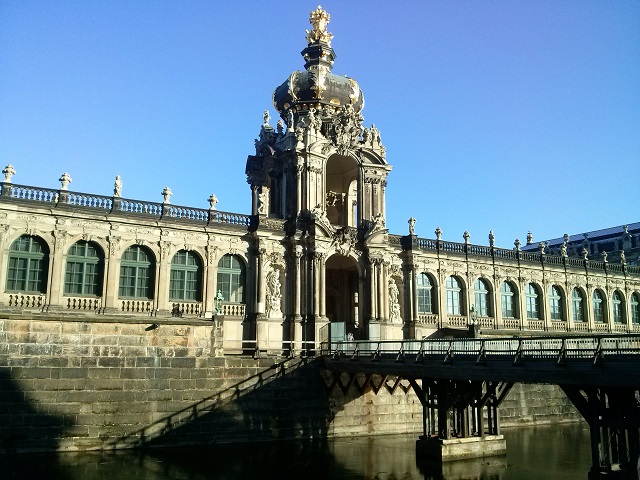 The squared courtyard is quartered off with footpaths that lead to the surrounding buildings. Its walls are mounted with ornamental stone figures, and the carvings used to decorate walls and pillars are extremely elaborate and detailed, a very attractive feature of the Rococo architectural style.
On one of the corners of the Zwinger opens up to the Semperoper, a beautiful opera house built in similar style which today, hosts many great performances of opera and ballet.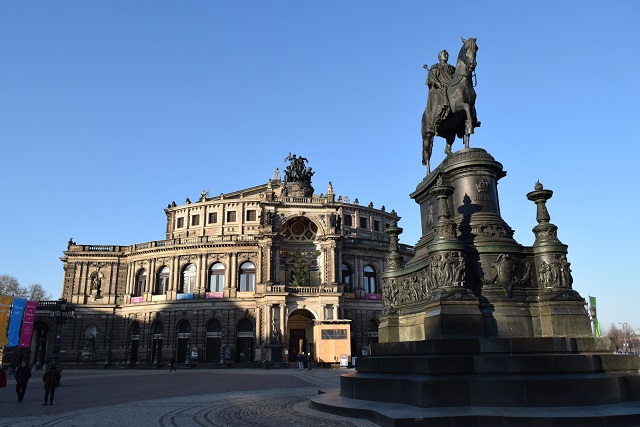 Normally we would fit in a concert or a performance at places we visit, unfortunately this time round, timing was against us and there wasn't anything we were interested in seeing.
However, I believe the interior of the Semperoper is pretty impressive, so if you do enjoy a bit of ballet or opera, you should try to fit in a performance when in Dresden!
The old dairy shop – Pfunds Molkerei
Tram 11 from the main train station takes you across the river Outer Neustadt, where an old dairy shop – Pfunds Molkerei – attracts cheese enthusiasts (and tour bus stoppers) from all over.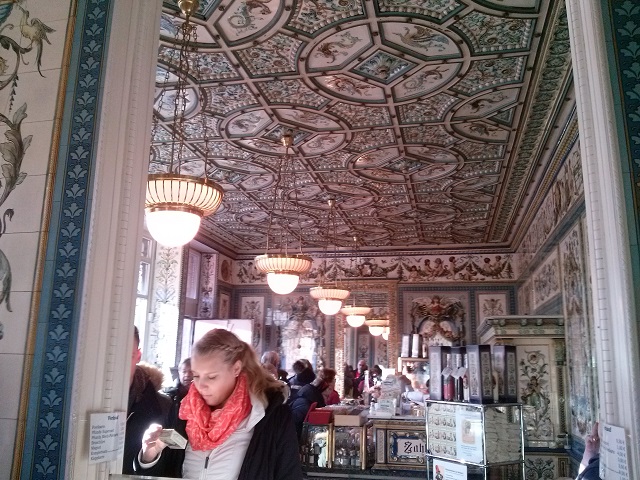 You know that smell of gym locker rooms, of sweaty t-shirts and intense body odour? When you enter the shop, just be reminded that cheese can smell worse and try not to ask if anyone has farted. For lovers of cheese, it's the smell of heaven!
Remember the pretty tiled interior of that antique tart shop in Lisbon? This was similarly decorated, with pictorial tiled walls and old style shop counters that display the best of cheese from around the world. You can get little cheese platters to go for a picnic, or buy in bulk to take home to share.
And it's not all cheesy business. Being a dairy store, you can also buy nougat, milk products such as soaps as well as wine and liquores (things that go well with cheese).
It's the sort of shop that doesn't really exist any more, so quite an experience if you are willing to trek outside the main attraction centre!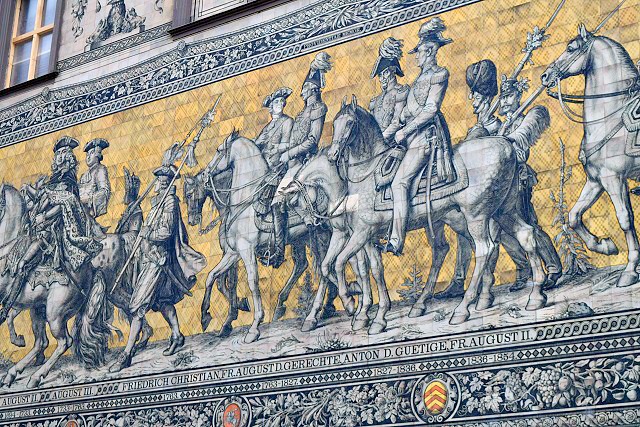 Dresden has museums galore
There are plenty of other museums you can visit in Dresden, including numerous art galleries along the riverbank.
The interesting sounding German Hygiene Museum which is actually a lot more than toilet tissue and clean hands. What it is, is a forum for all to discover cultural, social and scientific revolutions of the 21st Century and is possibly a fantastic museum for those into lifestyle advances and the human body.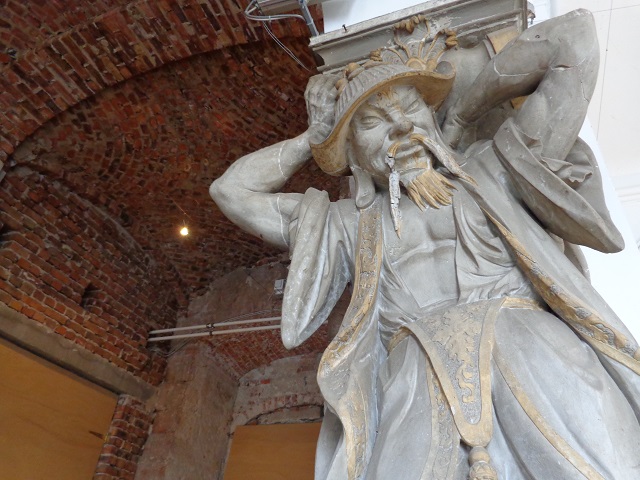 Then there's another interesting attraction called Japanisches Palais (Japanese Palace). It isn't Japanese, and it isn't really a palace, but it was built by Augustus the Strong with Japanese and East Asian elements (the world was going through a phase where everything Asian was cool) and today houses two exhibition spaces for temporary exhibits.
Dresden really is a fascinating city.
Stay a little longer and dig deeper, you'll always find something fascinating to visit in any place. Let's just say, I am looking forward to my third trip to Dresden in the near future!