I have previously told you about Surbiton, the little corner of London I have called home for the past two
years.
I love it, and one of the reasons is that I was close to Kingston upon Thames, a 'town' with Saxon
roots that make it feel more German than Britain.
From Surbiton, we can get there along the river on foot, following the flow of the Thames and the flight of the swans.
To me, this is the most beautiful part of London, and being so close to the border of Surrey, it doesn't
even feel London, at all.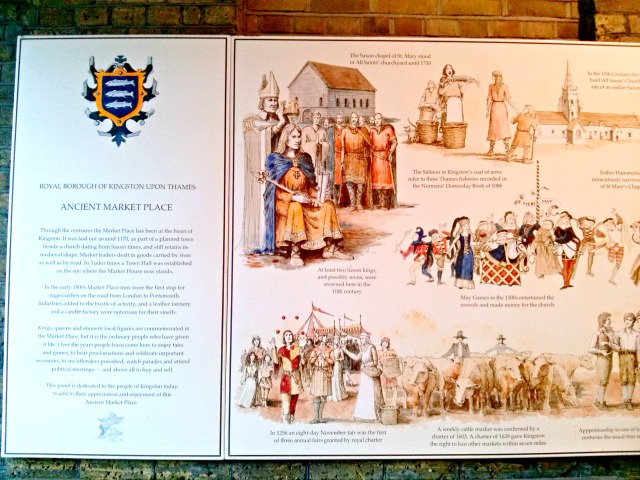 A town with a long history
Crossing the border between Surbiton and Kingston on Portsmouth Road, a sign welcomes you to the 'Ancient market town of Kingston upon Thames'. Indeed, there's a bit of history here in Kingston, and one that has royal connections!
Kingston has been known as many names which highlights the amount of history the town has gone through: Cyninges tun in 838, Chingestune in 1086, Kingeston in 1164, Kyngeston super Tamisiam in 1321 and Kingestowne upon Thames in 1589.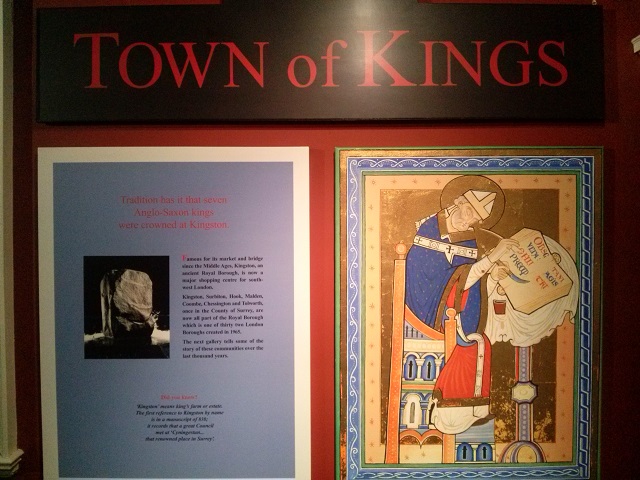 Today, the name Kingston means a king's estate or manor, and Kingston upon Thames, naturally means, Kingston, on the Thames river (similarly named Richmond upon Thamesand Newcastle upon Tyne… etc) .
Numerous Saxon kings have been associated here, many 10th Century kings have even been crowned here.
That's a lot of history for such a small place!
The coronation stone, is still featured at the Guildhall, a place of administration for the Kingston council.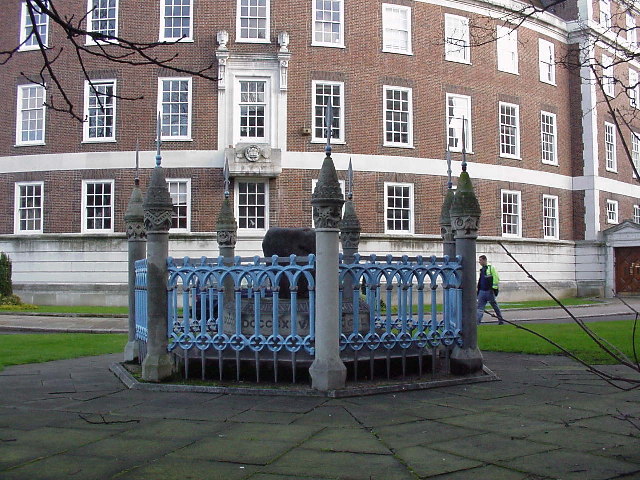 Walking around Kingston, you'll notice many of the old buildings and structures that feel like they should belong to the Tudor times or earlier.
Indeed, places like The Hogsmill and many of the Tudor style buildings are just some of the pretty features I love about Kingston.
The Kingston upon Thames Museum
We have known about the museum's existance but have only recently been able to go. Being just a small
borough of London, we didn't expect much from it, thinking that it might just be a small room with a
couple of things from the past but in fact, what we found was a comprehensive museum, exhibiting the
geography and lifestyle of Kingston dating back to the mammoth!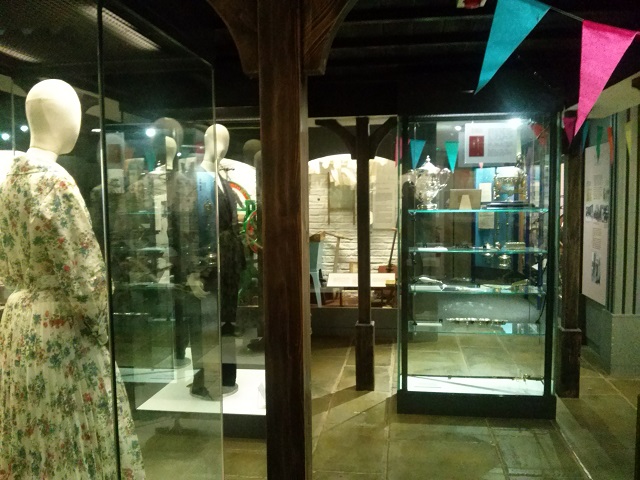 The museum comprises of two levels, the first, dedicated to the history of Kingston, is where you'll learn
all about the Saxon kings and their association with the area. Then it moves onto Kingston in the 19th
Century, the war times and the locally known sport teams and aviation engineering.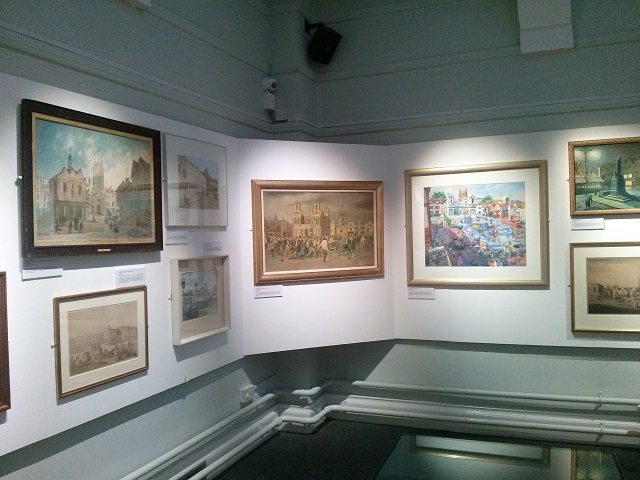 Up stairs, in a small gallery is currently exhibiting Kingston and surround's images by local artists, and
it was fascinating to look at all these pictures of the past and compare to the Kingston we know of today
– let's just say, besides the brands of shops and the use of better cars, Kingston hasn't really changed
all that much since the early 20th Century!
A town with a market square
Having lived in Germany, I've fallen in love with the concept and idea of market squares, where you can
get your fresh seasonal produce on a daily basis, a grocery shopping experience so much better than the
aisles and plastic bag world of a modern supermarket.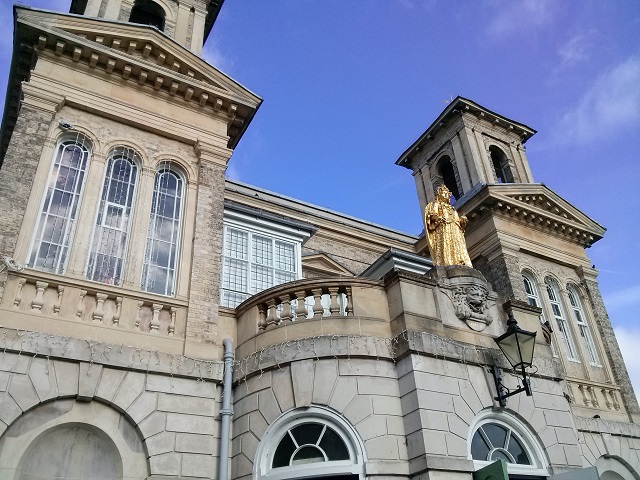 In Britain, this is very rare. Even the old market towns don't do squares, let alone daily farmers
markets. At most, they'll do market days, maybe on a Tuesday and Friday and even that, have more of a
touristy feel than for the benefits of local residents.
Here is Kingston, I suspect due to the long history of Saxon relations, the square is properly a square
and the market, properly a market.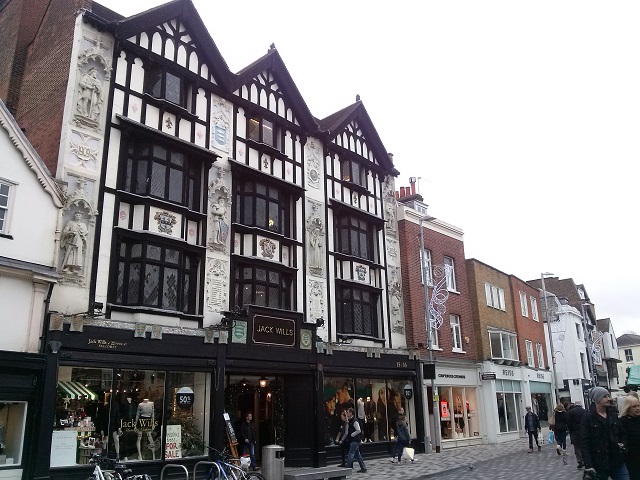 The old town hall with a golden statue of Queen Ann dominates the market square, which is surrounded by
fresh produce stalls and great street food options.
A good morning for me involves a walk to Kingston for coffee at Knox in the market, before shopping for
the week's fruit and veg needs where the sounds of screaming competition fills the air.
"One pound for ten avos!"
"Last of the tomatoes! Two pounds for the lot!"
It's music to my ears as I pick and choose the best of what's on offer.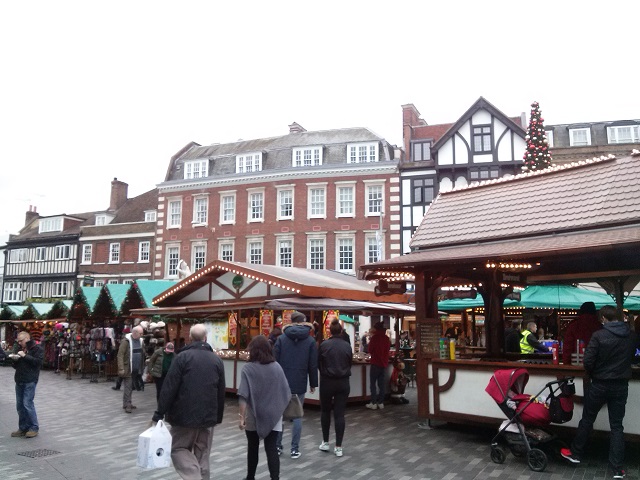 Sure, a lot of the produce are still imported, as we live in a world that demands tomatoes in winter and
apples in summer. However, there are seasonal varieties and I get additionally excited come June that the
ripe, blood red berries start appearing in their abundance, and the plump stone fruits to be on sale early
autumn. Not to mention the sweet, aromatic tomatoes that taste the best in the hot summer months.
And yes, you can tell by their looks and smell when something is locally in season, and that's the sort of
experience I love about the street farmer markets. It's a shame they don't do it well in Britain like they
do on Continental Europe, and here in Kingston is pretty much as good as it gets!
Other wonderful bits about Kingston!
Get to London Road, and you'll see the quirky sculpture of the fallen red phone boxes, suitably titled "Out of Order". Buskers entertain shoppers on Clarence Street through to the iconic Bentall Centre, which forms a stretch of pedestrian only area that connects Eden Street to the market square.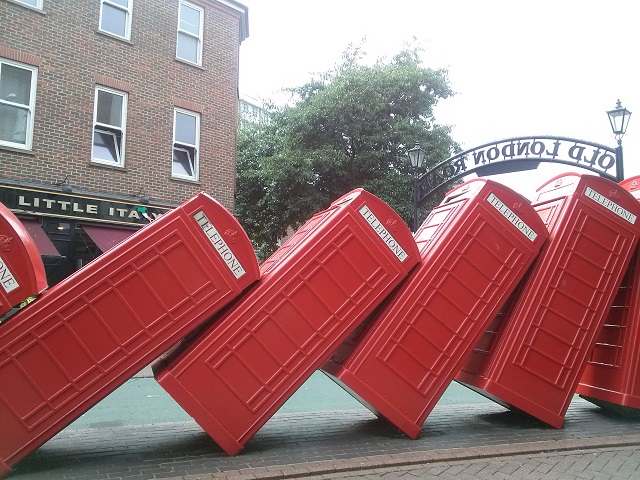 Towards the river, plenty of waterside restaurants make a great place for lovely evening meals. My favourite place is the water fowl conservation area which is around the area where the Hogsmill river meets the Thames.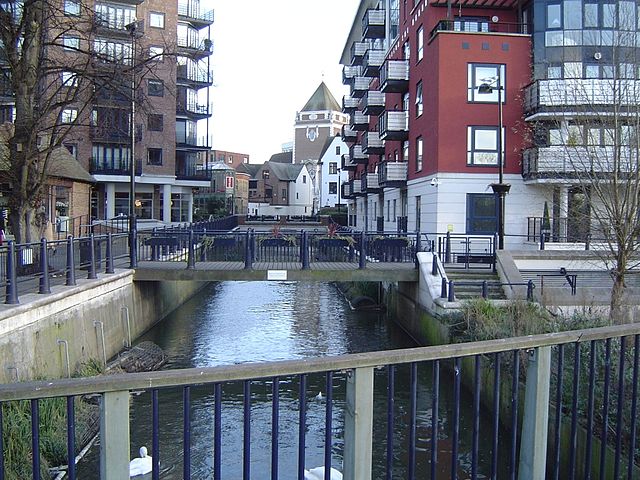 Every spring, a couple of swans will nest on the raised mesh and lay an egg or four. That's when we start to visit every weekend, to check on the progress of the eggs and to wait for the day when they hatch and the appearance of fluffy grey cygnets on their mum's back is one of the warmest sights I'll experience in the year.
Another special thing about Kingston is its river front. I love sitting here in the warmer months and just watch the sun go down, an event that paints the sky in multiple shades of red, orange, purple and yellow.
The Kingston Christmas Markets
As you can see from past years that I am a bit fan of Christmas markets, especially those in Germany (or
German speaking countries) as it is originally a Germanic tradition.
Many countries have adopted the Christmas markets, but I must say, they just don't do it the same! It is
either too commercial or just tries too hard, but in Kingston, with a natural German style market square
and a Saxon connection, it is almost like being in Germany.
The problem with British markets is the lack of craft related items. They are all packaged, factory made
things on sale that just doesn't have the same feel as traditional markets. However, what Kingston does
well is the atmosphere, and a proper biergarten and barbecue grill.
Prices are high, but hey, it's all for the spirit and atmosphere!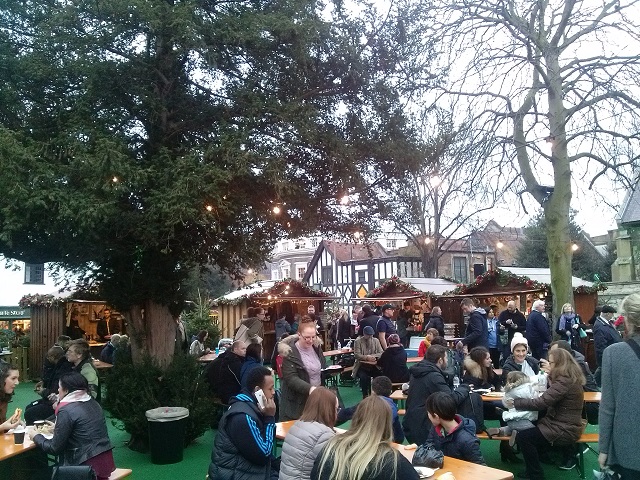 Getting to Kingston upon Thames
Kingston can be accessed by train from London Waterloo station with Southwest Trains. Journey time around
30 mins.
Alternatively, you can get on a mini cruise with Turks (a family business with a long history in Kingston)
from Richmond to Kingston through Teddington Locks, which takes an hour. The same company then runs
cruises to Hampton Court as well.
Kingston is also a big bus hub. X26 travels to and from Croydon via Kingston to Heathrow Airport.
Yes, if you are in London, I am suggesting you to visit! See it as a bit of a London off the beaten track
kind of place!
(Not to be confused with Kingston upon Hull, which is up in north England and more commonly referred to as just Hull – which is a European City of Culture next year  by the way!)