Stayed: 3 night, 2-5 December 2016
Room: Comfort Double Room
Price paid: £264 through eBookers.com, includes breakfast
Free wifi? Yes
When we are not Airbnb'ing, I like to look for small, boutique accommodation that has some character rather than the standard global brands whose properties are almost all identical no matter where you are (think, clinically white walls and that weird glass divider between the toilets and room making privacy almost impossible: yes, looking at you, Hilton).
So, when we recently visited Leipzig's Christmas Markets I was delighted to find Book Hotel.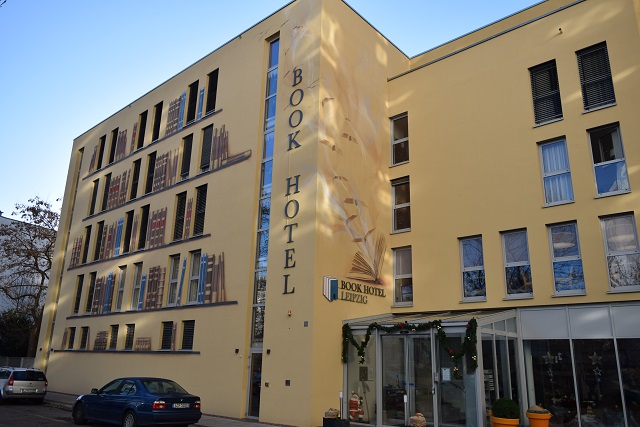 Why had I preferred to book Book Hotel rather than another Airbnb to save money and stay with locals?
Well, I am a sucker for books. I could easily bankrupt myself in a second hand book store and can browse the library for a whole day. I even like the smell of them (I am not weird, most people who love books like the smell of books).
I detest eReaders and mobile tablets because they have no substance in them: I don't feel that I am truly reading without the ability to turn a physical page, to smell that dusty ink as I read the words and most of all, the all satisfying 'thump' a book makes when you finally close it, ending a story and the anticipation of opening another one…
Sorry, getting off topic and dreamy about books, either way, that's why when I saw there was a book themed hotel, I immediately hit the book button.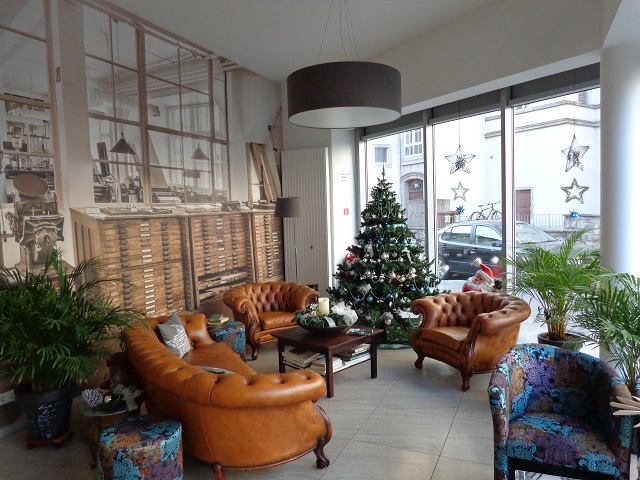 The Book Hotel is tucked away outside the ring road from the old city centre, behind the dominating power architecture of Ring Cafe.
On our day of arrival, we were running late, and looking for an address in the dark is always tricky even in the most familiar environments, so getting out of the S-Bahn station we looked up and down the street, unable to figure out which direction to go.
Thankfully the friendly receptionist called. She was worried about us, and as reception is about to close, she wanted to make sure we had the right instructions to get into the hotel.
"So, from where you are, you just need to keep walking straight, you will see this giant big monumental building. Walk through the second archway you see, and you will see the hotel", she carefully gave us the instructions "and don't worry I will wait for you!"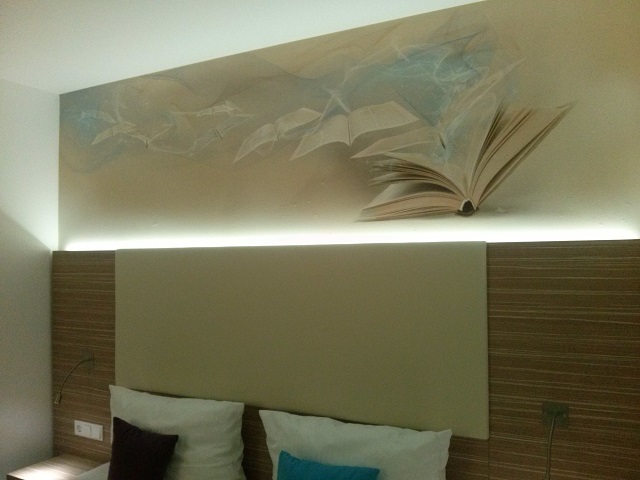 And this is the friendly service we received all throughout our stay. The hotel staff had all been very courteous, and very helpful.
Our room is sufficient. It is after all, not a luxury hotel so none of the fancy furnishings and super soft bedding but, as I said, sufficient. Clean, well maintained, has an empty fridge so we can store things in it, as a working bathroom with a good shower and a flat screen to entertain ourselves with.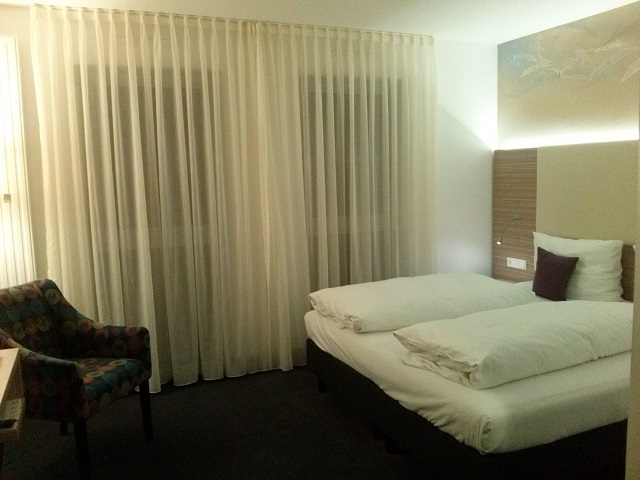 The book theme is subtle. It isn't like as if we are completely surrounded by books but, there is a painting of a book on the wall, a couple of books in the wardrobe and throughout the property, bookshelves stacked with books old and new are scattered along the corridors and at the breakfast room, and there are sitting corners where you can enjoy some quiet time away from your room to enjoy the books.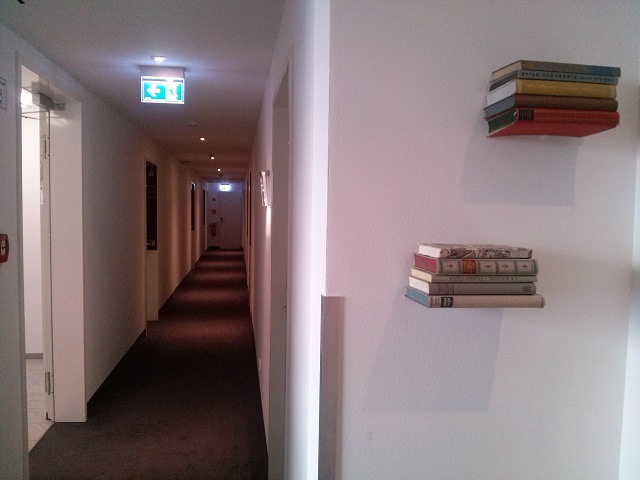 And hotel has mostly local clientele, and at breakfast the next morning, we were the only English speaking couple. (well, let's say they don't expect that I speak German just by the look of me!) The rest are Germans from other parts of Germany on their visits to different markets around the country.
A buffet of continental breakfast was served with hard boiled eggs, about 5 sorts of ham and 7 sorts of cheeses, yoghurt(s), excellent bread items, fruit salad, fruit juices, coffee and tea. There was also one hot pan containing a few rashers of bacon and scrambled eggs, obviously catering from the odd British/American/Australian tourists that come their way (so, us!).
At other times, if you are coming in and out of the hotel, near the lobby is a free coffee bar, where you can help yourself to a cup of coffee or tea from the machine and occasionally, a small pastry as well. It is a lovely touch as in Germany, hotels traditionally don't have a kettle in the room.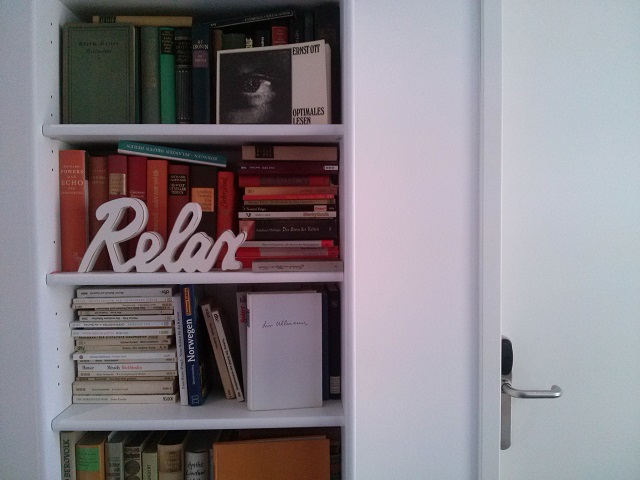 This is fine, and just the way hotels are run in Germany. We knew well enough to ask for a kettle on check in and when we asked for one, the receptionist immediately apologised: "Of course, you are from England! All of you want a kettle! I am sorry I over looked this." – don't be sorry, we said, why would you expect us to want a kettle when none of your other residents need one?? We had laughed, and was extremely grateful that she kept to her words and a kettle appeared with room service the next day.
The location of the hotel is walking distance to Leipzig's old centre (the centre is pretty much walk-able throughout), is next door to Mendelssohn-Haus (second favourite musical son of Leipzig after Bach), as well as just across the road from Leipzig's Gewandhaus where major concerts are held.
Overall, loved the hotel and would stay here again the next time we are in Leipzig!
Book Hotel
Auguste-Schmidt-Straße 6
Leipzig, Germany
+49 341 5500 950