Of all Budapest's attractions, there is one thing you should never miss when visiting this fascinating city:
The city's many thermal baths.
In this part of the world, natural spring waters are abundant, and these mineral waters are believed to have medicinal powers by pretty much anyone who found them. Similar to my Turkish bathing experience in Harrogate, this is simply one cultural experience we couldn't miss in Budapest!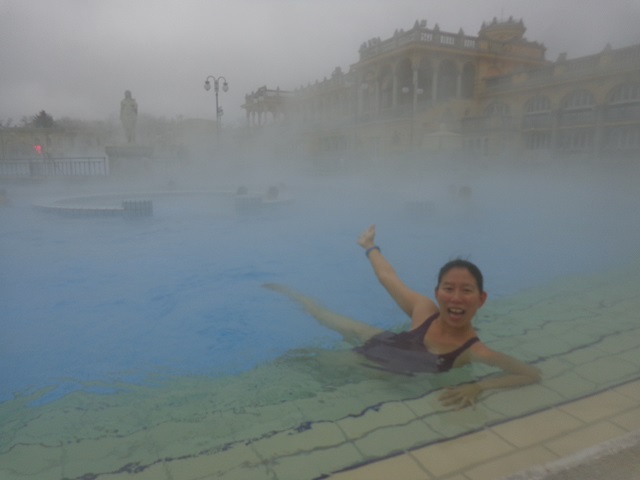 We visited the Széchenyi bath house
And one in particular, the Széchenyi bath house, one of Europe's as well as Budapest's largest thermal bathing compound; it is also the most spectacular, as the bath building is heavily influenced by the Habsburg's empire style architecture.
So, sitting in the outside pool you are essentially surrounded by this beautiful, palatial compound with domed roof and statues.
It has been averaging -1C the while time we have been in Budapest, and a bath was a welcome thaw to the chill that was slowly seeping into my bones!
These are natural mineral water sourced from deep underground so naturally they have a bit of smell to it (although not as much as the sulfuric odour you get from the volcanic waters however there is, a distinct metallic taste to it.
Yes, taste. A small 'drinking water fountain' in the bath house offered us the opportunity to try this special medicinal (said the brochure) water. The taste was so strong that we both spat it out! A vending machine at the foyer into the bath house sells this water in bottles, if you didn't get enough to drink inside!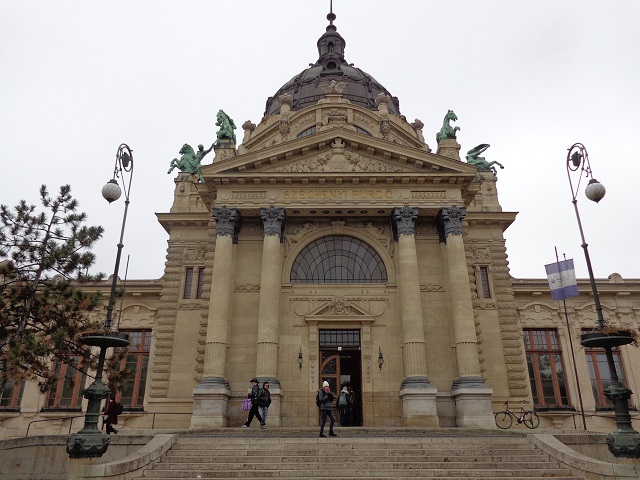 Getting to Széchenyi bath house
Get the Metro M1 from Deak Ferenc ter station, and get off at Széchenyi fürdő station. The bath house is just on top of the Metro station.
Getting into the bath house
If the online guide to the bath house confuses you, here's a quick guide.
Pay your entrance fee at the cashier. They'll ask if you want a locker entry or a cabin entry. What is the difference?
Well, as literally as it is. When you are enjoying and relaxing in the bath, you want somewhere to change into your bathing suits and store your stuff. Here at Széchenyi you either can get a locker, or a private change room (cost more, obviously).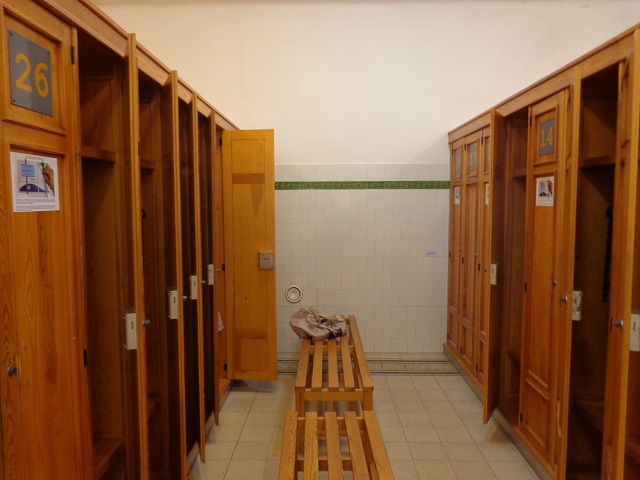 Locker rooms are just like your gym change rooms – female/male segregated. I know those from English speaking culture (for some reason) can get very shy about changing in front of people – don't be! Every one here are equal :) And seriously there is nothing that anyone has not seen before!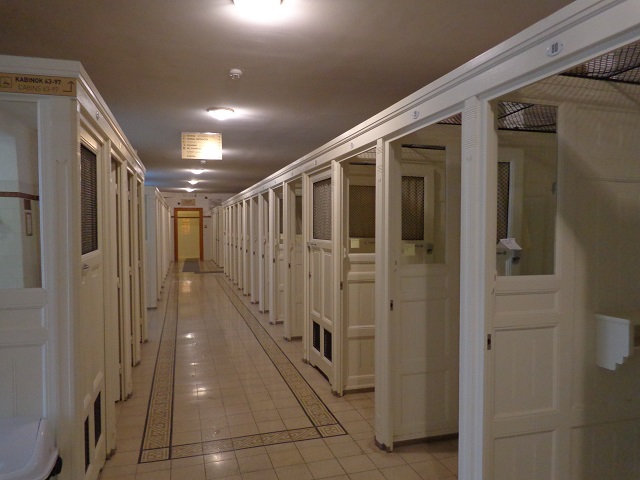 However, if you get a private room, it is larger and are good for couples that share one bag of stuff. In this case, one person pays the cabin price and the other locker price and you will share the one cabin assigned to you.
The key to the baths
I thought this was the smart part.
When you have paid the cashier, you get a plastic, magnetic wrist band each with an inbuilt code. You use this as your 'lock' to the lockers and cabins. You wear it like a watch while you are going about different areas of the bath so you don't lose it!
On exit, just drop it in a return slot where one of the staff will indicate for you.
What's in the Széchenyi  bathing compound?
Well,there's three big outdoor bathing pools, two for leisure bathing where sometimes you will see people playing chess in the bath against each other. The middle one is a lap pool, giving those who prefer to 'swim' a warm pool to train in.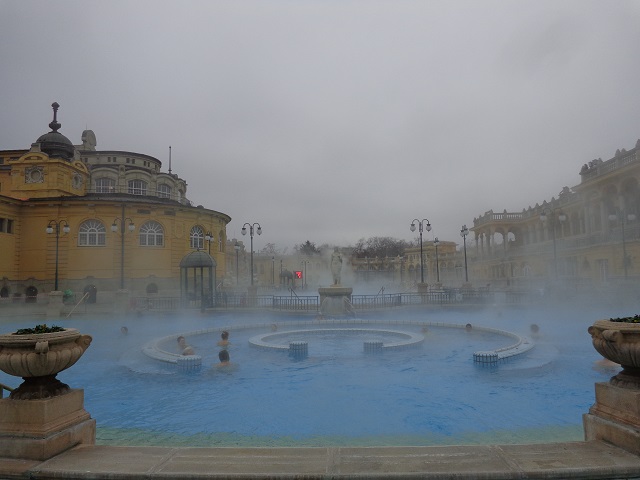 There are multiple indoor bathing areas, ranging from small hot pools to a big-ish cooler pool at 27C. There are also steam rooms and dry sauna rooms, and if you can decipher the exercise timetables, you can also join a class in aqua aerobics!
Cold water showers are dotted around the compound and make sure you rinse off after each pool/sauna/steam room session before going onto your next one.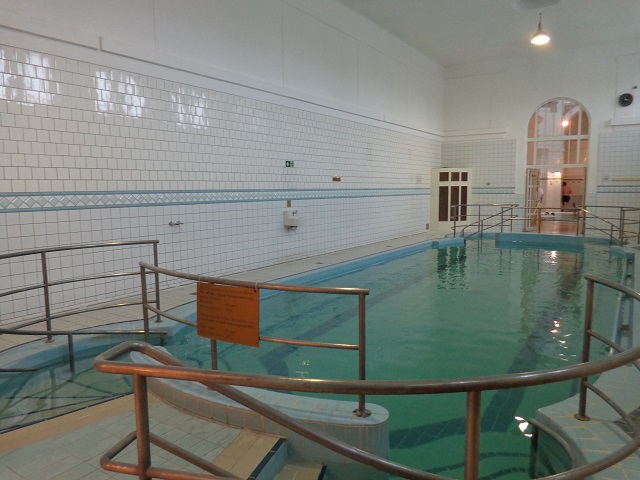 There are also massage therapists too, but bookings need to be made in advance if you can.
And yes, you can spend as long as you like in the bathing compound!
Other thermal baths in Budapest
There are quite a few thermal baths here that you could potentially do a bathing tour of Budapest! These are mostly on Buda side of the city.
On the foot of the Citadel is St. Gellért (www.gellertbath.com) bath house, a beautiful art-deco bath house, well known for its art-deco design. There are outdoor and indoor bathing, as well as very modern massage and beauty therapy rooms. Nearest Metro station is Szent Gellért ter on the M4 line. Trams 19, 41, 47, 48 and 49 will stop there too.
St. Lukács (www.lukacsfurdo.hu) bath house is right next to Elvis Presley square, and is in roughly the same location where knights and monks had found the thermal springs to be of medicinal benefit and had settled here for it since 12th Century. However, today, it is a modern bath house, where elements of Turkish design has been incorporated in the interior. Trams 17, 19 and 41 will stop right outside the bath house.
Király bath house (en.kiralyfurdo.hu) is a much smaller bath house dating back to 1565 by the Turkish, giving the bath house a distinct Turkish baths character. The bath house is not sitting on a water source, but it is actually being supplied by Lukács Bath further up stream. Trams 19 and 41 still stop nearby, otherwise Metro station Batthyány ter is approx. 500m away.
Just one more for this list is Rudas bath house (www.rudasfurdo.hu). Built during the Ottoman rule, it was completely renovated and re-opened in 2006, which explains its super clean and updated interior. While it has been renovated the baths retain much of its Turkish rules, and the outdoor pool has a fantastic view across the Pest side of the river. Get there with trams 19, 41 and 56 or walk over the bridge from Metro station Ferenciek tere.
There are so many more bath houses in Budapest! Have you been to another one that I haven't listed here? Share it with us all in comments below!